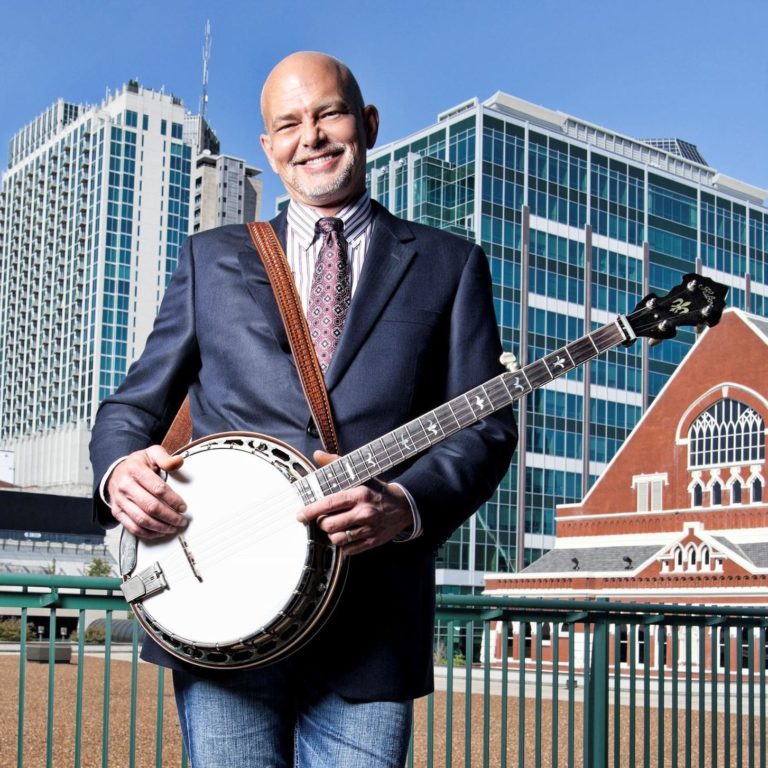 "I sit and listen to the song and listen to the singer. And I visualize the melody on the fingerboard. And then I'll visualize in my head what I've got to do to get that melody across. And then I just sit down and start playing it…That's what's kept me in the business for 40 plus years, right, is being able to complement everything around you. And that's the whole key." - Sammy Shelor
Sammy Shelor
This is Sammy Sheeler with the Lonesome River Band from a little town called Meadows of Dan Virginia. In the Blue Ridge Mountains in the southern part of Virginia. I think I was destined to play a banjo I had my grandfather that played and the other one loved the music. And between the two of them, I had no hope. So my earliest memories are being around a banjo and started playing I guess when I was about five. I learned Cripple Creek and Old Joe Clark on a little banjo that my grandfather, the one that played, he had made a scaled down banjo for me to kind of fool around with and every time he come over to the house he tuned it up for me, and I kept fiddling around till I finally learned Cripple Creek and just went from there.
Keith Billik
Were you trying a three three fingerstyle already?
Sammy Shelor
No, I have just kind of played around with two fingers for a while. He played three, three finger style he, he actually got interested in into banjo by way of Charlie Poole. His father was a fiddler. And Charlie Poole would he he was from, from about 30 miles east of us. And so when he would be passing through, he always knew where he could go play a tune and have a drink. And my great grandfather, he had a grist mill. And usually back in the 20s, or teens and 20s, if you had a grist mill you made liquor. So he always had something for Charlie to drink. And Charlie would stay sometimes for a week. So…
Keith Billik
Just playing tunes and enjoying the beverages?
Sammy Shelor
Yea, that's it! He's been dubbed as the original country music outlaw. Yeah, he was a he was a rough character, and, but he would stay around there. And my grandfather learned how to play guitar to play along with him, and then watch Charlie enough to pick up some banjo stuff. And he kind of had a style that was kind of a mixture of Charlie Poole, and then what he heard from Scruggs later on.
Keith Billik
So were you listening to Scruggs even back then, to where you're getting some of that stuff on?
Sammy Shelor
Well, I remember, my first memories of TV was watching Flatt and Scruggs on TV, we got that on Saturdays. And my mom said that the only thing I would watch on TV would be commercials and Flatt and Scruggs. So it was definitely an influence. And then I got to see Flatt and Scruggs when I was about four, in Hillsville, Virginia at the VFW building. And I just remember the hats and the suits and, you know, see an Earl play the banjo I didn't have enough sense to to really comprehend what the music was all about. But it definitely attracted my attention. And just the, the whole show of it, you know, attracted my attention. But really, I didn't get exposed to Scruggs music until later in my early teens. And I had a friend who had a great record collection and he used to make me eight track tapes. And I would try to learn some stuff off of that. But with eight track he didn't have a rewind. So it he would put he would use 120 minute tapes. And so that meant 30 minutes per track. So if you heard a lick that played by, you had to wait, you had to wait another 30 minutes to find it or to loop back. You got distracted by 20 more by the time you got back to that one. So it was slow learning. I finally got a turntable and started collecting some albums and by the end. JD Crowe in the New South was really hot and Moon Creek and the country gentleman. And so that was actually, my learning, really learning stages was getting into Bill Emerson and Terry Balcom and JD. And trying to, I learned real quick, I couldn't play like any of them. And certainly learned that I couldn't play like Scruggs. And so I just started trying to pull this and that and listened to everybody I could remember when Bela came out with I think it was Crossing The Tracks was his first album. And I got that and that was a whole different phrasing and a whole different way of thinking than the guys I've been listening to. So I started listening and kind of picked up on like
you know, playing those, those chord scales
Keith Billik
a scale pattern, yea, right.
Sammy Shelor
and so, started started picking up on some of that from him and but learning how to play melody from JD and Terry and Bill, and another guy that has been extremely influential, and just a dear friend, was a local guy by the name of Gene Parker. And he played with the Lost and Found back in the 70s and 80s. And, in my opinion, Gene is probably the most inventive within a Scruggs role of anybody I've ever listened to
Keith Billik
what is it that he does that, um, what's different about it?
Sammy Shelor
Well he incorporated you know like Scruggs pulled from big band era people from you know Darrel Dixie is a big band song
Keith Billik
all those in the mood roles
Sammy Shelor
Yeah, and that kind of stuff. And Gene was more into like the I guess the country guitar players at the 50s and 60s and he would do a lot a lot more pull offs and punches and you know, just like you know, those kinds of double note stabs and I've never the only break that I've ever gotten close to from Jean was the harvest time thing that we do and his his solo is like
you know, did those little stabby things and and he did one
I haven't played this thing in probably a year or so I might I'll probably not be able to play and I've never been able to play it right but I'll get close to it he was on a song called me in mobile two….you know, how he could take those melodies and twist them around
Keith Billik
and syncopate it
Sammy Shelor
Yeah, big time. And we do Out of Red and I kind of take some of his thinking in the second break…
Those kinds of things, you know, just just his whole whole way of thinking was just a little bit different from everybody. And I was just, you know, he was he was our hometown hero. And I just always thought it was cool when I'd be at a big festival and Lost and Found we'd be playing and you'd see Sonny Osbourne over behind this tree listening and checking them out. You see JD over here listen, and they knew how good he was right you know and so I was very very very fortunate to get to see that guy play a lot when I was a kid.
Keith Billik
Yeah, now that you demonstrate that I do recognize that quite a bit in your playing you will you'll twist some of those beats around and it just gives it a certain funkiness that other people don't have.
Sammy Shelor
That was his whole idea. Struttin To Ferrum was this song that he wrote you know,
Keith Billik
I'll have to track all this stuff down. I'm not I'm not as familiar.
Sammy Shelor
He put out a solo record back in the early 80s. Called Struttin To Ferrum and he played most of the instruments on it, and it was just something for him to sell on the table. But it just absolutely kicks my butt.
You know, just to hear how he could twist a melody around and I mean, he did. There again, he did a lot of like big band tunes and just pulled from from stuff that nobody else was doing and, and wrote a lot of tunes his self. And he's still, he's mostly into fiddle now. He's retired. He's, he's in his, I guess, mid 70s. And, but when he goes to a jam session, you can't hardly get him to play a banjo anymore. I had to beg him.
Keith Billik
Aww that's too bad. Is he is good at fiddle as he is on the banjo?
Sammy Shelor
Oh, yeah, he's a great and just loves the fiddle. I mean, he absolutely loves to play it. And he played banjo for so long I think he just got jaded and tired of it.
Keith Billik
Yeah, I needed to feel like he's progressing at something. I know how that is.
Sammy Shelor
But I'd say overall, he's, he's my hero. I mean, that's the guy that I've gone to the most over the years to try to find out deals and kind of base what I do, and Lost and Found always been one of my favorite bands. They had some of the classiest music for bluegrass you'll ever hear there's a whole different groove.
Keith Billik
Definitely. So those first couple of things you demonstrated those were things in your playing that you think he's influenced. Where did you - Did he also have the um, like the other other thing with you is just that deep sense of drive and groove, like you're you're playing on slow tunes, tends to be very distinctive, at least for me. Where do you think that came from?
Sammy Shelor
I just think that that came from years with. I learned early on that I couldn't sing. And that if I wanted to do this for a living, I had to surround myself with good singers. And in order to do that, you have to learn how to be tasteful. And not get ever get into singers way and learn how to play back-up, you know, around what they're singing, which basically means you learn the breaths,
Keith Billik
you are very active at that if listening listening to your your band, anytime there's some space that banjo creeps in there, but then it's it's out of the way again, right when it needs to be…
Sammy Shelor
Beacause then you become a rhythm instrument. So you're basically just keeping texture. Then if the singer takes a break, or breath. And when when I talk to people, when I do workshops and stuff, and people that, you know, do a lot of jam sessions out in the parking lot or whatever, I try to emphasize that you should learn to be able to play with the same intensity at this volume [plays quietly] as you do [plays loudly] and find the same feel. But then there are two people, they always ask you what drive is well drive is how you're playing around the beat, in my opinion, you know, drive is when you get ahead of it just a little bit without speeding up. And that's it's hard to demonstrate, you know, it's it without, the only way I've ever been able to do it is actually take a drum machine into a workshop and try to demonstrate it that way how you can play behind, ahead, or right on the beat, you know, and I just try to kind of push the timing on the fills. But then when I'm playing behind the vocalist, I try to be dead center of the beat…
Keith Billik
Oh interesting. So so there's really a lot at play. You have to have the intensity and at a lower volume and then the timing also shifts at the same time.
Sammy Shelor
Yeah, and the rhythm guitar and banjo for us works together simultaneously in the band most all the time, so he has to do the same. He does the same push. And I bet I probably learned most of that from Tony Rice. I mean, you listens to Tony's fills between his vocals rhythmically, he always fills that hole, and then he's gone. You know. And I had the great fortune back in the late 90s, around 99/2000 to get to work with Tony on several dates over a couple of years time. And actually, first time I ever got to play with Tony, it was about 1986. And he sat is with the band that I was in at the time. And he scared me to death when he walked on stage. And he looked at me and told me kickoff song from bluegrass album Band. I kicked it off. And since that rhythm came in, it was like, Well, this is just like sitting at home playing to the record. Have fun.
Keith Billik
So amazing, was he singing?
Sammy Shelor
Yeah, he was Singing back there.
Keith Billik
So not Yeah, not only the rhythm, but you hear that voice coming out of the speakers.
Sammy Shelor
Yeah and then watching his dynamics. And listening to his dynamics is just the most amazing thing ever. You know, and Tony. He probably inspired me other than Jean Parker, Tony was a biggest inspiration for me musically. Because when I was really really getting deep into learning how to play and how to be myself was when Manzanita came out with no banjo, and sit and play with that record for hours and hours.
Keith Billik
being the banjo player for the band.
Sammy Shelor
Exactly because it's gonna crash record without a banjo. Yeah, it's the best rehearsal to ever.
Keith Billik
Have you ever heard this is a little bit of a of a tangent. Have you heard the story that apparently JD was supposed to play on it, but he got the flu the morning of the session? And that's why there's no banjo on it. Have you? Well,
Sammy Shelor
Well I heard that, but I've never asked Tony whether that was. I loved that record so much. I didn't want anything to ruin the feeling I had about that record, because the first time I heard it, I listened to it all the way through and didn't realize or was no banjo.
Keith Billik
Just because it had so much
Sammy Shelor
. Yeah, it was all there. And Tony filled it so much rhythmically. And then, then you then you realize, Wow, this is this is what I need to be playing to. And…
Keith Billik
to your ear. Is that the thing that you describe about surging a bit on the fills, but then groove and a bit on backup? Is that what Tony does?
Sammy Shelor
Absolutely. Absolutely. And, and there's a lot of players have done that, you know, I'm not the first one and I won't be the last but it's just what the little thing that I found that that helps our band and makes more of a band sound is that rhythm guitar and banjo pushing and pulling round everything and, and Brandon Rickman our guitar player is one of the best at it. Yeah, so I'm so blessed to have him there beside me every night.
Keith Billik
So you said that how you demonstrate those differences is with a drum machine. Is that also how you developed the ability to do that by working with a drum machine or did that come more from somewhere else.
Sammy Shelor
I have used the drum machines a lot but also just listening to great players and listening to great records. I mean, like Boom Creek - Baucom was great at it too. And he was a little more on the front, on his, uh, behind the vocal stuff, he stayed in the front. But you definitely heard him play in the front when he'd come in and do the fills and stuff. And at one time, when I was probably 17 or 18 years old, I could sit the needle down on the record player on the Boom Creek one way track album. And I could play that whole record, change the capo between songs, and tune - and never miss a kickoff
Keith Billik
As if you're playing it on stage with the band.
Sammy Shelor
I mean, I love that record so much. And it influenced me so much that I could just sit and play that whole record and non stop.
Keith Billik
What do you think you learned from from that one
Sammy Shelor
playing with a band. Being in a band situation. And, and that's what's kept me in the business for 40 plus years, you know, is being able to complement everything around you. And that's that's the whole key.
Keith Billik
So it sounds like that the interplay between the banjo and the guitar. Is that something you specifically practice with your band?
Sammy Shelor
It developes. Yeah, I mean it, I guess early on Brandon has been here 18 years. And so I guess early on Yeah, we did work on that a lot. And like when we were would record records, I would kind of go in I was kind of the established guy in the band when he came along. So I will Go in and we would cut the instrumental tracks and I would put what I wanted to put into it and then he would go back and listen to the places I was moving and then he would come in and work to match it?
But now we go in this last record, we spent probably 15 hours on all the instrumental tracks. And they were done. Cut bass, mandolin, banjo and guitar live.
Keith Billik
You guys just know what you're doing - you doin't have to talk about it.
Sammy Shelor
Yeah. And it was talked about. We it was songs, we did not know. we charted them go in about to third take we'd have 'em you know, and I sit and listen to the song and listen to the singer. And I visualize the melody on the fingerboard. And then I'll visualize in my head. What I've got to do to get that melody across. And then I just sit down and start playing it.
Keith Billik
I know it's a hard thing to explain. But how should someone go about putting a melody on the fingerboard? That's like the that's the famous thing about banjo that's tough, right? It's like getting that melody to pop and how to put it in a roll.
Sammy Shelor
It's it's a hard thing to explain. I mean, I've just been doing it so long that I don't even think about it anymore. And the cool thing about every new song and every new melody you learn a new lick, because there's going to be something in that song that you've never played before.
Keith Billik
You have to maneuver it in a different way or whatever.
Sammy Shelor
Yeah. And so on the one song overall in the 30 years I've been here the one song that most banjo players mention is a song called Who Needs You. And the melody is [picks out melody]
It's a real bluesy thing so I [picks out fleshed out tune]
And to me that was real Stanley-esque. It had kind of a Ralph Stanley you know the [plays]
Keith Billik
Pretty Polly or something
Sammy Shelor
that lake right there to me is Ralph Stanley, you know.
Keith Billik
So it keeping the index on it, I think is is the thing there.
Sammy Shelor
And so I mean, I just sit down with those things and but like I say now it's to the point after playing for 50 plus years that I can visualize it and you know, luckily we were capo bound, so we can move to whatever key to do it or but if it's in D, then you have to visualize how to do it and either D position or a C position at the second fret. And I use a lot of, like double C tuning. Yeah, and a lot of modal tuning. Tuning the B string up to C and playing. I do a lot of that. And anything that, that I'll never hit the B string open on, I'm gonna play in modal. And [retunes]
we did a song a couple of years ago called Haley's House. And it just had uh [plays] Yeah, it just all rides off of that. And like, I've always played Clinch Mountain Backstep in modal. because you always had to keep that index finger…
Keith Billik
Yeah, that's planted the whole way.
Sammy Shelor
[plays Clinch Mountain Backstep]
Keith Billik
Never thought to do that. But it makes so much sense. Because yeah, you're right. Otherwise, your indexes just fixed, nailed down to this to the board.
Sammy Shelor
And so a lot of teams, like if I'm not doing a solo, or if I'm doing minimal solos in I'll stay in modal tuning a third of the set sometimes. And people don't even realize. I guess they wonder why I'm doing a D note there. But…
Keith Billik
yeah, that shouldn't sound good he's playing the wrong note!
Talking back about the, you know, the rhythm that your that your band does over the years, you've had to hire tons of different new bandmates for yourself. Do you have a sound that you that you hear for your band and try to hire people that fit that sound? Or do you just try to hire people that are really good at what they do? And that becomes the band sound going forward?
Sammy Shelor
It's been both, you know, I mean, when I joined the band, there really wasn't an established sound at that point. They had been around about eight years. In that eight years, they had had I think six different banjo players. And so it was pretty easy for me to come in and establish my thing. And with Tim Austin. He was the bandleader and owner at that time, he was the rhythm guitar player. So I had I came from a group called the Virginia Squires which was more contemporary Kind of, almost new grass-ish, new grass revival-ish. But it wasn't near as downbeat driven, as what Lonesome River Band was. Tim was real downbeat driven with his rhythm playing. So I changed my style a lot in the first six months of playing with the band. But it was, it was the style, it was the sound that I liked. It was close to home. It was just a very convenient gig, you know, musically and geographically. And so I developed stuff with Tim. And then when we did that first album Carrying the Tradition, Tim would go in and play a rhythm guitar track to drum machine, and then we would add bass, we'd do everything one at a time. So then I could take that home, you know, and listen to all his punches and fills and develop what I needed to do around that.
Keith Billik
Give it the Manzanita treatment basically.
Sammy Shelor
Yeah. And so, I mean, we probably, we spent a lot of time on vocals on that record, but there was probably 200 hours went in to the studio at that time. So we had free rights. And so we probably spent 200 hours on that record, you know, but we we wasted a lot of time doing recreational drugs and different things, but, but we did a lot of work too, and
Keith Billik
Well it came out alright, so whatever the formula was, it sounds great. Did you have an awareness at that point that that band was offering kind of a new sound for what People think bluegrass is or do you even think now that you did?
Sammy Shelor
No. what - At that time when I came in Lonesome River Band had got to kind of go into more temperate contemporary route through the 80s as well. So when we decided, when we got together and started playing, we were doing all their material from the 80s. And when we got ready to start a record, we just kind of sat down and talked about it one day, and we decided that we were going to cut the most traditional record we were capable of. And that's what we got. You know, I mean, we, we went about it to do it as a traditional album, but it still had a contemporary sound.
He had did something nobody else had done it. You know, Boone Creek was kind of in that vein, Quicksilver was in that vein, JD was in that vein, but what we did was even different from those three bands. And so it kind of you know, it, that's what gave loans from rubber band, the name that he became in the business. Was that record to me, it was just all by happenstance. The it came out I think, in August of 91. Bluegrass Unlimited, had been doing a song chart during that time. And we had a couple of songs that got on the chart, late in the year. And then in January of 92, is when they started the album chart. Well, we were the first number one album on the Bluegrass unlimited carbon chart, and it stayed there for six months. Wow. So it was just because of that, that's how I got nominated for IBM A, and won the album of the year just just by happenstance that all those things came together over that period at
Keith Billik
the same time that you happened to be making that record. Yeah.
Sammy Shelor
So he gave it to credibility to win that award.
Keith Billik
Yeah. How long after that? And maybe it was a gradual thing rather than a specific date. But did you become the bandleader?
Sammy Shelor
Okay, so not to Marston Lift, lift the ban, and I guess, October 95. And that's what we heard Kenny Smith,
Keith Billik
reading other and hearing other interviews with you, it seems like that's something that you're that you're really proud of you always make sure to emphasize the that role for yourself as more than just a banjo player.
Sammy Shelor
It's not so much being proud of it is just the fact that nobody else would do it. And I'd never wanted to be a bandleader ever, of our up until that point, was happy just cruising along, and being a banjo player, was just at the time, nobody else wanted to do it. And somebody had to do it. So I took it over and which kind of led me into being a bus owner, bus driver, booking agent, man, you know, I've done done all those things. And, and I guess, you know, I'm sure my plane has suffered to a point because I don't spend any time on it anymore at home. You know, if I'm not playing on the road, I'm not playing.
Keith Billik
What would you like people to know about what it's actually like to be that person in a band? Or what would you tell maybe less experienced band leaders about how to how to be successful doing that kind of thing.
Sammy Shelor
I've never been successful at it. I'm still struggling with it every day. It's just you just got to put the time. You know, booking we actually just took over our booking again in the last two or three weeks, and because the business is kind of on a downswing and there's not enough money to go around to pay somebody to do it, so I'm willing to bet five hours a day that I used to have for other things, it's probably gonna go into being on the phone, you know, and I've got a two year old son so I do I carry with him when I'm off the road. So, nine hours a day I'm spending with him five hours a day I'll spend on the phone and my wife's gonna hate me.
Keith Billik
Don't forget to eat and sleep every once in a while.
Sammy Shelor
I never forget to eat.
Keith Billik
You don't have to ya don't have to remember he got you got to remind you as well, that's a glamorous existence.
Sammy Shelor
It's fun. I mean, truthfully, had, I know that I was gonna stay in the music business as long as I would have probably picked another instrument. Really? I really think so. What would you have? What would you have picked something to make money with?
Keith Billik
What like, fifth country guitar country
Sammy Shelor
guitar? Well, if I had concentrated on country guitar in the 70s, I could have made a good living in the 80s and 90s. With that, yeah, I did that for a while. Bluegrass went through a lull in the late 80s, about a Telecaster and started fiddling with that and found a band. I was living in Richmond, Virginia at the time, and I found a band that needed a harmony singer. And I could do that. And so they hired me and let me learn to play guitar as a win. And then I had one, I left lonesome River Band for six months in 1992. To go to Nashville and work with a group called Matthews, right. And King we opened. We did 75 shows opening for Reba McIntyre over a six month period. Yeah. And then played a bunch of players and stuff was out. I was home. I was home 29 days and six months. And that's most money ever made in a year or so six and a half year. Yeah, yeah. But, and I loved it. But the one thing I didn't love was the fact that you never got to see the fans.
Keith Billik
You just because of the show the size of the
Sammy Shelor
size of the shows you were backstage and backstage. And and I just missed the fan contact. And ESRI and I came back to bluegrass. And because I've made I had made so many friends up to that point. And that was so structured, and it was the same thing every day. Just a different city. You didn't know where you were at half the time you cried, and you bunk woke up. Just this time I got to be here to take a shower. So this time I got to be on the bus. This time. I got to do soundcheck. It's this time I got to eat. And then 25 minutes show, and then load your stuff up and sit and wait for the bus to leave. Yeah. And it was just so structured there. You know, I spent most of my time in the bus. Yeah, and I missed there would be times if I knew anybody in the city we were playing I'd give them backstage pass. It just had somebody different hang out with you know, and so I came back early 93 and been here ever since. Yeah, good. But I lived country guitar but now I couldn't play country guitar because it's not country guitar that you hear on the radio. You know, there's no demand. I haven't tested Telecaster in four years. Yeah. Because there's no nobody wants to nobody will pay to hear it. And I'll miss it. Like right now I got a two year old son and so I can't play at home
Keith Billik
not through the amp anyway Yeah. So do adapt any of the country guitar stuff to your dad definitely.
Sammy Shelor
You were talking about the slow stuff you know the okay college and stuff a lot of that came from from playing electric guitar. Interesting. You just don't have the sustain. Yeah, sure. On a telly. Yeah, so you try to try to make the links work. You know for banjo and this reason I play this so flathead, it's got more sustained than any other banjo.
Keith Billik
But now let's get on to the featured interview today
I'll hope to see you all next time for another episode. It's gonna be another great one. So hope to have you back. And that's it for me over and out.
Yeah, let's talk about that. What is this your primary instrument that you perform with? Yeah, all the time.
Sammy Shelor
Yeah. And record with it's 19, late 41 or early 42. It was a TB 75 original flathead. And it came from Ohio. That's where the original owner was. And gentleman by the name of Tom do bought it from him in 84. He put a five string neck and went through a couple of hands. I found the banjo in 1987. And tried to try it forward at that time, didn't couldn't do the trade at that time. And a few years later, I ran into a friend of mine from New Jersey, and he said, You got to play this banjo I got went and played it. And I said, you got this from such and such, didn't you? And he said, How do you know? You were able to put it together? I knew as soon as I picked it up, I knew it. And it was it's just, it's one of those. It fit me in every way. Yeah, from the first time I ever played it. And so he got it in 92. In 1998, his name was Troy Spencer. And he lived over in Delaware, New Jersey line area. And he he was a songwriter and great banjo player, and originally from my part of the country to he grew up in gay likes Virginia, but, and 97 he was diagnosed with leukemia, and in November of 98, he passed away. His son was a dear friend of mine to JF. So I called Jeff up a couple of weeks after I found that he passed and just talking to him about his dad. And he said, Well, I'm glad you called. He said, We need to talk about that banjo. And that's what you mean. And he said, Well, a couple of weeks for Dad died. He told me he said, if anybody else wants that band to sell it for 30,000. But if Sammy wants it, sell it for 14. And so it was like, give me a day to get the money. Yeah, and he in. Troy's wife ended up financing half of it for me for six months. And I borrowed the money the other half from a friend of mine. In 98, C and 99. I was paying. I think it was $1,700 a month and banjo payments, the first seven months and then it dropped back to 700 a month for the last five. Okay, I got it paid off in a year.
Keith Billik
But it was well worth it and has sentimental value to me. So
Sammy Shelor
I'd hate to ever have to part with this. Do you know who built the neck on? This is a Heber NIC here it had a frame NIC NIC on it when I bought it. But I had a top tension prior to this. It was a reasonable five string, so it had
Keith Billik
to play that one.
Sammy Shelor
And it had a radius board and not always kind of missed the radius. So I had he rebuilt his neck about six or seven years ago.
Keith Billik
Okay with the radius. Yeah, to give you that.
Sammy Shelor
Yeah. And my Sheeler model with Heever is a copy of this banjo but it also had the radius board on it. And this one didn't. So I just wanted them to match.
Keith Billik
Yeah, that seems a little silly. Yeah. So you said it fits you in every way. What? What is it that you that you hear that you like so much about it?
Sammy Shelor
I can play it as hard as I want to and it won't give it headroom. Yeah. For days. And it has a depth to it that I've never found in another band. Prewar are out otherwise. Yeah. I mean, it's just got a little more about me and which I've always liked, and you don't have to find it? Yeah. It the evenness of it and having the depth. Even up to there, you know, it doesn't wimp out. That's nowhere on a Nick does it get weak? A lot. A lot of the bands that played over the years once you got past the 12 fret, the power would disappear.
Keith Billik
Yeah, yeah, exactly. So yeah, it's cool that it has that everywhere. Yeah. So you've owned this amazing boundary zone and pretty amazing, top tension and those top tensions are really making a comeback these days in popularity. What are the what are the differences that you hear just in the character of a non top tension versus well is that one
Sammy Shelor
the top tension had that I had? It was a maple neck and a walnut resonator, so it was kind of a mixture. Interesting. So I can tell our sweepers he was in Florida. It was ordered in early 42 in gay lax, Virginia, and they just wanted a five string top tension and that's what they had hanging around had 18 planes and armrests and The rest of the pot was a 12 with the walnut resonator and then it had a seven slotted bow tie neck in it. Yeah. And it was Michael. Okay. And so it was a little different beast it had. It didn't have the depth that this one's got. It was brighter because of the maple neck I think. But it was just so doggone heavy.
Keith Billik
which is saying a lot for for banjo.
Sammy Shelor
Yeah, when you add another when you add when you have a resonator plate that is in the center, a half an inch thick of heavy walnut. Yeah. And then the extra tension hook you're adding two to three pounds of extra weight and, and I knew I was getting some age on me. And it was it was starting to show. And after having this on for six months, I would take both of them out and play them on the road. Play one set more than the other. And just when I finally got used to this when it was just it one out,
Keith Billik
you could really tell the difference. Yeah. What else are you partial to? Are you do you have a favorite bridge or Pics or any of that? Or actually I know you have your your own model of picks what to do.
Sammy Shelor
Yeah, that that kind of was accidental thing. A gentleman by the name of Jim hypes in narrows, Virginia started making these stainless steel picks back in the 50s. Don Reno used them. A bunch of different people used them for years. And then early 80s. He gave me a set of them. I started fooling with him and and playing with him. And the next thing you know, I couldn't play with anything else. Yeah, just the comfort level. Like I've been sitting here with you. For what, 40 minutes? I don't forgot that I had these on. Yeah, you know, I mean, you just don't feel them. Once you get them set to where you want them and where they fit good. You just don't feel them anymore. Yeah. And that's surprising, because it's more of a rigid metal. But it just, there's a comfort about them. So I knew, I guess it was 9394. I was at Moreau fest. And we played on Friday night and had to do a couple of sets on Saturday afternoon. And when I was getting I guess, when I was getting in my car, I was carrying my picks in my pocket at that time. And when I was getting in the car, when I pulled the keys out, I must have pulled one pick out Oh no. When I got home, I only had one. So I scrambled around and found some Dunlops or I think there were Dunlops. I put them out and tried to play and they would kill me. You know. So the next morning, I got up seven o'clock started blowing Jim's phone, I drove three hours out of the way to get one peak. So I could go back tomorrow fast and do do the sets that day. But I ended up getting three more sets from that time and put them in every case and everywhere I'd ever need them right and quit carrying them in my pocket. But Jim, retired, quit making depicts. And I just felt like that I was going to try to find somebody that could make him in AQI tab actually started the company and they put my name on it. It wasn't my choice. I mean, I told him it could but I didn't really want that. I just, you know, I was just trying to get a product out there that people would appreciate. Yeah. And then in 2011, I won the Steve Martin award, and had some cash laying around. And John asked me if I'd be interested in buying the company. So I bought it from him in 2011. And, and it's I mean, it's nothing you're gonna get rich with, but probably so 3000 sets in six years.
Keith Billik
So the ones now are they basically the same as the first set that you originally got from? Yeah,
Sammy Shelor
we widened the band and lengthen the blade a little bit. But and then we make a narrow band that's pretty close to a national size. Okay, but it's just something about the stainless. It doesn't irritate your fingers. And it stays on. And I'm going to do an eight hour session and no point. Yeah. And I've never had a prayer because I could do that with until I started using the stainless.
Keith Billik
And now they're widely available. So even if you do pull them out of your Oh, yeah, I cannot accident you can you can get a hold of them.
Sammy Shelor
I'm kind of mean, I've had people have asked me if I could buy one because I lost one. I said well, if you lose a shoe will they let you replace? And they said well now I said okay.
Keith Billik
You can figure it out from there,
Sammy Shelor
man. If you buy a set you got to spare,
Keith Billik
right? Yeah, that's I'll sell you an extra one. And your next that's fair. That's both at the same time.
Sammy Shelor
Exactly.
Keith Billik
What about the rest of this stuff? Bridge and thumb pick and
Sammy Shelor
I think I've got a guy full geek mode here. I got a guy in elk in North Carolina named Don Bryant that I met Snuffy Smith did not set up for years. I'm the worst at setting up a banjo. I know nothing about them. They're too mechanical. They're not an instrument, their machine and the air one little nut and one little screw can make it sound like crap.
Keith Billik
Aren't you the guy who fixes buses? Yeah.
Sammy Shelor
My ears are ticket. But after Snuffy passed away, I went a couple of years and all my stuff just got sounded horrible. And the guy that makes my pigs lives near this guy named Don Bryant, and Don, he told me he said, You need come down, see, Don, let him tweet Katmandu for you. And I said, Okay, so I went down to him, and we've gotten to be just just great, great friends. He's very meticulous about his setup stuff. He he gets the to the head real even. He knows what kind of pressure I like on the bridge. This is a Wodsworth bridge. I think when there's toasted maple, that's what he's been using. And he gets Wodsworth to do my radius for me. And it's, he's just, you know, he's one of them guys that I usually try to go see every three to four months when the weather changes is handed to him. So see if it needs to make it right. Yeah. And he and he'll usually get it better every time. And oh, really, after you play it? Overtime, you don't really notice the changes. And then whenever he does readjustment, you hear that change? Yeah. You know, so, but Don's been great. He's, you can email me through my website, and I'll give you his number because he likes to work. He loves to build next he built me a where'd you say he lives? Elk in North Carolina, actually a little town called Thurman, but it's just south of the Virginia border on i 77. And he's about 10 miles off. I'll save you. So a good friend, banjo player and dealer Melvin Combi gave me a TB 11 Several years ago, and I was looking for somebody to build a net and I called Donna and I said, Do you ever done one of those networks? And he says, Oh, yeah. And he built me just the most beautiful reproduction. Flawless TB match. You know, because all those elevens were different colors. Yeah, so the blue dots going I had a greenish thing to well he matched the 10 on the back of the neck perfect to the resonator, the the stencils he had all those cut to do the right fingerboard pain and all that stuff. And it's
Keith Billik
not just setups he's he's like a fool. He's a glazier. And yeah, and
Sammy Shelor
this was the sweetest guy you'll ever want me he he retired from Westinghouse. He was an engineer for Westinghouse, but always had a passion for banjos and got into this. He's got his little shop there in his yard. And he just leaves banjos
Keith Billik
toils away as making things sound good. That's it. Oh, that's great. So do you know what he does to your head in terms of like, he's your mentor.
Sammy Shelor
He uses his drum dial. Yeah. And he goes to every bracket. And actually another machinist friend of mine, Bill callaham. He actually makes Telecaster parts. In Winchester, Virginia. callaham guitars
Keith Billik
I have his Stratocaster tremolo says oh, yeah, yeah, that's the best stuff you
Sammy Shelor
can get Bill. He's banjo player to wish I knew that. Talking to him about Stratocaster. Yeah, well, he's he's now the owner of two or three healers, I think he's, he's been collecting those lately. But I got, I was told about Bill when I was playing electric guitar and got him do some setup. And that's when we started talking to banjo isn't. And I gave him a set of my picks, and I'm going back down the road from Winchester back home, my phone rings. I'll pick it up and it's Bill and he said, do all these picks look like this? said, Yeah. He said, You tell that guy. He's one of the best machinist I've ever seen. Oh, wow. And he just he could not believe how consistent the pay. He just bought three more sets that less than a month ago. Yeah. And the bill was just he's a design genius. And actually grew up in the same town as little Roy Lewis. Georgia. Didn't
Keith Billik
know each other. Oh, yeah. Okay.
Sammy Shelor
And, but just all these little things weave together of all these people. I've made friends with yours. But actually while I was talking to Oh,
Keith Billik
so I forgot to.
Sammy Shelor
So I was talking to Bill about the drum dial on my keyboard. So the next time I saw him, he brings me this drum dial here. So then, a month later I go back up there I work a lot around Winchester with some So here's David and Linda light. And Bo found out I was coming up, he called me he said, Come by the shop. I said, Okay, so now he's made a thing that I can put on the same meter that the drum dial uses, that actually measures the distance between the top of the tension hook and the head. So you get the tension her even all the way across first, and then you turn it with a drum down
Keith Billik
the distance. So we're talking about the inner, on the surface of the head, yeah, see, like a lip that extends upward past,
Sammy Shelor
it's actually actually you're probably measuring the distance between the top of the tension hook and the total MRI, because the head sitting on the top, right, so you're measuring that distance, see this, this tension hook is warped really bad. So it's down a 16th of an inch lower on this than it is on this, okay, but on a new banjo, you can take that and go all the way around and pull them all down. At the same
Keith Billik
time, make sure it's perfectly level pushing down.
Sammy Shelor
And then once you get then you can find the number on your drum dial that gives you the head pitch that you want. Okay, you know,
Keith Billik
Yeah, cuz otherwise, yeah, you're tugging it. Yeah. Kind of cockeyed and,
Sammy Shelor
and also you're putting pressure not only to center, the hit, you're off center with the bridge. Right. So that has a variance as well. Wow. And I'm learning ever even thought about that. I know. I mean, but Bill did. And Don, did you know these guys have thought this through scientifically, being engineers and designers and staff, you know,
Keith Billik
well, now I want to know if the banjo heads themselves are perfect. Yeah, if there's different amounts of material going on, you just
Sammy Shelor
don't know. Yeah, I mean, but crazy. But in there again, like I said early on, the banjo is so mechanical. It's not really an instrument. You know, the woods just secondary with all the parts. Yeah, it's nuts and bolts, it just add some tone wood. But if you don't have all the nuts and bolts just right, in English. Right, right.
Keith Billik
All right, man. Well, I think I've I've probably taken about enough of your time. Is there any other parting words of advice about? I don't know, people who want to sound like Sammy Sheeler? What's the secret to your, to your style? Or what what should Everybody go home and work on
Sammy Shelor
learn very little about music industry. You know, up until 20 years ago, the first 30 years I played, I knew nothing about theory, Nina and I got hired to do a session back in 1992, I was playing guitar on electric guitar. And I go in and all these studio musicians, and they're playing the song and these guys right now. I'm writing the chord change as best I can. And I have to the solid finish. They start talking about all these numbers. And I'm like, What are y'all talking about? And so it seemed like the drummer knew more about it, and anybody and first time I'd ever met him, he seemed like a nice guy. And I just called him outside the day once these numbers about oh, man, you don't know the number system. In three minutes. He taught me the number system, because I didn't know enough about music to that point. And I thought to myself, if this drummer knows this much about changes and modulations and all this stuff, I better get on the ball.
Keith Billik
Yeah, you can't let a drummer outsmart you in terms of chords and notes and stuff. And now
Sammy Shelor
he's the drummer, it plays on all our records. He's become a dear friend and has taught me so much about music. And he's just he plays on Willie Nelson's records he plays on he played on the willie at last William Merle record did did the video it's all going to pot. He's the drummer with the do rag in the video. What's it what's his name? Tony Creasman. All right, and he is helped out and actually, he learned to play from Mark Pruitt. The banjo guy. Yeah. Mark Pruitt taught him how to play bluegrass on drums. And he said there that circle. Yeah, what a weird small it is. Well is and it was I'd known Tony for 20 years before I ever found that out. I said, because we had done this bluegrass thing. And he absolutely nailed my role to a tee all the way through the song. It was just like me and him were all on you know, and it was second second pass of the tune that we'd ever played it. Yeah. And so I said, Man, how did you learn to do that? He said my approach would be and I'm like, okay, it all now it makes sense. And then you go back to Tony rice, the crossings record. I don't know if you've ever heard that. It's a gospel album that Tony Robbins instrumental gospel album that Tony put out about a
Keith Billik
lot of Tony I can't think of that. Look it up. Okay. It's called crossings.
Sammy Shelor
Tony's the drummer on that album, and he knew how to put over rice. Yeah, you know, said, Oh, this, all these circles just keep coming around. And it's cool as we live in a small world in bluegrass.
Keith Billik
Yeah, we should do kind of let some drummers in every now and then oh, yeah, we do every record and well, that's great. Hey, oh, ah, I didn't even ask tell people where to find you online to check out your tour dates or whatever else you have going
Sammy Shelor
on. Yeah, lonesome river. band.com. Facebook, Twitter, Instagram, and Sammy sheeler.com. I do some sideline stuff with different bands. Okay, I'll try to keep that schedule up on my personal website. I sell my pics through Sammy ziegler.com. I've got a solo album I did 21 years ago, and it went cardboard I think last week. And it's, you know, we're out there everywhere on social media. And we just, we love bluegrass and love getting to play festivals like we're at right now. And we'll be back here next year. I just found out
Keith Billik
Oh, that's fantastic. Well, we love getting to hear you. So yeah, safe travels and all that and thanks for giving us your time. Thank you really appreciate it. All right.