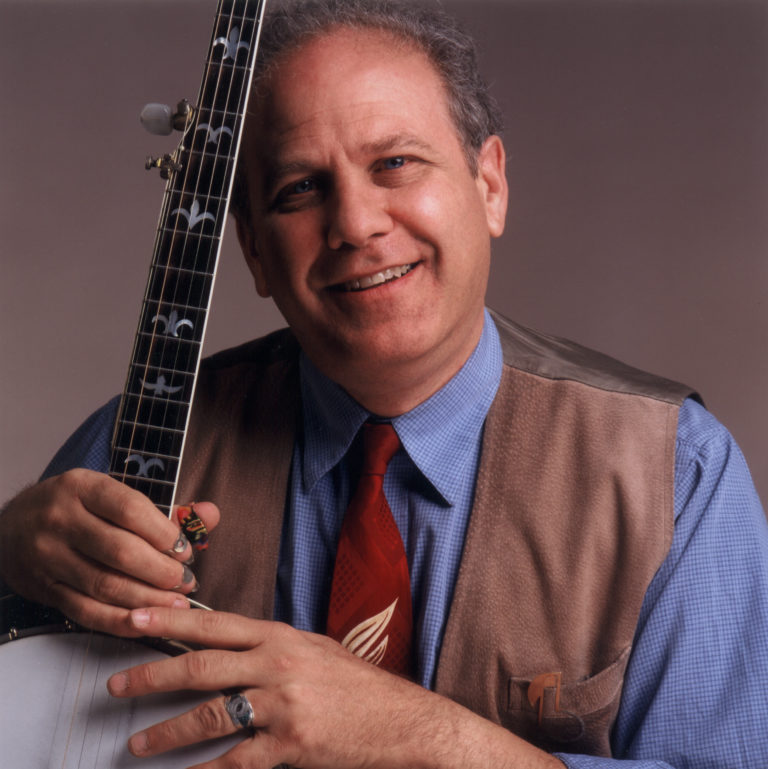 "Space is part of the music. Just because there's space it doesn't mean 'oh we better fill that.' It's part of the music! And so I thought it would be enough if I just went to - I'll play quiet. They said no don't play. I said 'ok I'll just chop,' and they said 'don't even chop!' You mean just stand there and hold the banjo? And they said 'Try it!'" - Pete Wernick
Keith Billik
I know you're all thinking, you're all thinking, hey, Keith lives up there in Michigan. It's the middle of spring. It's got to be great. When is he going to finally move and record all these intros in his famous backyard studio? Well, the answer folks is today, right now, I know you'd like to keep track of the Michigan birds scene, you need to keep tabs on some of that background traffic, maybe some planes flying overhead. It's really quite exciting. And by backyard studio, what it is is a 10 by 10 pop up 10 But it's much nicer than being stuck in my basement doing these instead. So I'm, I'm taking advantage and I trust you can you can hear the effects of that. And I hope it brings you some inner peace that only sitting in a nice backyard can do. Welcome everyone. It's the pinky fingers Podcast. I'm Keith Billick. Thanks for joining me, I'm gonna try to make this quick. I know this is a longer episode. But the first thing I need to make sure that you know about is a special giveaway. And this one is from banjo lit, you can go to Banjo lit.com You can see that they make all sorts of cool banjo related accessories and tools. Most famously, you've seen those cool beveled wooden armrests that people are using they're much more comfortable than the standard metal armrests while they've provided me one of those and also some T shirts and some stickers to giveaway to you the listeners. Now the only catch is the way that you enter the drawing to potentially win some of those prizes is you need to be a Patreon supporter. So go to patreon.com/banjo podcast. And if you subscribe to support the podcast at any level, you will be automatically entered into the drawing now the the other catch to that is you need to be signed up no later than May 31 2021. So if you're not listening to this until after that, you should still go to the Patreon page. There's tons of great prizes, but this will not be one of them. Other super cool prizes on patreon you get two tracks of music, the intro theme music and the outro theme music along with banjo tablature for both of those. Another perk is VIP lounge. That's very important picker lounge invites. We have one later today. So I'm really looking forward to that what that is is a video meet and greet with me and other fellow listeners where we chat about banjos and life. And I mean really, those are the only two topics I can think of. There's also options to get T shirts and also in Episode shout outs to personally thank you for your support. And we have one of those today. Today's Patreon supporter of the episode is Bill live say he lives out in Southern California and he's been going to a weekly jam, this jam has been going for 30 plus years Bill's been going for the last 10 and he finds the podcast a good way to help him stay motivated to to practice for these jams and, and be his best self. So Bill, thank you very much for your support. Really glad to hear that you're having fun of those jams and that the podcast is helping in some small way. So once again, all those Patreon rewards can be checked out at patreon.com/banjo podcast. And of course the most important thing about the Patreon page is that it goes directly to support the show and lets you count on hearing from all of your favorite banjo players for years and years and decades to come. Other great ways to support the show you can buy some super cool T shirts and downloads for of the music over at Banjo podcast.com. You can track me down and follow me on all the socials. Spread the word about the show to all your friends and neighbors. Or you can also just send me feedback at picky fingers Banjo [email protected] I do get a lot of emails from you and I read them all and I really enjoy hearing what you think and your suggestions and your questions. So keep those coming as well.
Today's special guest is Pete Wernick Dr. Banjo himself. Pete is best known as the banjo player for the great bluegrass group hot rise, but I think he has had just as much of an impact in his teaching. I have no stats to back this up but I bet he has directly or indirectly taught me More banjo students than anybody else ever he he has one of the best selling banjo instructional books. And he's also made scores of other videos, he's hosted jam camps he has taught at himself at camps. So he has been out there for decades teaching people how to jam and how to play banjo, and performing and doing it himself. And as part of all that experience, he just seems to have an analogy or advice regarding every aspect of banjo playing. And he did not hold back on that advice here, there's going to be a lot for you to pick up on a lot of words of wisdom from Pete, and I think you would be well served to listen to the advice and I bet you will hear some things that can help you in your playing. Now part of him giving tons of advice means this is a long episode. And I keep it all as one episode at the request of you fans, I was actually pretty surprised. I've done a lot of these part one part twos of the longer interviews, but I asked people on our Facebook group the pinky fingers, listeners, fans and friends page on Facebook, or it's a group on Facebook rather. So check that out, too. But overwhelmingly, you listeners told me that you would prefer to just keep it all as one episode instead of breaking it up. So so here it is, I'm taking your advice. And this is where I'm tempted to make some dead jokey corny pun about the doctor will see you now or this episode is just what the doctor ordered. But I'm not going to make any of those jokes because that would be just too cheesy, even for me. So I'm above that, and you don't want to hear me anymore. Let's get to the interview with Dr. Banjo Pete Wernick.
Pete Wernick
was born in the Bronx in 1946. And when I was growing up in the Bronx, I had friends who were focus and we had a lot of other interests. But at a certain point, like when I was around 13 My friends were playing folk music quite a bit with guitars and banjos and had a couple of friends who could play sort of Pete Seeger style banjo. And I couldn't play anything. I've never had lessons in anything. And I was Washington had a couple of pretty useless banjo lessons where a student of my dad who was a math teacher knew how to play banjo. So he had the guy come over to my house and we had a banjo in the house, which was a rather high action, antique banjo that my dad had gotten at an auction. It was just in the house and I never did much with it. But since he knew I liked the banjo, my dad got this guy to come. And he showed me a couple of things that it wasn't interested in. And I went away for the summer and never resumed. So I can't accurately say I never had lessons. But what happened is when my friend Jake, said, Hey, you liked the band. You want to learn how to play frailing? I said sure. And he showed me the basic, you know, frailing move, and I'll even play first thing I attempted to play which was. There it is. I hope that sounded like
Keith Billik
John Henry some John Henry and yeah, I could recognize it.
Pete Wernick
And they would play folk songs that were big at the time, even stuff like Charlie in the MTA by the Kingston Trio, and the weavers were big role models for us. I had the weavers at Carnegie Hall record and we did darlin Korean hard ended hard and This land is your land and I could strum along Pete Seeger style, I had an early edition of Pete's book, not the one with the red cover, and I still have this old one. And so with a little bit of reading Pete Seeger's book and mostly my friends and one of them even gave me a song book of songs that were popular in our little group and I would stay at home and flip pages in the song book and play the chords and then try to sing along and my saying was kind of pathetic, but turned out that when you're playing a cording instrument, and you're trying to sing the chords that you hear from the instrument, kind of help you sing in tune because a lot of the notes you're trying to sing are right there in the chord. And you know, when I picked the familiar keys, sure enough, my voice started falling in to the right key So I was really handicapped. But I was so determined that the determination trumped everything. Then I turned my attention to Scruggs. And within a couple of months of when I started playing, Earl and Lester came to town in New York City. So in January 1961, when I was not quite 15, I got to sit in the third row and watch Earl Scruggs. And it was totally a watershed event for me. I don't remember anything that happened in school that year, but I can completely remember seeing Earl and what was amazing about that was, he would play just a couple of leading notes, bom, bom, bom, which I could tell what he was doing. But then the next thing he would do is the roll would get going. And then I'd figuratively at least fall on the floor in amazement, and I really became determined to learn how to play like Earl, but I had no idea and nobody I knew had any idea, which was pretty common in the early 60s. So I did get two records for my 15th birthday from my sister who later regretted it made me practice in the basement instead of in my bedroom. And I could hear Earl's breakdown, I could tell what the chords were because I've been playing folk music with my friends and I could hear one four or five type chord changes. And Earl puts a little thing in every instrumental. That is not the role like in URLs break down the pink bound. And then you know, Scruggs shuck in the corn bomb pom pom pom pom pom. So those were like little hooks that I could say, like, I could figure that out. And then someplace along the line I, I could tell his going the beginning of the like the rolling my sweet baby's arms thing. And it just kept going learning any lick I could. And basically taught myself Scruggs style, they're just listening to this record, people said, Oh, you slowed it down. I said, No, I didn't have any way to slow it down. I just tried and my rhythm was bad. I still remember vividly going to some people's house to do some jamming and playing along. And finally somebody came up to me and very discreetly and quietly spoken my ear and said, Please don't play. You're screwing everybody up with your own now. And he was so nice about it. I don't even I don't think I even knew the guy. But it was a model of discrete behavior to save the jam session. And I've learned that lesson well that if somebody's misbehaving, they're at a tune or something that's messing up a jam session. If there's any way to get the person to behave better, it will save the jam session. So
Keith Billik
looking looking back at it, what do you think your issue was with being able to I mean, obviously, you've overcome not being able to play in time. If you could go back and you had a student such as yourself that was having that problem? Well,
Pete Wernick
I'll tell you, what I would try to do. But what I ended up doing is you get some real music recorded by people who know what they're doing, and you play along with it. And I've recorded some play along videos. And I won't drop the name but a pretty famous student of mine, who had trouble keeping time. And I was over to his house and I said, Why don't you just sit with my play along video and play along with it. And after a half hour, he came back down to where I was, and he says it, I keep losing it, it keeps losing me. And I said there's no cure for that. Just turn it up loud. Because if you hear it loud enough, you'll hear when you got out of time. And if you go back and play that again and make sure that you land the change to the C chord or the G chord right when the recording does, then that's like wearing braces, when with your teeth. They're trying to grow the wrong way. But the racist won't let them and your ears won't let you play along with something when it got ahead of you or you got ahead of it. And it really did cure the problem. The guy went on to becoming quite well exposed as a banjo player. And, in fact, the people he was playing with thank me. I bet anyway, that's the cure. And that's what I tell people it's even in some of my advertising. If you're having a problem playing in time you need this and what it is is a choice of three different play along videos and the slowest one is super slow, and that's the one most people get to begin with. And if you do a TI TM Roll, you know what sometimes called the bait, the square roll or there's a lot of name for alternating thumb. And that's a good role to play along with any music because the four notes makes up one beats worth of music, right, and the thumb starts each group of four on an inside string, like the third string. And you can really create a very steady rhythm with that, in fact, if you sing
etc. And any, anybody can do that roll, thumb index, thumb middle, it's just not hard. And after a while it becomes muscle memory. And then you can do it like you're walking, you don't have to think about it. Left foot, right foot, left foot, right, it just does it by itself. And everybody has that potential for muscle memory, taking over an important job like walking or things that we do while and we can talk while we do it. If you can talk while you're doing something, then it shows that it must be in muscle memory. And that's what you need is a huge amount of muscle memory involved in playing Scruggs style. And in fact, what I liken it to and one of my very best tips for learning banjo. To play learn how to play breaks is, first you have if you're going to ever work out a break, you have to be able to work find a melody on the instrument, even if it's just with one finger. Anybody who's trying to learn how to play solos, but cannot find a melody on the answer and by themselves is should not be working on tab at all, they should try to be playing by ear where they can find a melody. And that can be hard for some people. But the big hint is that the melody is usually the most important melody notes are found in the correct chord that you're playing. So you don't have to look up and down the neck and on all the strings just play the right chord and there one of those notes in the chord will be the note you're looking for. So that's a great aid in hunting melodies. So I absolutely require people first of all, they should get a role or two down, which can be done just by muscle memory practicing. And then I make them try to find a melody, a lot of people can do that pretty quickly in a lot of them camp. But I don't want to push them any further until they have a melody that they can play. And then here's the analogy. Going back to walking, if you're walking along a city sidewalk, and there's lines on the pavement every four or five feet, you could be talking with your friend as you're walking along the sidewalk and decide while you're talking to only make sure your right foot steps on every line on the sidewalk as you walk and you can do that not interrupt your talking, it's easy enough. And then you can also avoid that line. Or you could just say I don't care which foot steps on the line, but one or another foot has got to step on every single line. Okay, let's move the analogy over to the banjo. And instead of your legs walking, it's your three fingers moving on the instrument. And your foot is your thumb. Okay, or maybe the index finger and just make sure that every melody note when it's time some finger gets over to the string that has the melody on it. Yeah, okay. And that is that gives you the way of incorporating melody notes into a role which is mysterious for most people at first. But if you can do that, then you can at least create an out of time banjo arrangement, and then fix it up by playing along with a recording. So if you can work out one song like that you broken through the barrier. And then the next thing to do is work out another and another and another. Along the way. I show him a few licks that are the common licks that make something sound Scruggs style. Like if you're going to play a third string open, yeah, that's okay. But you could also play the fourth string into fifth fret and get a slide in there. And now you're sounding a little more like Scruggs. And anytime a new player does anything on their banjo that sounds like Scruggs. It's like somebody just brought him a big birthday cake. And it's a huge reward. And that's one of the things I stopped doing banjo camps for many years. So I stopped doing banjo camp, but the thing I miss about it is watching these breakthroughs happen before my eyes. That's life changing. A lot of people refer to it as life changing. But even more people refer to learning how to jam as life changing because it changes even their social life. To know how to jam.
Keith Billik
I think I think more often than not people that's why people are Learning the instruments so that eventually they can play with other people and have fun was a social element to that. So I think you're right.
Pete Wernick
That's that was an important realization for me because having there was a period of time, probably 10 years where I was doing both jam camps and banjo camps were even 15 years I was and I got to save the money was great. I was nice to be able to support myself when I was not in a money making performing band. This was after hot rise disbanded. And I still drive in 1998. Avalon. Because it works and I'm why get another one. So I don't live rich, but I live within my means. And when I need money running a camp is great. And one of the things in fact, it gives me a huge satisfaction to know that I'm helping a lot of people earn money as teachers by showing them how to teach the the Wernick method. So I have a number of teachers who teach a lot of jam classes all over the country. And there's at least 50 teachers or so all over the world. There's one in Australia, there's two in France, one in the Czech Republic, and they're making money, and we did a calculation and our Wernick method teachers have now taken home for themselves over a million dollars collectively. Not each one. No millionaires. That's
Keith Billik
more than all the banjo players combined. Well, that's cool. You've referred a couple of times. Now to your Warnecke method, if you had to give like an elevator pitch version of what what is the Wernick method as distinguished from anyone elses lessons? What would you say to that
Pete Wernick
the elevator speech is we show people how to function in a jam session and be comfortable, we show the ground rules, we introduce them to repertoire. And we coach them while they're playing in a jam, we, the thing that makes us very different from other jam classes that I've heard about is it's not about standing in front of a whole crowd of people and getting them to follow you. That's a skill that's great to learn. But it's not the same as being in a circle of five people, including a guitar and a bass and a fiddle, and work and just try. So there's a lot of clumsiness at first, but we got coaches who know how to coach and we even have an eight page guide for the coaches on when to stop them and when to not stop them and that kind of stuff. And how to coach like one of the nap, say, the elevators off. But we're still walking down the hall together. It's in the penthouse. And I say well, a typical thing is there's a circle of people and the mandolin player starts chopping on the on beats, and people don't know why everything feels weird, but they don't like it. And I'm the coach. So I, I know, the mandolin players doing this. So I walk around to the outside of the circle where the mandolin player is, and I just speak quietly while the playing is going on. And I say you're chopping on the on beat, but you need to chop on the off beat. And I clap for them, and then they get it right, then I move away and that they can still see me. And when they slide back into the on beat. I get their attention. And then I start clapping and then they correct it. That's one of the more common things that we do or you ever been on a jam session. I know you have where wouldn't it be great if one person would just tune their instrument?
Keith Billik
It's usually me I think
Pete Wernick
it could be. But I even have protocols on how to communicate to a person that they're out of tune in a way that doesn't challenge them too much. Like I've been in jam sessions where somebody says you're at a tune, tune that guitar widget already. That's very rude. But if you say, Oh, I'm tuning Hold on, I'm tuning my banjo, you want to use my tuner. That's like the bad breath thing where you take a breath mint and then you offer your high breath person. And it's pretty easy to get them to take the bad breath medicine. So basically, by the end of a single Warnecke method class, they typically are fine, they've been jamming. They've been leading songs, they've been faking brakes on new songs, doing all the things they aspired to do. Their tablature that they've been memorizing is fully useless. They're not going to be able to play any of that stuff up to speed in the gym in general. If they can more power to them. We say Okay, why don't we do circle be unbroken and you'll play your break when it's time. But then the problem is, a lot of people when they start their break, they need they screw up and then they do it again. You can't do that session. But you can do it at home when you're a closet player and you don't even know you're doing it. So when they go to a gym and they can't get that break going at the right time. They're mad at themselves because hey, I could do it at home. But the way to do it at home is to do it with a recording where you're supposed to come in, in a very definite time. So on our play along recordings, we have sections in each song where we just look at the screen and say, take it. And then they're supposed to come up with a break. And when a banjo player realizes that they can play a real break, even on the song left, they don't know at first. That's a huge feeling of progress. And I love helping people achieve that.
Keith Billik
Yeah, that's really empowering. So a lot of people know you as Dr. Banjo of course, because of your degree in sociology and hearing you talk about jamming and the joy you get for fostering that it strikes me that there's there's got to be a connection between you're studying sociology, and now you're shepherding all these last jamming sheep into bluegrass jams.
Pete Wernick
Do you see an analogy?
Keith Billik
Off the Cuff man? Do you see an analogy between those? And what do you think it might be?
Pete Wernick
Well, I have to say that when I was testing about for a major in college, I thought sociology be real interesting. And we were given a chance to write about sociology and our real lives. So my first paper that I ever wrote for sociology was, believe it or not the sociology of bluegrass jam sessions. And then you get to talk about the pecking order, who's who's in charge, and who is bait hanging on for dear life. And just how the interactions work and how people work their way into jams. First, they're observers, and then they move in and they see if they can get away with being part of the jam session or so there's a lot of sociology going on. Anytime people are together, there's power relations and such. And it really helped in the case of getting into bands like in in hot rise, which we had the record at for a while for 12 years of the same four people in the same band with no buddy. No personnel changes. Yeah. And when we finally disbanded, it was for completely good reason, which was Tim was getting offers from major labels. And of course, he wanted to do that. And none of us wanted to stand in the way. So the band disbanded. He actually gave us a full year's notice. And we parted on good terms. And then we got back together again, a bunch, that starting in 2010, we had a whole sort of second round of hot rise and put out two records and had one year where we played 30, festivals and all that. So I'm very proud of how hot rise functioned as a sociological unit, you might say.
Keith Billik
Yeah, yeah, exactly. Going back to your own playing, when do you think you began to see your own playing style emerge? And what I guess as a addendum to that, what do you think are the elements of your personal playing style?
Pete Wernick
Keith, I compliment you on an excellent question. I don't know if I've ever been asked that question. And it's key. It's very important. I got to know John Hartford quite well. And John was an amazing stylist. And he liked to talk about his progression where he first wanted all he wanted to do was imitate Earl Scruggs. And he got pretty far along but still wasn't as good as Earl. And then he realized to really imitate Earl Scruggs was to let something come out of himself, and then master it. So John developed a number of completely unique stylistic things in his own playing the way he would fret the fifth string and incorporate it with melodies that were happening on the first string.
When anybody does that people go oh, like that's like John Hartford. And that's that, you know, John's been dead for about 20 years now. But that would make him smile to know that somebody realized that that particular plane came from John. And John would then say, Yeah, but you now have to make up your own stuff. So one of the catalysts I would say for my own developing style was, I was a young player, I was a teenager and then a guy in His 20s When the 1960s was happening, there was a tremendous burst of creativity, the Beatles and The Beach Boys opened up rock and roll to new chord changes and melodies that were totally unheard of from the rock and roll of the Elvis era and the doowop vocals and stuff. Suddenly, we had a whole different bunch of elements that these guys were bringing in. And they were only a few years older than me. And so I knew a lot of people who were starting to write songs and writing stuff. And what happened is, I would be goofing around on the banjo and something I wasn't expecting would come out. And once in a while, it was cool and interesting. And so I would stick with it, I would try to think well, what's the next thing I'd like to hear. And when I was in my early 20s, I wrote a tune based on a pretty simple lick. But I realized that it was something that nobody else played. So my, my big three, and I've always taught this to even advanced players, my big three is something that somebody else doesn't play. It's got to sound good. And it's better if it's not too hard to do. Because then you can actually execute it and execute it well, because once it becomes reliable as something, you can just play the correct notes, you can do the icing on the cake part, which is now I'm going to make it sound really good.
Keith Billik
Yeah. So what do you think those three things were for you?
Pete Wernick
So the first tune I wrote like that was called buckling the berries based on a very simple lick, where I was trying to learn a bill key flick, and I tried a variation of it. And it was different bill didn't play that. So I spun it into this tune. And then there was a song called Remington ride that a lot of people know. And I made up a variation of that, and then threw in some other chords. And I had a new tune. And to be funny, I called it Armadillo breakdown. So a lot of people wondered, what's that all about, like you saw an armadillo get run over or something? No, I'm just trying to think of a funny word to go with break down. And then it got recorded by other people. And it's actually a jam session tune that people do. So it doesn't have to be rocket science are something incredibly difficult to set yourself apart from people. But both of those tunes use the flat seven chord. And I started realizing that at any tune that I made up or song typically have a flat seven chord in it. So that's an element of style. You know, Earl Scruggs didn't do that, especially most of his compositions were one four or five, or maybe there's a two chord in there. But he hardly did any new tunes that had a flat seven chord in them. And for people who don't know theory that just like an F chord in the key of G. And in hot rise, we have a joke, which is Pete comes along with a new tuner song, somebody's gonna say, I bet it has an F chord in it. I say, Yes, it does. And probably the majority of tunes that I'm proud of his original tunes, have that flat seven. So that's an example. And there's other examples. A lot of people when they tell me they like my style, they usually talk about how it's bluesy. And one one stylistic element that's that I started incorporating as soon as I became aware of it was basically a Tony rice thing. So here's, and here's the famous on the set, you start sliding into the second string third fret, sorry, it's a little out of tune. And the very first thing you hear after the pinch and Foggy Mountain Breakdown is this note. That's the flatted fifth, that's the note before. And the flatted fifth, Tony Rice made several delicious meals out of things involving the flatted fifth, and that was just not a note that people use very much. And typically, he would pull off from the second second fret of the guitar to the first fret on the second string. And I thought, Oh, we had all kinds of bluesy songs in hot rise like 99 years and one dark day where the guy kills his woman and he goes to jail, and he's gonna be in for 99 years, and then he's gonna die. So there's enough blues, just in the first verse to set the tone, and
just messing with those. I'm using the fourth note of the scale, but I'm pulling off down to it from the flatted fifth. So I'm starting with a flat seventh note the F on the third fret The first string, then I pull off, like I said, from two to one. And then the third fret of the third string, which is a common place. So I made up licks for 99 years, and I use them in high on a mountain that art rights did. And those are bluesy songs. And I just used that liberally. And that same flatted fifth can be found in other places. In fact, for the banjo players looking for new ideas, this is one of the high payoff, easy ones to do, you put two fingers, the middle in the ring on the middle two strings, second, and third, f is sixth fret of all places. So one of those is the flat seven, and one of those is the flat fifth. So you got you got the elements of the Tony rice magic.
And then you can just resolve it by moving the flat seven up to the the root note and you got some stuff to match with. And I rarely teach people exact licks, I more mostly show them places where they can put their fingers. Or suddenly they have a nice group of notes that they can order reorder any way they want, and make up their own licks. Some of them might even fit the melody of the song that they're playing, which is especially handy. So that's what my style is about his adding colors to the I played the melody very I'm really a Scruggs person when it comes to see if you can play the exact melody and phrase it exactly the way the singer would. Scruggs went to amazing lengths to do that where he had tried different things with his role just to make the melody notes come out at the right time. Exactly, not just sort of, like Rino didn't care if they really landed at the right time. Scruggs did. So you could learn the melody of the song just by listening to the banjo break. And very few people play that way. It takes extra effort to do that. And Jimi Martin would make his players do that. But most even high level players don't think to do that. Tony trischka has gotten into that gospel as well. So he teaches that, but John Hartford, talked about URL plays the syllables are placed the words to the song and Earl would even use that terminology, I play the words. And John gave me amazing examples of Earl going out of his way to play the words, when other people would just play standard licks. Like when he recorded Folsom Prison Blues and took two different breaks on it. One was the syllabication of the first verse of that song. And his next break was the syllabication of the second verse, which had different syllables interesting. So the second break has the bet there's young old folks eating in those fancy dining cars, which is different from I hear that train a common common round the band. They're different. We played them different. And that was a great example. And I used to think people in Jimmy Martin's band were playing like easy banjo breaks. They sounded easy because the guy could execute very well. But then when I tried to just say, Oh, well, I could play that. And was thinking tonight in my blue eyes. And that was a hard break to find all those melody notes. They're all over the place. And the guy on the record, did it perfect. And it took me a long time to learn how to do it perfect. So that's part of my style. I think that the listener deserves to hear the melody if the song is good enough to play then the banjo player should play the melody. And then maybe if they get a second break they can go nuts a little bit. But Jimmy Martin one the listeners to know exactly what song it was from the opening banjo break. And I think that's a great value. And it's not just a 50s 1950s thing it's a right now thing people like melodies and should respect the melody. But I love adding colors and in my style. I was fortunate my had some friends who were pretty you know, ones that now actually a well known serious music composer. He's a prophet yell, but thanks to him, I knew what a ninth was. And I knew what an augmented was. And that just means typically moving one finger with your left hand and you change the chord and if you get sophisticated about when it's good to use a ninth or an augmented, you can do stuff that you don't hear any other banjo players doing. I'm not saying they don't know how to do it. baileigh knows all that stuff, but that's not the way he plays. You know, he just he has different priorities but me. I like just inserting a color when I can to fit what the song is about. And this is really important to me as an art Just in hot rice, we had any number of different songs about different things we had, you know, anger songs, we had happy songs, we had scattering songs, yeah, gospel songs. And they all have their flavors. And if you just play standard licks on every song, you're not going to sound different from one song to the other. But if somebody listens to me play high on a mountain, and they hear me playing footsteps on here, and then they hear me playing. If I should wander back tonight, you know, we're going to hear a whole lot of different stuff. And it won't be the same stuff somebody else is doing. But it always fits my three favorite things. Sounds good. Other people don't do it. And it's not that hard. Like, I'm terrible on melodic style. I have a hard time with it. I love it. But I can't play it very well. So when I have to I have to practice huge amounts to get it reliable. And most of the stuff that I make up does not involve melodic style because I'm afraid I'll botch
Keith Billik
it. Yeah. Hey everyone, Keith here, I was just chilling in my backyard studio again and thought I need to tell everyone about our great great sponsors. The first is peghead nation. peghead nation is a streaming site to take courses in banjo, guitar, mandolin, fiddle, dobro, upright bass Uke, and through those courses, you can learn bluegrass, old time, and plenty of other styles from some of the best instructors in all of roots music peghead nation.com features a great lineup of banjo instruction. Here are some of the courses beginning bluegrass banjo with Bill Evans, you know him, he also teaches bluegrass banjo, you can learn clawhammer banjo with EV laden Wade Ward style banjo with Bruce Wolski. The banjo according to Danny Barnes, or contemporary bluegrass banjo with West Corbett. Now, each of these courses include high quality multiangle, video lessons, downloadable notation and tab, play along tracks, and plenty of tunes and songs to play. And the bonus feature of these is that just by being a listener of picky fingers, you can get your first month free, just go to peghead nation.com. Use the promo code picky fingers at checkout. And you'll get to sample any of these for absolutely free. pinky fingers is also brought to you in part by elderly instruments up in Lansing, Michigan. We all know that it's so much cooler to support small, independent businesses. And it really helps out when that independent business also happens to be the most knowledgeable and trusted source around for new used and vintage stringed instruments. And I'm talking of course, about elderly instruments. They've been family owned and operated since 1972. And you can go to elderly.com to check out their wide selection of all stringed instruments. We're talking all the banjos and banjo accessories and learning products that you could ever want. But if you happen to have a hankering for, let's say electric guitar, acoustic guitar fiddles, UK's mandolins, they have all that too. So once again, just go to elderly.com or give them a call at 517-372-7880 to talk to one of their knowledgeable sales representatives. You know, I keep bragging about Michigan, but it's hard not to if you drive from where a lot of the Motown Records were recorded, and you drive toward Kalamazoo, which is where all those pre war Gibson banjos were made. Along the way you get to Battle Creek, which is the home of GHS strings, another sponsor of the show. You know, even those pre war Gibson banjos don't sound like much without a good set of strings on them. And GHS are some of the best and you know that they're some of the best because they're the ones chosen by players such as bailiff, Fleck, JD Crowe, Sonny Osborn, and me. I've been a user of their Pf 145 Banjo set for quite a few years. And if you need strings for your guitar, mandolin or any of those other instruments, they're going to have that too. So check out GHS strings.com for their full selection. Let's talk a bit more about hot rise. When I listened to a lot of those great old albums. One thing that strikes me is how much everything breathes, and there's space and clarity around each of the instruments. And I'm just wondering if that was an intentional approach by that band? And if so, how did how did that come together?
Pete Wernick
Well, one thing is we were four piece band, we were always a four piece band and when you have four pieces, and the singer is playing one of those pieces, and he's not going to be playing backup for himself. That leaves the bass, the guitar and the banjo. So the banjo has a lot of space to work with. When Charles would take a break, I gave him the full space Ace, I wouldn't play anything like a roll behind Charles spray, because that would, I think step on the guitar playing. And I had that urge beaten out of me early on by guitar players who mouthed off at me saying, you know, I can't hear myself and I'd say, Well, I'm playing quietly. But the fact was that I was playing louder than I realized, because when you're behind the banjo, you don't know how loud it is. And when you're 10 feet away from the banjo, and it's pointed at you, it's hard to hear what you're playing on the guitar. What I do at my banjo camps, in fact, is I have everybody play a little lick in their usual way. And then I say, Now lay the banjo down flat on your lap, and pointed right up at your face and play the same lick. And they do and I say didn't get loud. Yeah, it really got loud. I said, Guess what, that's how loud you really are.
Keith Billik
It didn't get loud, it was as loud
Pete Wernick
as you think when you're behind the banjo, you're wrong. So in hot rise, I was even told pretty early on to not even play the banjo at all while we were sitting around the mic or anything like. And so I thought it would be enough. If I just went to a play quiet. They said no, don't play. I said, Okay, I'll just chop and they said don't even chop. I said You mean just stand there and hold the bench. And they said try it. This is the first year of the band. And as Tim said, I think you'll sing better when you're the banjo is not in there. And we'll all sing better if we don't hear the banjo right in the middle of the harmony. And they were completely right. That's what I started doing against Charles's guitar breaks, I developed a pretty standard thing, which is I would chop, not just a full chop cord, but I'd go way up the neck and I'd only play the first and the fourth strings using an F position. And the first and the fourth strings are going to give you the root note. And I hear Ralph Stanley do that kind of backup sometimes where he was just playing those two strings. And it was it was really well defined. And it used no space. There's like a metronome click practically. Yeah. So Charles, who had a beautiful sounding guitar and prized the tone that he made, had the entire canvas to work with Tim and I'd be chopping the bass would be well out of the way. And Charles's beautiful tone would be appreciated by everybody. And he wouldn't have to worry about getting a little quiet. Because the banjo might step on my quiet notes, the banjo was far away from where he was. So that's an example of us creating space for each other. And there was even times when when Brian Sutton joined the band after Charles had passed away. Brian was into a channeling style as we in hot rice called it, which is a lot of up and down of the strum. And that's a fairly popular way that people play like that's how Dan Kaminsky plays rhythm on the guitar. And it's not a bad thing, but it uses a lot of tonal space. And space is part of the music. Just because there's space doesn't mean oh, we better fill that it. It's part of the music. Yeah. And my very favorite instrumental rock band was the band. They were amazing when it comes five different people playing and you could hear any one of them anytime he tuned into any one of these to hear what they were doing or not doing. We've on him very economic style of drumming. But everybody's very forceful. If they're playing it, they're not just doodling. They're adding something to the music. So that was the hot rise attitude. And it wasn't we got it from the band. But that's just an example of another band that plays trying to do that. Yeah, so we'd get out on stage and play Blu night typically. And everybody's loaded with adrenaline and they're banging every one of our on our video, Tim breaks a string on the very first song because we're all revved up. But we're not getting fancy. We're just digging in to the most critical elements of the song, whether it's the melody or just the back beat or whatever. And we're pounding away and we're listening for the groove, we want to establish the groove immediately where we're all playing the groove. And if you're playing the groove, I mean, if you hear a good drummer, just start a good groove with nothing else, you're gonna start tapping your foot, you're gonna have a good time listening to just that drummer. You don't need a whole bunch of elements to make the music better, necessarily. So those are principles that I learned in music that then I applied to hot rice and everybody in hot rice was thinking the same way. And I wouldn't hurt Stevie Ray Vaughan and he had he had two musicians with him. And I thought well, it'll probably get boring. Well, it never got touring was so dang good. And he all you need was bass and drums and himself to make a great sound. And if he had had a horn section, I don't know if I would have liked it one bit better. So that's I think everybody can stand to think of that. And that's one thing beautiful about bluegrass. It's not supposed to be played by 10 musicians. It's supposed to be played by five musicians or maybe four. And even three piece music can be incredibly interesting and complex, and that's fewer people to pay.
So back to sociology, everybody in hot rice was hurting for money kinda in the first few years of the band. And we were for peace. We had somebody could play fiddle, which would be 10. So we could have a fiddle sometimes. And on the record, he'd overdub fiddle, yeah, but we only had to pay for people I was the agent. So we didn't even have to pay an agent. We could just divide the money after the gas was paid for and whatever long distance telephone calls, I had a bill to the band,
Keith Billik
let's talk about the phaser.
It's used pretty heavily on your first album, and then of course regularly throughout the hot rise years. What was it about the phasor that that drew you to it and made it made you incorporate it into a regular part of your sound. And you don't have to incriminate yourself here either.
Pete Wernick
Here's here's the story I went to a music store thinking I'd like to do something different on the banjo I don't like how the banjo you play a note and it goes away. Once in a while I'd like to just land on a note and have it sustain, like an electric guitar could. And then I could even bend the note while it listens to staining and I'd have a new effect on the banjo. And otherwise it would sound regular. But every once in a while I make a note last longer. So I went to a major music store in New York City looking for a reverb pedal and they didn't have one. So while I'm standing around doing this, and that I hear this beautiful sound, and it's coming from a single electric guitar player sitting on an app. And he's playing through an Amex our phase 90. And it sounds so beautiful and full and extended and has a little warble in it. And I said wow, I heard that sound on records and stuff. Sometimes pianos go through it. Basically, it's a electronic imitation of a Leslie speaker. And it makes this warble The Beatles created a sound like that by delaying a tape by simply holding a finger on the tape reel, the flange flange. And that was called flanging. But then I tried to throw a microphone I just played through a microphone, I'd gotten an antique microphone are RCA 44 bx, which is one of those hexagonal shaped microphones you see on a lot of album covers from the 40s and 50s. And it's very famous for the low end quite a lot. And when I played into that microphone when the microphones plugged into the Phaser, it had this big, fat, beautiful sound. And I was listening with headphones. And I made up some pretty neat stuff that I liked a lot while I was playing through the phaser. And I thought all right, I was already hip to the idea of you have to have your own thing. And I thought well, that would be my own thing. I never had to do that. So basically, I tried it flying fish Records was amenable. They took the demo, and let me make the record. And so I ran it up the flagpole. In fact, I decided the record wouldn't need to have a guitar on it. The banjo sound with the phaser was big and fat enough so that the guitars tone wasn't quite needed, but I wanted the rhythmic elements of the mandolin. I made up this kind of music essentially that was phased banjo rhythm, mandolin and electric bass and I named it nyuad music because that's where I live nyuad Colorado and ran it up the flagpole. And I mean I got a certain amount of like what the heck is that? The spectrum ranges from, you know, I got I got a reaction from Bill Monroe on it which really had a little mystery connected with it, but I also had very direct compliments of an unsolicited one was from Pete Teigen doll from bluegrass unlimited. Yes, an old fogy. And he said, I liked that. And then I was sitting at a table at a festival, eatin with a Norman Blake. And he says, You know, I liked that phase shift. And so I'm thinking now that is one of the moldy figures guys possible. And I thought, Wow, that's some pretty good endorsements. And then one time at a festival. This guy comes running up to me and it's Jim Jessie's Fiddler Joe Meadows. Joe Meadows is the guy played orange blossom special on the Stanley brothers recording, okay. And he came up to me and said, Man, that's a cool. So I'm getting these compliments, unsolicited? And I'm say, All right, it's okay. But then I believe at that same festival, Bill Monroe went up to the sound man and said, What is that on the banjo? What's happening with the banjo. And this was before hot rise. And the sound man happened to be Charles Sato. Oh, and so he reported the conversation, which was, I already told you bill Monroe's part, Charles's part was to try to explain it to Bill, and then Bill walked away. So we didn't know exactly what he thought of it. But later, we heard that from somebody who was in bills band, that
bill would speak a little bit negatively about hot rise, but it wasn't just about the face shift. Or he just, I don't know what it was. But we knew that he was a famous person, you know, He's fussy, and yet, sometimes very protective of which is the Bluegrass sound. But he ended up being nice to us, and he was nice to me. Although he was always scary. It's always fun to tell this little Bill Monroe story. Hot Rods is pretty established in Boulder. And Bill Monroe was hired to play at the largest venue in Boulder, the Chautauqua Auditorium, and we were the opening act. And so when Monroe showed up for soundcheck, I did my usual which is to go and greet him and say how great it was that we were with him and we how much we loved his music. And he accepted the compliment, but he didn't kind of pick up on anything. So I had the guts to ask him something that was on my mind, which is, I asked him Bill, you know, since I was in college, when I interviewed you on my radio show, and I've done interviews with you a number of times, and I've been around you a lot, but I'm I'm never sure if you recognize me, do you remember me? And he looks at me, he says, I remember you, I remember you good. And that's always probably referring them to scare me, as always. But then at the end of the show, he came up to me and said, Your band sounded good tonight, Peter. That's kind of guy Monroe was he didn't mind keeping his heart cards really close to his chest. And I'm sure he enjoyed the fact that he scared people, I'm sure of it. And then when he gave you his blessing, it meant all the more. So that's the story of me and my face shift are basically, you know, I was tempted to use it more a lot at the beginning of hot rise. But you know, when I used it on prayer bills of heaven, somebody said, you know, you really need to play the phase shifter on prayer belts. And so I've always used it sparingly in hot rice.
Keith Billik
There's a Facebook group for my listeners. And I previewed that I was going to be meeting up with you today and solicited questions. And among them there was a listener who, who really loves that track called Skyrider.
Maybe I'm assuming is that one of your original compositions? It seems like a banjo tune? Yeah. Just what the background of that was, or maybe what the writing process was like on that one.
Pete Wernick
When you had it, how do you start a tune and have it sound different right at the beginning, that's a puzzle, you know. You don't want to confuse the listener. But you want it to be different. There's an awful lot of banjo tunes that don't sound like a lot of thought went into them. They're well executed but it's basically a lot of the same licks and Lu Wow, what about that B flat chord they threw in there. So I didn't want to have that so I'm sure I don't remember the exact creative process but
and then landing on the forecourt at a sort of an unlikely time helps and then right away to my go to court. Escort now that lick that's used as a G lick all over the place, but usually at the end of a break. And here I'm using it as the melody of the song, then dawned on down that ladder that a lot. Dada, dada, but um, but um, bom bom. That's a nice melody. So when I had that, I said, Alright, this is going to be a tune, what am I going to do now? So next thing to do is repeat that. What else am I going to do? Well, we got to need a bridge. So I said, All right, how about the F chord again
F chord to see there's that same look, again, I'm quoting from the first part of the song into the second. And that was good, but I really wanted some specials to finish the solo. And that's when I went to. So what that is, is B flat chord with the first string open, so you have to use three fingers on strings, two, three, and four at the third fret. That's me putting my index finger which is available down on the first fret of the first string C four. And now here's, well, it looks more like a G seven than a B flat, but it is a B flat. It's just two fingers at the third fret on the first two strings. So the melodies but we finish on a C chord, we finished the break on a forecourt. Okay, that's unusual.
Keith Billik
So you'd like flat seventh chords so much that you use two different flat seventh chords in that two new
Pete Wernick
flat three chord, which is a Beach Boys chord. And I love the Beach Boys. So that B flat chord is not illegal in bluegrass. It's just very rare. That's great. Take something rare and stick it in and see if it fits. You know, that's a great compositional device if you ask me. And I use flat at six chords, sometimes to like the E flat chord in the key of G. And none of those if there's no like snowflake, real, which is an old fiddle tune uses the flat six chord. So if you know there's a precedent for it, that nobody got worked up about, you know, it's legal. And then you just have to see if it fits, you know. So when I'm making something up, I'll try all sorts of stuff. I put a lot of stuff on the table. And then I pick the stuff that seems to fit best together. One of the reasons I started the band, originally called the Live Five, Pete Marnix, live five, and then I changed it to Pete Wernick and flex the graphs. That's my band. I'm the leader, I was not the leader of hot rise, I was the instigator. But I was not the leader, it was a democratic band, we had to pretty much agree on all the material. We decided that if anybody didn't particularly like a song or didn't like, you know, disliked it, we didn't have to do it, we'll do one that everybody likes. So when hot rods had disbanded, and I started flexing grass, I thought, well, I have all these tunes I've written that wouldn't have been hot rice tunes, but I showed him to the people in this band. And three of the people in that band are from jazz backgrounds, one, the clarinet and vibraphone, and the bass player are all more into swing jazz and such. And in fact, the vibraphone player that we have, for the last almost 20 years is a guy who leads his own jazz band, and he's kind of a modern jazz player, but he liked bluegrass. So I'd say, Well, you boys are gonna have to learn the melody. I don't want to hear you play just over the chords like you don't care what the melody is you got to play the melody. And then you can do whatever you want. And I like the way a jazz player might embellish bluegrass if they understand, you know, the Bluegrass idiom enough. And so I've had the same people in that band for a long time. 20 years is the average length of being in our band or even more than that, because we started in 92 and still have guys that were in the band in the 20th century. Four out of five. So it's collaborative. I mean, I use their ideas, but I'm still the last word and I say no, I don't want you to do that do something else. And I could never really do that in hot rides or other bands I was and so I enjoy. I have enjoyed being the bandleader of that band and being able to use a lot of my compositions like I have probably something like 40 instrumentals now that I've recorded that I made up myself, and a lot of them are with either country cooking or hot rice, but quite a few of them are with the flecks of brass band. And that's one of the ways I make my mark. I don't know if I mean, most of those tunes have never been covered by anyone else. That's when you know you've got a good tune, but some of my earlier easier to copy songs like hugging the berries and Armadillo break them, those have made the rounds. And that's a wonderful feeling when somebody else does your stuff.
Keith Billik
Yeah, yeah, cool. On that same note, you have done all these using a phaser type of stuff and a band with electric bass and you've had Viber phones and flutes and clarinets on your albums. But you're also a fierce supporter, obviously, of traditional bluegrass, you were the IBMa president for some time, and you do all this teaching. And there's a lot of people who don't want to see other influences in bluegrass or think that you're not, you must not be a real bluegrass musician, if you're doing that kind of stuff. What do you I don't do you have anything that you would respond with to people who might see that as a conflict?
Pete Wernick
Well, it's not a zero sum thing, where if you put some extra attention into something else, you had to take it away from the first thing. Now bluegrass, to me is not just a kind of music. It's also a subculture. It's an amazing community of people. And the fact that we all love Jimmy Martin, and we all love Bill Monroe, we all have Earl Scruggs. That is part of what binds us together. But also we just love the sound of acoustic instruments, we love standing in a circle of five people and making music together. And Bill Monroe came up with that formula, and it was so long ago is we're now about 70 Something years past when he did that, but it's still extremely potent. Even the put the punch brothers play exactly those five instruments. And they're most of them, their instruments were made in the 2030s. Besides, so they're pretty retro at their foundation, and then they go off in every imaginable direction. So I think accessibility is the most important thing. That is I don't know why I like it, but I like it. You don't have to know why you like it. And then I did that with a phase shifter. And I did it with Flex aggress. And if I think it really sounds good, I'm going to do it. I've already made my mark, in some ways, when I started going over the line, and I was conscious of the fact that I hate this, I'm going to stop doing it. But even though a few people hated it, I was booking the band and one person said, Well, I'd be happy to hire hot rods, but you have to leave that phase shift your home. And I said nothing and doing and then I went back to the band. I said, is that okay? Can I do that? Or should I call the guy back and say, I won't use the face shirt and they said stand your ground? We'll just turn down the gig. And of course, some of my very favorite musicians had to stand up against people say no, that that's not right. But they knew it sounded good. So they stuck with it. But if I think it sounds good, and it it's going to hurt part of my career, well it might help the other part of my career. So, in fact, Earl Scruggs when I played him, Foggy Mountain special as done by Flexi grass with the clarinet playing the fiddle solo, exactly note for note. And he was he smiled a little bit. He was pretty. He wasn't lavish about compliments. But he said, Don't let anybody tell you what you shouldn't be playing. He said. And that was good to hear. He never said, well, actually, I brought the flecks of grass guys over to his house and we jammed. And that was fun around there. And of course, the jazz guys were pretty amazed to be playing with Earl Scruggs I said well it's something like being able to play with Benny Goodman or somebody the grant set the style years ago and was nice enough to open his home and you know his music a little bit to these guys. So that's how I feel that it you know, being controversial is not something you have to avoid be just be careful about it. And there's so many great creative people who've had to deal with people not liking something that they did and wanting them to be more orthodox that there's plenty of good role models on stand your ground and see if you can get away with it. And preferably, I'd like it to be I mean when John when David Brisbane started dogged me Music. He didn't have to fend off people who didn't like it. Everybody liked it. I liked it. And I thought, wow, I'd like to make up something that is different. And right away everybody likes it. So I maybe didn't get 100% on that score, but it got high enough.
Keith Billik
Yeah, great. So anyone who listens to my show regularly have heard me talk a lot about masters of the five string banjo and how I look at that as almost a written model for my now audio format. So of course, I'm endlessly grateful to all the work that you and Tony did with that talk for a minute or two about what it was like putting that together. And then also, more personally, do you have any tips for interviewing banjo players?
Pete Wernick
Yeah, I do, actually, he. And by the way, I think you're doing great. So nothing to correct anything you've done. But thanks. I'll just start on that last part, which is, I've done a lot of interviews at a radio show, starting when I was a teenager on my college station, and I had the only bluegrass show in New York City for seven years on an FM station that reached all over the metropolitan area, I was very fortunate to have that opportunity. So I got to do a lot of people, interview a lot of people. And then when I wrote a bluegrass song book in 1974, I thought the best way to teach about singing would be to interview Jimmy Martin, Ralph Stanley, and I interviewed a ton of these people. And after a while, I got used to the thing where some of these people don't really like to talk. They would rather do it than talk about it. But masters of the five string banjo was like me and Tony being everybody's geek, we're standing for like, you mean, I get to talk to JD Crowe for two hours? Wow. I'll ask him everything. So I did. And interviewed, you know, John Hartford and Ellen Shelton, and some great banjo planners and the first you know, because they don't maybe know you even that much. So you have to kind of let them know that you're hip to what they do. And you're not just going to ask them the same dumb questions that most interviewers ask them, you know, nothing wrong with how did you get started in music and that kind of stuff. But sometimes that's as far as they go. And in fact, Tony rice in the Bluegrass unlimited interview from 1985 that I did, that just got published, Tony actually complimented me on my questions, because they weren't the typical questions. So my, my little routine is you first start asking them stuff that they can easily answer. But then you ask them stuff, like, Where'd you play yesterday, and you ask him stuff like pet peeves, or anything you're particularly proud of, you know, sort of get under their skin a little bit and see if you can tie the subject to some emotion that they feel after they've had a chance to warm up and get friendly with you and understand that you're not going to, you're not an idiot who's going to ask them the wrong question like Larry sparks. When did you start playing banjo? Something like that. You know that Larry is going to clam up with a person like that. But when I say well, you know, What's that song? John Deere tractor. You know, where'd you get that song? That song makes me feel emotional every time I hear it. Now you notice he's talking to simpatico brother in arms, you might say and he also knows that I'm a traveling musician. So he'll give me a higher quality answer than he would to a generic interviewer. So you sort of let them know, you're going to understand when they say something a little bit deeper than usual. And once, once you've done what I've just described, you can just let the interview go where it will, because they might start bringing something up. And then if you see that hit has triggered an emotion in them, and they want to talk about it. Well, you let them. So you've asked me about composing and what makes my style different? That's exactly the kind of question I'm delighted to answer because I've really worked on that, and I rarely get asked about it. So and I would, I'd like all the banjo players of the world who listened to your show, you know, how many are there about 5 billion or so? Here, what was it? And so you're doing good. And the masters of the five string we sort of just basically took, you know, Tony, and I just arrived at a large list of questions down to like, how you wear your pecs, and just every little bit of trivia. So once in a while, that's a very dumb question, right? Well, John Hickman straightens his pitch straight out. And most people like bailiff, fleck or Earl Scruggs, they bend them around their fingertip. So when I asked Ralph Stanley said, what, how do you wear your finger picks? He said, Well, I like to twist them. I said, Well, how do you do that? He says with my teeth. That's good. That's a good answer. Yeah, well in the book, of course. And so we had a lot of fun doing these interviews. Some of them were on the phone group. Butch Robbins was a fascinating interview, because he just stopped playing with Bill Monroe for four years. And he had a whole complex about home row, both positive and negative. And he did the unusual thing of when I asked him, I forget how baileigh flick came up. But Bush was not all sold on baileigh flick. And he said something like, someday Baylor will figure out how to play just one note.
And so Bucha is quite a deep person. He's an amazing conversationalist. If you ever get a chance to interview him, I, you'll hear stuff you wouldn't hear from anybody else. Plus, he was working off of the Bill Monroe complex that he had. So we had a very interesting, interesting interview. And I was proud of every one of the interviews, but then we had so much more work to do after the interviews were done. One was just transcribing the stupid things. And a certain amount of editing and then I decided all these people that we didn't interview, they're the they're so great, you know, purchase McPeak just passed away. He's at 93. But he was somebody I really thought should be in the book and Jean Parker, who played in the lost and found a wonderful stylist, I want him in the book. And there are these new people coming along like Alison Brown, who is at the time quite young. And a guy in Europe named Philippe bourgeois, who is great banjo player in the style of Alan Mundi. You he's not heard from very much on banjo now, but all these people and I thought, oh, Murphy Henry, she's an important teacher, you know, people should hear what she has to say. So we ended up including close to 70 banjo players in the book, we couldn't interview them all. So I did what my sociology training had helped me do, which is I created a questionnaire and I sent all these people questionnaires. And if they didn't answer, we bugged them. So I got questionnaires back from Rudy Lyle, and Dave Evans. Dave Evans had three exclamation points on almost the end of every sentence.
Keith Billik
That's, that makes so much sense. That's hilarious.
Pete Wernick
Yeah, and you know, Vic Jordan and all these people that really deserve and I felt real bad about Bill Emerson. You know, Bill Emerson was sort of buried in the Navy band at the time, nobody knew what he was doing. And if he had stayed in the country, gentlemen, we would have interviewed him. Same with Edie, Edie Kok, who was at the time playing with David Allan Coe, and he was playing sort of a non banjo instrument of banjo ish instrument and he wasn't in circulation in bluegrass. So I thought maybe these guys won't even be known by the time, you know, years passed by Well, they both came back to bluegrass, and a number of people roasted me for not making a bigger deal out of Ariad COC. But Edie understood, he was very nice about it. And so what I ended up with, as I'm sure you're aware of anybody who has the book, we had a summary, a 16 page chart, where we asked everybody alright, what's your first banjo? What's your banjo? Now? What's the height of the action of the 12th fret? What bridge are you using? Who are your biggest influences on the banjo? And who were your biggest influences? who weren't banjo players? A ton of the critical information and instead of, and then we get one chance to say got any advice. So we get advice from Alison Brown, we get advice from Dave Evans, you know, and some of them were quite interesting. And it all got in the book, we thought if we submitted a 450 page book, they'd edit the crap out of it. And we'd end up with 100 page book. Yeah, they just took the whole thing and they printed it. Oh, it was so big. They had to charge $30 for it, which was very high price in 1987. And it didn't sell very well at all. My first banjo instruction book had sold over 100,000. So I assumed this would sell at least 100,000 Because it had all these guys in it. But I was wrong. It took seven years to sell out first printing seven years and then when it sold out, they just let it go out of print. And that was very disappointing to have done all this work. And now the books not even available, but then I started noticing people were looking for it with a passion and the price on eBay had gone over $200 So I got in touch with my friend John lawless who did the acting tab was Mr. Bluegrass today. And I said Would you publish this book? He says, Well, I don't know, it's going to be very expensive to print all of that stuff. And I said, and he decided that he'd have to have 300 people on board who promised to buy it, which happened. But then he also upped the list price to $60. But it's been selling ever since he printed it, and I sell it for less than $60. And I believe, if you Google it, where can I buy it? I'm pretty sure I'm the only person selling it. But every time we run out of books, I get some more from John. And the book has stayed in print. And now it's been in print a third of a century. So a lot of these people have died. There's a whole generation of players who are not even in the book, we managed to get Scott Vestal into the book. But when I asked Sammy Sheeler, he, he was more of a hippie at the time, and he never answered. So he didn't get in the book. And there's just this amazing generation of young banjo players. Now none of them are in the book. So people say, Hey, I have an idea for apt write a second book. And I said, you write the second. And you see if you can sell 10,000 copies and make back. Some of them. You know, it took us three years. And I'm not enthused to write it again. Although I'd sure read it if somebody else wrote it. And we even had two prominent banjo players come to us and say, or at least, they came to me and said, we'd like to do that. I said, I'll help you. I'll give you all the advice. I can. But I just wanted you to know. It takes a long time. And it didn't sell very well. Yeah,
Keith Billik
that was just right. I'm sorry. Wasn't NAD gonna do it? Ned NAD lube Iraqi?
Pete Wernick
Yes. He was one of them. The other guy was why am I having a trouble with names he? He writes for banter newsletter, wonderful guy. From Canada. Oh,
Keith Billik
Ian. Ian Perry.
Pete Wernick
Yeah, that's that that was the two of them must have been about 10 years ago, they came up with that. And then I scared them off without wanting to but I just was factual with them. The funniest part of that book was conversing with people like JD Crowe and Ellen Shelton and Ellen Monday. But the work of getting all the photographs taken. Getting the tablatures Tony did a lot of the tablatures. I didn't have to do them. And then just the usual publication stuff that goes along. And then for me, making, getting together that chart with all those banjo players on it. That was a lot of work. But it was a labor, it was all a labor of love. I just knew that would be an important book forever. And my sister who was a writer and an editor, when she saw the book, she said, Wow, there should be a book like that for every discipline, every discipline where you have the masters of the discipline just and what they did.
Keith Billik
Yeah, it's a goldmine. I don't know
Pete Wernick
of any other book like that, and it for any field at all. But that was me and Tony being geeks on behalf of all the geeks out there wanting to read this stuff. And it's very encouraging that it keeps selling. And it costs about 50 bucks to mail it to Europe now because the postage rates are so high. But there's people in Europe and Australia by in that book, because they just have to have it and I get why they have to have it when I was young, I would have had to have it.
Keith Billik
Yeah, I recommend it to everyone all the time. And
Pete Wernick
well you man.
Keith Billik
Let's move on to your instruments. What is your primary banjo these days?
Pete Wernick
My entire life of banjos that I own beat her I had at first and I got a bowtie 1962 archtop Gibson master tone. And hats off to Roger sprung for offering that banjo to meet for a low enough price to buy it. I saw the store for $345 and I thought I could never afford that. So Roger came in at 235 and I ended up with a first class banjo. But then I thought well I have to have a pre war. So when Red Allen and the Kentuckians came on my radio show, Porter church was on banjo and boy did he sound good and they told me his banjo was for sale and I thought oh I could sound like Porter church. Well it turned out when I bought the banjo It took more than that still just sounded like you but he was such a great banjo player and and then I just worked on making that banjo sound and it was a 1931 Banjo that was originally an RB one but it had a tone ring and somebody put a tone ring in it. So I played that all the way from 1966 all the way into the hot rods and would have been my banjo for life. But I received the banjo that I still play in 1988 and that was a brand new Gibson Granada that Greg Rich presented to me. And that was a huge honor because Greg riches, one of the great banjo luthier is all time. And I knew who's making great banjos and Alan Shelton told me, I got this one for free. Because they wanted people to know that they were Granada's now knew Granada's and they were good. So I asked for one of those. And Greg came to the hotel and where I was staying in Nashville, and he presented it to me. And I said, Oh, this is amazing, so beautiful. And sounded so good. And I said, All right, well, what do I have to do? I should have had, do I have to stop playing my old pre war? Do I have to be in photos? And when I'm on TV? Do I have to play it? And he answered, If you don't like it, I want it back. That That didn't seem to answer the question. So I asked him all over again. And he answered, If you don't like it, I want it back. That's one of those John Hartford like, sphinx like, answers.
Keith Billik
Yeah, thanks. but no thanks.
Pete Wernick
And I thought, okay, he's saying the banjo. If, if you love it, you should have it. And if you don't love it, why would I want you to have it? So I was still so attached the other one I would play. So like I played at the Strawberry Festival that year 1988. And I played one set on the pre war and one set on the Grenada. And I was still trying to figure out what to do about it. And then, after the second set, three people came up to me as a group and said, The Grenada is better. Oh, wow. So the three people were John Hartford, David Grisman, and Bela Fleck. The three of them were all at the festival, and they wanted me to know this. Well, what an honor. Yeah, so that was that and I had to do a little bit of work on the banjo found the tone ring was not a tight fit and luthier John Ramsey here in Colorado, made a tight fit. And he also made me a few different bridges for it that are all just like regular Gibson type bridges except a little bit taller. I wanted to live in sixteenths bridge, my hand is large. And so he made me a few. And I picked one of those to be the bridge. And that was the banjo. And now I use a skinhead on it, that the kind that John Baulch makes that are pretty expensive, but he treats them he does all this good stuff to a standard piece of cowhide. He cleans it, so it's uniform in thickness. And he also treats it with something so that if you sweat, it doesn't suddenly make the head turn into a rubbery thing, because that happened to me once and banjo became unplayable. And I said, I guess that's a problem. And he says, well, it's going to cost more, but I can treat it. I said do that. So the head has not broken. It's been in all kinds of weather.
Keith Billik
And you live in Colorado where it's very dry.
Pete Wernick
To a human place, I probably have to tighten the head a little bit. But then when I go back to Colorado and tightens back up again and it's even maybe a little tighter, I tend to like it because it's crisper. So I always tell people you can do whatever you want to the banjo but the main thing that you need to do is practice so your hands get the sound you want this the sound is in your brain and in your hands and it's much less than the banjo as I've had proven to me time and again, that when I played JDS banjo, I thought how does he get any tone out of this thing? Same with Allen, Monday's banjo, and as soon as they pick it up, it's great. Yes, I couldn't get the sound out of it. I remember telling John Hickman I said, Man, it buzzes a lot. Maybe you want to try heavier strings. And he was very polite, and he listened to me. And then when I heard him play, it couldn't have said it better. Because that's amazing. It's all about the player spraying what they want to hear. And usually, you put any banjo in a player's hands and it's going to end up sounding pretty close to the way they sound on their main banjo.
Keith Billik
Well, even though I know you're you're right, people do still get curious about this stuff. So take us through take us through the rest of what you're using for for pics and strings.
Pete Wernick
He's just relatively heavy strings that I discovered a long time ago. By accident and gauges go all the way up to 24 for the fourth string. Starting with the fifth string, it's 1024 16 for a third string which is about as heavy as anybody uses and then 12 and 10 And the brand is GHS. But I don't love GHS over other brands, it's just that they're the ones that I've made the deal with. And in fact, I have them make strings with double loops on them. That is not just the loop that fixes that goes to the tailpiece. But if you put a little screw a real small screw right through the hole and tuning peg, now you have a little nub sticking out of the tuning peg. And if you have a looped end of the string, slip the loop over the little screw that's in there, and then you tighten it up and you didn't have to use clippers, you can do it in the dark by feel, which you can't thread. It's a really good little invention. And I thought I was gonna make a ton of money from it when I came up with it, but I was told by string makers that they'd have to create an entirely new machine to put loops on both ends of the banjo string. And I thought, well, could I patent it? And and it turns out that a string with a loop on both sides of it has already been invented for a very practical use, but not for musical purpose. But for an archery bow. Oh, ah, okay. So I was told you couldn't patent it. But you could have a use patent. But then when nobody was interested in even making such strings, except GHS, makes them by hand where they have to hand make the loop the second loop by hand, and it costs money to do that. It sort of killed that as a commercial idea. But it could have been for mandolin strings, Banjo strings, because everybody hates changing strings. And I don't hate it because it's so easy. Yeah, I mean, sometimes I thought, jeez, I guess I should change strings. And it's like five minutes before the set or 10. And people say you should change. You shouldn't do that. And I'd say, Just watch me. And suddenly the banjo is all brand new strings on it. I stretch them a little bit and I can play just fine. Yeah, so I love the speed of it or being able to change a broken string real fast. But anyway, that's my spiel on strings. And otherwise, it's a pretty standard Gibson Grenada with a standard tail piece and the bridge is this one that I now have on there, but I had I had tested out a lot of bridges and I had a rating sheet. Which ones I liked the best because the bridge is really an important part of the sound. And so I had number one on there. And but you know, it's still it's still up to me to be a good banjo player. It's not up to my bridge to make me sound for sure for sure. You know and then I think Earl just tuned up his banjo as Rob McCurry told me once people don't talk about this, he said, but there's never anybody been able to tune a banjo as well as Earl Scruggs. And he's right. And live shows you here and he's never added to know a couple of exceptions. But I even you know various playing little darlin pal of mine with Jake on bass. And you see him tuning the banjo in the middle of the song, just fix it. And I saw I rolled the recording back I say what did he hear that was wrong. And I can't hear what was wrong, but he could fix it right in the middle of the song. And that tells you something. It's it's just, it's up to the player, you know, the player will find a way to make the instrument sound good if it's needs adjustment, because it's buzzing or needs to have its strings changed. Okay. But Sonny Osbourne when he was interviewed by Tony trischka. And Tony asked him how often he changed strings. Sonny laughed at him. He says, I don't know if they break. It had never been why he says how often do you change strings? And Tony says Well, I don't know every every show or something like that. And, and sunny laughed at him.
Keith Billik
Yeah, that's, that's crazy.
Pete Wernick
Anyway, so that's my story on banjo setup. There's a lot you can talk about. And there's people who would rather talk set up for two hours then practice. And that's a bad choice, in my opinion.
Keith Billik
We need those people to though, who know that. Yes.
Pete Wernick
Yeah, it's true that it's a big wide world and that stuff doesn't actually interest me very much. So I usually duck out and say try it and if you like the sound use it and if you don't like the sound go back to the other way. That's my formula for how to set up your band show.
Keith Billik
Last gear question Do you have a preferred microphone for live and or studio?
Pete Wernick
When I came into my windfall when my banjo book sold so many copies and I suddenly had more money than I expected. I had a hung around with Carlton Haney the guy who started bluegrass fest was and he had a lot of theories. Some of them were crackpot, but some of them not. And I would hang out and talk with him a bunch and he said the reason Earl Scruggs sounded so good is because the microphones he was using. I said, Oh really What microphone and he said, Well, these RCA ones and you know, he he didn't even know really but I there was a place that sold us here and I was able to get to RCA 44 bx microphones, microphones, and I used one of them on my solo record, Dr. Banjo steps out. But it had no high end it had tons of low end and not much high end. So I used it in conjunction with another microphone that had higher end. And that was just a pain in the butt to have that situation very heavy microphone fragile, it's a ribbon microphone. And on stage, I found that the SM 57 Sure, you know the one that you can throw against the wall and it won't break. And across 100 bucks. That's like a lot of people's favorite banjo microphone as proved in masters of the five string. And a lot has changed since then it was in middle of 1980s. But it's still a great mic for the banjo. And I would just routinely use it because it rejects feedback very well and you can work it. It's pickup pattern is such that you can just by the way you lean into it, you can control your volume, and I learned how to sort of use my distance almost like a volume pedal backup. If I want to be loud for one second, I can just lean into it. But we had a really good sound man for hot rice who chose the S M six which is a new microphone, large diaphragm. And I forget even whether it's a condenser or not. That's a good sounding microphone. The one I used in the studio on almost every hot rise record was an AKG 414 C E I think Charles made sure I memorized it. But I use that a lot. And that has everything you like it has the high end it has the low end. Yeah. And a very nice sound character. It's pretty accurate doesn't call her the microphone, the sound the way the Shure SM 57 does. Collars it nice way kind of trims off a little bit of the nastiest high end if you have some buzzes or something. And it's it, it really does a good job on the low end. And just it's a good balanced microphone. It's used for vocals a lot. They call it a 58 is the windscreens different for vocals. But it's the same microphone. It's amazing. It's a warhorse. It's been around for decades. And it's remains cheap. And that's always what I would recommend. And again, if you're not sounding good enough, go back and practice some more. Don't blame it on the microphone course. But the condenser microphone did a good job. And in the studio, I use that or if the engineer has has a hunch I always let him try it. And I don't even remember what I use. Now. I used to ask Earl Scruggs about microphones. I said, Did you have a favorite? He said, Yeah. I said what was it? He says I don't know it was kind of skinny. Earl was a so uneducated about certain things, including he couldn't describe what he was doing. They used to bug him to write a banjo book and he says this can't be written down. He said, so he didn't do a batch of book for the year for years, until Bill Keith showed up with transcriptions. Because Because he didn't know what he was doing. And he couldn't play it. He told me once. I can't imagine how somebody could play Foggy Mountain Breakdown twice in a row exactly the same way. I said, well, thanks to your book, there's people who only know one way to do it. The only way they can play it. And he just stared off in the distances says yeah, I don't understand that. So on up, an Earl was very sophisticated about stuff. When it came to how to present he was very conscious of what he should do and what he shouldn't do. And a lot of times he would choose play less because of his philosophy of understanding how music was accepted by his crowd, his public, which are not sophisticated people, but they knew when they loved something and he knew he had something they loved. And he could produce it. You could even see on his face how satisfying it was for him to know that he was delighting people. But he never bragged he was very much of a non bragger
Keith Billik
you talked about your band suggesting that you perhaps lay out on the banjo playing during the chorus so to speak. Yeah early. I would see Earl do that on those old shows. He
Pete Wernick
was not touched the banjo. He was typically not holding it like I would but he would chop Okay. Which is pretty equivalent and he wasn't facing the banjo into the vocal microphone so you didn't specially hear his chop but it's a natural One thing to want to do is kind of like tapping your foot in a way just to
Keith Billik
your body to feel the beat and voluntary almost. Yeah,
Pete Wernick
yeah, well, Banjo, you know, if you're a mandolin player, guitar player, bass player, you have a whole limb of your body, your whole arm is stating the rhythm to you. So you have a metronome, so to speak right in your body that feels the beat the banjo, you don't have that because the beat sometimes is played by the middle finger, sometimes by the index finger, sometimes by the thumb. And there's so much syncopation going on. Like there's a lot of times when the melody is not on the fifth string, but the first note you play on the roll is the fifth string. So the the note that is the melody comes a little bit late. But that's you like that you do it on purpose. But what you lose is the chance for having a limb of your body keeping time for you. So that's why when you hear a player like Scruggs, or JD, and they have this amazing metronome running, they're playing. It's so dependable that you can tell the difference even though everybody else is there, not at a time, but they're these guys are so in time you like it more. And that's that's a treasure that. And it's very hard to duplicate. There's very few people who route stylings and other one when when you hear him plan, you know exactly where the beat is, you want to tap your foot, I know we're going long. But if people want to listen to the end of this video review, they'll hear some of my favorite advice, which I'll give right now, which there's four parts of the body that you want to activate in the listener. And if you can do that, you'll get the big bucks. Some of them are easier. One is you have to tickle the ear with your tone. Just like somebody with a caustic voice, you don't want to hear them talk, but somebody with a nice voice, you want to hear them talk. So you have to tickle the ear. So that's one of the easier ones. And other part of the body is the foot, which represents somebody keeping rhythm. And if you play really good rhythm, people's feet will tap automatically, even if they're not really even if they're having a conversation with somebody. So I made a point, playing at a club, where half the people are talking, I would just watch look around the room and see if people were tapping the end, you know the booth that they're sitting at or the table or look for feet, tapping and if they're tapping, I'm okay, if they're not tapping, I'm thinking, Come on, give him some beat, make those feet tap, whether they're up and dancing or not. But Monroe was all about that, because he was a dancer, and he knew how important regular rhythm was. So that's two parts of the body. Oh, yeah, the brain forgot the brain. Be interesting. You can't be boring if you play the same stuff that somebody else plays. Somebody might their attention might wander. But just by being dynamic, like, just if I'm being boring talking, and I go, You know something, people go what what what, if you go you know, something, and I just discovered golden under my house, it might be interesting content. But if you don't put some expression into it, they might miss it. So and you also have to edit yourself, you know, if there's a long boring part of your new instrumental, replace it with something interesting. And even the way you name the tune or introduce it on stage will heighten interest. So you need to please the audience's brains. So the fourth part is the part where the money really is, which is the heart which is I care. I don't know why I care about Willie Nelson. But every time I see him saying I care about him. And Bill Monroe totally care about him. Jimmy Martin. He made sure I cared about the lyrics of the song, a guy I know who is a really good band leader, and he's wonderful musician, but he doesn't get big crowds. I said, you're a bigger admirer of Jimmy Martin. Just the way he talked to the audience made people care. They sometimes cared that he would stop drinking so much, but at least they cared because he was so dang talented. And he wanted you to love him so much that he extracted that. And there's a lot of different ways to make people care. You know, JD Crowe did very straight face not talking like Jimmy Martin, but just delivering so beautifully, and picking such good material and things like that. So that's the fourth part of the body and you might be getting $10 for tickets if you do the first three parts. But if you want to get the 20 or the $30 for for your concert, you have to have the fourth element. And hot rise got into that zone partly by Tim O'Brien's great saying partly thanks to Nick's great emcee work, partly thanks to red knuckles and the trailblazers, partly thanks to the blue brass mystery Charles Sawtelle who people wanted to know more about because he never talked.
And we had a way of presenting ourselves that we honed very carefully to make people care and like our show, so we had funny stuff. We had deep, serious stuff in the program. And if you can somehow put that into your banjo playing, and another one of my favorite bits of advice is I say, alright, we're playing this song. It's called riding at midnight train. So what if there was a movie somebody made called riding at midnight train? You're going to play the soundtrack for that movie. So you're going to just play your standard licks, are you going to play the ones that sound like you're never satisfied? I'm right. I don't you know, these awful blues will follow me wherever I may go, that's bluesy. So deliver something that fits that feeling. And if there's raindrops in the song, you can play a raindrop sounding thing. I have water sounds that I make I bird sounds that I make. So if there's a bird in the song, I play my birdie sounding licks, you know, I'm trying to play the soundtrack of the plot of the song that if they made a movie of the song, they use my banjo for the soundtrack. And I don't think hardly anybody approaches banjo playing like that. But if you're serving the song, that's the best way I know to serve the song.
Keith Billik
That makes a lot of sense. Speaking of your playing, I'll finish here with a classic masters of the five string question, what a what recorded example are of your own playing is the one that you're most proud of.
Pete Wernick
I've heard a few things lately that I'm just so proud of. One of them is it's just a composition of mine that Jerry Douglas did a brilliant job producing called birdsong Creek. Okay, and it's on my honor roll record. And a lot of my favorite stuff is on that record I had. I had my full hot rice chops up and running, and I had a lot of creative stuff that hadn't done yet with hot rice and I had an incredible bunch of musicians helping me out. So that whole record is my favorite record showing my style off. But one cut I just listened to the other day, this great fiddle tune in the key of B that was written by Greg dearth, an old bandmate of Timo Brian's before hot rise as a fiddle tune in B, and I don't think there's any other fiddle tune in B, and it is bluesy like crazy and templates that crap out of it.
So I listened to that. And then I listened to a live version recorded after the band had disbanded. My favorite hot rise record by far is called so long of a journey. It's taken from two live shows where we were totally in the groove. And there was so much stuff on there, we could have made a more we could have put out the whole both nights, but it got boiled down to something 19 cuts and empty pocket blues, that same fiddle tune is on there. And so live cut, and I'm proud of how I played on that I drove it and Tim is right in the groove. And Charles plays an amazing break. I'm so proud to have existed ever hear that. And when I realized, that's you on the banjo, I'm overjoyed. So that's great. That's great if I pick any cut, and I like my break too. But it's really the way we as a unit sound just four guys just plan the crap out of a song and be very good. So you can't go wrong with that one.
Keith Billik
Let everyone know where to find you online. Give us our websites and anything they might need to know about that.
Pete Wernick
Yeah, that would be Dr. Banjo der banjo.com and tons of stuff on there. I my entire talk tab archive is on there. This guy in Minnesota named Brian Ford, who tagged a whole bunch of stuff just because he wanted to. And I said Could I sell it? And he said Oh sure. So somebody just yesterday bought my entire car tab archive of like 300 breaks or something. Oh, wow. I've recorded and that's on there and saw a whole lot of articles including my big treatise about how not to start the banjo and how instead start playing the banjo this way. And my ideas are definitely not according to what everybody else does. I started with that I started writing tabs for people and quickly found Note that that was not the way I had learned banjo. And it's not the way anybody should learn banjo because it's not a question of memorizing a piece. It's a question of learning the language of how to make your right hand generate tone and timing, and melody, and it can apply your, you know, play the same break, but it'll come out different every time. And that's like the Earl Scruggs way of playing as opposed to I memorize this. And it's great. And somebody else thought of it. It's not even my idea. Somebody else thought of this. So there's articles all over the place. And there I have seven years worth of banjo newsletter columns, a lot of this stuff, almost all of it is free. So I always encourage people go avail themselves of Pete Wernick mind talking about the banjo. There's 180 questions and answers that I answer on there. So I like that. If anybody wants to write me they write Pete at Dr. banjo.com. I welcome people to write me ask me questions. And I'll answer. We also have a separate website called Let's pick.org let's pick.org And that's for people want to get in on the Warnick method want to learn about jamming. And now that spring is here and the COVID is being gradually tamed. A lot of people are now starting to run Warnick method classes. So anybody wants to either just jam for fun or learn how Jamming is done. Those classes are happening all over the place, Australia, Czech Republic, New Jersey, wonderful. And I'm also running the first banjo camp I've run since mine since 2015, six years, no banjo camps, and I'm running one for all levels. At a beautiful mountain location in Colorado. First week of August, it's a full five day banjo camp variable, it's within a camp that's for fiddle players. So there's going to be fiddle players all around and other instruments. And they will get to jam with other than just banjo players, which was one of the reasons I stopped banjo camps. Because what do you do after hours jam with five other banjo players? I don't know. So at this banjo camp, that's part of the Rocky Mountain Fiddle Camp, not far from Colorado Springs. there's still room to register there. And sorry to keep plugging things. But I have two bluegrass camps where all the people of the camp are experienced players. We're not taking new players at all. We have separate camps for those folks. But these are like jam camps. But people can also get coached for performance factors, or else just jam with a bunch of different people who are as good as they are. And these for experienced players. And at both of the camps that I'm doing like that one's in North Carolina ones in New York state. We're short of banjo players. So if there's a banjo player listening to all this, who says, Yeah, I'd like to go someplace where I'd be in a band of with with four other people who about my level. And I'm the only banjo player in the gym. And we get coaching from Pete and a whole bunch of very good teachers. That's good reason to go. And you can look all that stuff up on let's pick.org.
Keith Billik
That sounds great. Well, Pete, thanks for being so generous. With your time, it was great hearing all your stories and your tips and everything. So I look forward to seeing you in person one of these days.
Pete Wernick
Yes, and I won't. Before signing off, I just have to compliment you so much on picking up this ball. You know, there's been a lot of stuff, since masters of the five string and a banjo newsletter does a good job. But there's something about hearing the voice and the picking of a person, right as part of an interview. That is really special. And you have your heart and your mind set in the right place to really serve banjo player. So I'm honored to be on your show. And I appreciate your effort here. It's great.
Keith Billik
That's a great endorsement. And I'll take it and thank you for that. That's it's awesome. And it's definitely in the model of everything you said about the masters of five stream just trying to capture it for all the geeks out there who can't be here right now.
Pete Wernick
Well, if I may say just one more thing. I think bluegrass music is one of the best things that human beings have ever invented. And playing bluegrass music is one of the very top level it's amazing what it took, you know, we were all just homosapiens living in caves not too many 1000s of years ago, and now we have bluegrass music where people have learned these incredibly just the fact that somebody made a Lloyd Lord mandolin and a Gibson, Master tone banjo. I don't know what other planets there are with life on them, but I don't think they've come up with that. And here we have bluegrass music that's been created and all great learning materials available all over the place. And for people to not avail themselves of that seems, what a shame they should at least learn how to play. Will the circle be unbroken? You know, three chords, great song, there must take that much effort. I just, you know, that's, that's my mission. I'm 75. And for the rest of my life. I don't know if I'll be making more instrumental albums are being out on the road gigging with bluegrass fans, but I know that I want people to jam and I'm doing everything I can with the Warnick method to get people into the Bluegrass world where they can really do something and have fun. So you're part of that and the whole community is facing a very good new future. And I'm just so proud to be part of the Bluegrass Community.
Keith Billik
Yeah, I think so too. All right. Well, that's a good sentiment there that we can leave people with good positive vibes.
Pete Wernick
Thanks for having me.
Keith Billik
Thanks, everyone, for listening to this episode of the pinky fingers banjo podcast featuring Dr. Banjo Pete Wernick. You heard a whole bunch of sound clips and in order they were spring break by Pete Wernick Salty Dog Blues by a flattened Scruggs. Maybe you've heard of them. Come tree canoe by John Hartford Armadillo break down by Pete Wernick. Nelly Kane by hot rise shade Girl by Pete Wernick Skyrider by hot rise birdsong Creek by Pete Wernick. And empty pocket Blues by hot rise. Lots of stuff there. Hope you enjoyed it. Don't forget to sign up for the banjo lit prize giveaway by enrolling on patreon.com/banjo podcast and you'll be entered to win that wooden armrest and other prizes. Thank you again to Bill live say he's the Patreon supporter of the week. Contact the show pinky fingers Banjo [email protected] And I'm going to say goodbye from here. Hopefully I'll be joining you again from the backyard studio next time.