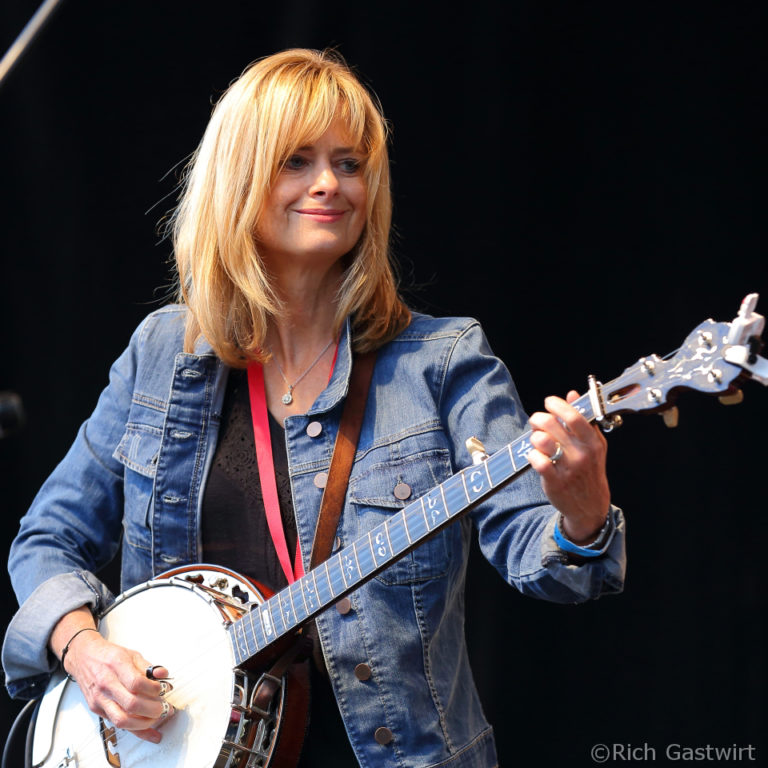 "And the distinctive thing about this picking party is that women weren't invited to it. Because there was the idea that if men, women and bluegrass music were to mix, there could be less than desirable consequences. We all know that it's the Yin Yang. That's like the best part of it. Like bringing men and women together in this music to me is like what's making it so exciting right now. And for my money, I think it's a female bands that are really leading the charge and some of the most interesting cutting edge music coming out of the genre." - Alison Brown
Keith Billik
Greetings, everyone, Keith Billik here. Welcome to the pinky fingers banjo podcast, I am freshly back from my trip to IBMa. And any of you who have been to the IBMa, the International Bluegrass Music Association convention, know that saying freshly back really does not capture the feeling that you have after a week of staying up till ungodly hours of the morning. In fact, there's a very corny joke that circulates around IBMA. That is to say that it really stands for I've been mostly awake and true to form who was I to, you know, betray that tradition. So I did get a lot done, I set up a booth, I got to chat with a bunch of you listeners, which was really great. So I appreciate any of you who stopped by to chat me up. I got to pick a few tunes with some of you got to sell a few T shirts. So the the number of cool kids out there has just increased by a few. And let me see what else I got a few great interviews that I'm already excited to share with you. Those will be coming out over the next coming weeks and months. And perhaps the coolest thing that happened was very close friend of the podcast, Grace van't Hof, who has been not only a featured guest on the show, but she also is the graphic designer of the very, very cool podcast logo that I use. She won the IBMa award for Graphic Designer of the Year. So proud we are of her and congrats to grace for that she even let me hold her trophy, which that's probably the closest I'll get to one of those things. I also deployed my highly trained Tactical Operations interviewer to conduct some man on the street interviews. Those will be coming out those are fairly humorous, just short, outtakes, ambush style gorilla interviews. So I think I'll probably release a collection of those as a bonus episode. So stay tuned for all of that. I think you'll dig it.
And this is where I need to acknowledge that none of these cool things that I've been here talking about for the last minute or two would be at all possible without the lovely generous Patreon subscribers. Go to patreon.com/banjo podcast and that's how you can support the show if you like what you're hearing and want it to continue because every little bit helps. And basically you just sign up there to throw me a couple bucks per month. And that really does help a lot. In particular, today we have a very special Patreon supporter that is Taylor Shuck. I actually met Taylor when I was down. You may recall I did a trip to Nashville to do some interviews. I ran into Taylor there. He's an awesome banjo player. And he is a member of the mamas said String Band out of Louisville, Kentucky. So if you ever run into them, enjoy the music and tell Taylor I said hey. Taylor, thank you for your support. Once again, that's patreon.com/banjopodcast and another perk is that you get to come to a monthly video meet up with myself and your your fellow Patreon supporters. And October's monthly meetup is going to be October 26 at 9pm Eastern, and anyone who's on Patreon you'll see some notices go out about that but anyone who signs up before the 26th if you're hearing this in time, you can you can join us for that. You can always contact me at PinkyFingersBanjo [email protected] with any thoughts or comments or suggestions.
Today's featured guest is Allison Brown, the award winning banjo player, composer, record producer and the co founder of Compass records. So she wears a lot of hats but at the essence of all of this It is the fact that she is just a phenomenal talent on the banjo she's one of my personal favorites. In fact, I think so highly of her that I am pretty good usually at keeping my composure, talking to a lot of the guests I've had that I really look up to. But I admit I had a few fanboy moments, I think with Allison. I reminded myself of those old Chris Farley skits of hey, Allison, you remember when you recorded that album called fair weather? That was awesome. I felt like I was doing that a bit. And probably that will come through, but it's for good reason. Because Allison is totally awesome. I love her playing and she was a gracious host. So please enjoy this interview with Alison Brown.
Alison Brown
My name is Alison Brown. I'm from La Jolla, California originally, and I became a banjo player when I heard Earl Scruggs' Foggy Mountain banjo record and decided that I really needed to learn how to make that sound.
Keith Billik
What age were you when you heard that?
Alison Brown
I was about 10 When I heard that record.
Keith Billik
So how did you go about pursuing this new fascination?
Alison Brown
Well, it was great because I was taking guitar lessons from actually a law student and he was the one who brought that record over and he played a little bit of banjo too. So I was able to take a few banjo lessons from him and kind of try to get started.
Keith Billik
So you said you were already playing guitar and then you heard the banjo - can you describe what it was about hearing the banjo that drew you that way?
Alison Brown
It's that big bang moment, right that so many of us had? My family was living in Connecticut at the time, and it was Paul Guernsey who brought over the record for me to check out. And to me it just was this sound of like another America like some other part of our country in our history that just really spoke to me, but wasn't part of my experience growing up.
Keith Billik
I take it your guitar teacher was not also a banjo teacher did you have to pursue that separately?
Alison Brown
Well, he was a banjo teacher, but he was also going to law school. So he was off doing law school during the school year and and I was really more focused on fingerpicked guitar until my family moved to San Diego. And fortunately for me, there was a really robust and still is very robust bluegrass scene in San Diego. So I joined the San Diego bluegrass club. And that's when I really started to get more into banjo.
Keith Billik
What was that like? Was it jams, or what was being a member of that club? What did that involve?
Alison Brown
Well, for everybody who's grew up playing bluegrass in California, you'll know what I mean. It's like pizza palaces and bluegrass music are kind of go arm and arm. So the club met once a month at the shakiest Pizza Palace and basically set up you know, a stage and mics and bands would get up and perform. And then there was jamming in the parking lot. So for me, it meant just connecting with the local community and all the people who just so generously stood next to me and told me how to play different different things that I was curious about.
Keith Billik
Yeah, what do you think people learn by going to those jams? Or what do you think you got out of that, specifically, that you might not have gotten from just private lessons, or maybe self directed learning?
Alison Brown
Well, everything because to me, this music, it's all about community. That's, that's the richness of it. That's the part that, you know, makes me so happy to be a member, you know, of such a, such a generous and robust community. You know, you can't, you can sit in your room and practice and you should, but it's not really until you're sitting and playing with other people and connecting through music, that you're really experiencing the full joy of what the banjo can bring to your life. And it's, you know, connecting with other people and making music together. But it's also the act of creating music that a listener can enjoy. And it's all that connectivity that that's the that's the golden part of the whole experience. I think.
Keith Billik
I know that eventually you met up with a young Stuart Duncan to play a lot of music. But I guess in general, were you were you able to find people your own age? And was that important to you?
Alison Brown
Well, there weren't a lot of people my own age, but fortunately, Stewart was your right, you know, growing up in San Diego and the first club meeting that I went to actually, he was in a kid's band called the Pendleton pickers, and they had just won a trip to perform on the Grand Ole Opry and I remember incredibly clearly hearing that band play Earl's Breakdown. In hearing Stewart play Paul Warren's fiddle solo, and it just blew me away. So so there weren't a lot of other kids at the time, but there were a few and Stuart, you know, I was super fortunate to get to play a lot of music with him growing up.
Keith Billik
Yeah. So was most of your learning through that those community type events or were there lessons or other influences that you had at that point?
Alison Brown
I took lessons from a couple of you know, different teachers, you know, at the new expression in San Diego, which is a shop that's still there. But to me, it's like the really the steep growth curve part kicks in when you can actually get in those jams and start trying to make your own solo for rolling my sweet baby's arms. So if it weren't for that community, I mean, I liked the banjo but for me, it was a struggle to get used to playing with metal picks is as used to playing fingerstyle guitar picks. And, you know, I think it was really the joy and fun of getting to play that music with other people. That's kind of really what kick started the banjo for me. So it would have been a different experience if I just been sitting in my room practicing and going once a week to take a lesson with a guy or girl.
Keith Billik
Yeah. Obviously, you were drawn in by Earl Scruggs what other players do you recall listening to and really digging?
Alison Brown
Yeah, well, yeah, Earl, for sure. That was kind of the portal into the whole world of banjo. But then you know, pretty quickly, I started to get into Tony trischka. I loved the fact that he was pushing the envelope for the instrument. Alan Mundi just so many great things about his playing left hand right hand the whole thing love his whole sensibility. And then of course, John Hickman, who unfortunately we recently lost but he was a great influence too. He was the guy in Southern California that everybody looked up to for banjo.
And I was in a band with Stuart at when we played at Magic Mountain, which is a theme park north of LA. One summer I think is a summer I was 14. And I, I was actually playing very bad dobro in that band. But I was standing next to John, who was playing very awesome banjo all summer. And so I really got to soak up a lot of what he was doing. And he was very generous, too. It's just like that theme that runs through the Bluegrass Community. And he spent a lot of time sharing his tapes with me and turning me on to Bill Emerson and you know, kind of the generation before him that influenced him.
Keith Billik
A general mentor type of relationship.
Alison Brown
Yeah, definitely. And you know, that didn't need to happen he didn't need to spend his time with a 14 year old kid but he did and that made a huge difference.
Keith Billik
Yeah, that's cool. Are there any specific things that you remember him teaching you on banjo or was it this more general professionalism and influences?
Alison Brown
Yeah, I'd say it's probably more like I was gonna say 10,000 foot view maybe like 5,000 foot view of the banjo it was just like standing next to a guy and like watching how he changed his strings or watching how far his picks were extended off the ends of his fingers which the answer is further than most people and they're pretty straight. So like nerding out about that kind of banjo stuff. And you know, and just watching how he plays certain licks in certain places and so you know, learning those licks and a lot of them I still play and and that always makes me smile because I remember John when I do
Keith Billik
Are you up for demonstrating any of those licks or
Alison Brown
I could now that I say that have to try to remember him but sure if you give me a second I will grab a banjo. John had a couple of signature licks that we used to that I've found that I started playing all the time so one of those was like when you go up to a D at the 12th fret he would, a lot of times, go or or even just one of his and he do this one a lot of things which of course you can do in C, or D, was one of his and he used to play Dixie break down a lot and he had a the way I learned playing Dixie break down as you know kind of the Doug Dillard way But John's way was to go you know, kind of use these G positions and go etc. So, I mean, they were just they're small things. But they always make me think of John and another lick of John's that I really liked was something like this he would go – and what's cool about that like is, is you're playing the melody on fifth string, right? So you know, I've got my first string open and my second string at the 10th fret. And I'm just kind of rocking back between the 12th fret and the ninth fret on the fifth string and so it's that's a great lick to throw on each plate and Sally good.
Keith Billik
Yeah, he seems to I have a lot of those just rhythmic twists that when he, when you when you shift where that melody is it gives it a little extra funkiness to it or something like that. Yeah, it's hard to describe,
Alison Brown
that's a really good way to put it. Because he would also do like some kind of lick like that a lot of times. So yeah, he did think rhythmically, though. That's a good way to look at it.
Keith Billik
And you mentioned being influenced by Earl, of course, but then also trischka. And nowadays, of course, you're known as a very versatile player did that was that already creeping into your own playing this progressive sensibility?
Alison Brown
Well, you know, I kind of think you are what you eat musically. And I've always liked to listen to a lot of different things. So that's part one. And part two is I grew up in California. So our notion or the California notion of what was bluegrass was much less parochial than what you might have found if you grew up in Appalachia. Yeah. So it's always been natural for me to like, look for other things to do with banjo. And then of course, when David Grisman quintet came out with that first Kaleidoscope record, that was huge on my PIP parade. Yeah, I mean, just that idea of taking acoustically routed music, and going to a kind of a new place within was really exciting to me. So I still kind of follow that muse.
Keith Billik
Right. What were the next steps in your career? How did you make the leap then of going from being this young dobro player?
Alison Brown
Hah! I was terrible, but that was easy. Delete past that.
Keith Billik
But what were your next, you know, progresses? I know that you did a little bit of contest playing. But eventually, of course, you're signing on with professional bands. And right, how did that all happen?
Alison Brown
Oh, well, the Dobro thing that was just kind of a kind of a gift to get to be in the band and stand next to John. And then it didn't make sense for John to continue to play in that band. So eventually, I got to play take over banjo duties, which was great. And so all through high school I played like, I guess you could say, semi professionally, because we got paid to do it. But, you know, we weren't really like professional musicians. But it was something that I never really lost the passion for. So after, you know, a lot of career twists and turns that had nothing to do with the music industry, then I decided, you know, that I wanted to try to make a go of it as a full time thing. And that's when I had a chance to join Alison Krauss and Union Station, and that was really my first kind of legitimately professional gig.
Keith Billik
And at that point, were you starting to hear perhaps your own style on the instrument? Develop? And what do you think were the things that made up that style? Or maybe still make up your sky?
Alison Brown
Well, that's a good question. I mean, I've I've always felt like, to the extent that I found my voice on this instrument is more came through trying to write tunes for the banjo, so maybe more as a writer than a player on some level, you know. And so I think, I feel that my style maybe started to evolve. Once I put out my first solo record and of original tunes, which was called Simple Pleasures, and came out, I think, around 1991.
Keith Billik
Yeah, I'm a huge fan of that album, I really love it. So let's get let's talk about the composing, then I hear a lot of people when they're asked about their composing, they might take an interesting role pattern and try to make a tune out of it, or Tony Trischka talks about giving himself sort of tricky assignments that he that he does, or other people assign themselves composing time, they're going to go in this room, and they're not coming out where along that whole spectrum is your technique or your approach when you're writing a tune?
Alison Brown
Well, all of the above. I mean, I think that there's so many different ways of going about writing. The funnest way is when a tune just kind of in a flash of inspiration, and it just falls into your hands, that it doesn't happen all the time. And I feel like maybe it happens less and less the more you do, because I think your filter gets more and more fine meshed. You know, it's like, you know, your critical thinking is like, Oh, well, I kind of have already done that. I need to search for a new idea. But that that is fun, but it's not the only way to get a good result as I kind of have begun to feel that it's maybe equal parts inspiration and craft and over time you develop the craft of putting a tune together because you've seen what works and what does work quite so well. So all that to say some, a lot of times, I'm writing with an assignment that's kind of like, oh, we need a tune to kick off a set, or I'd like to find a tune that, you know, uses a certain technique and has a certain kind of energy, or I want to read a tune in C. Jens Kruger writes tunes in C all the time. I never read tunes in C, so let's try to write a tune in C you know, like that, or even to go to a tuning, you know, with like a drop C tuning and try to find something new there.
Keith Billik
Do you feel like you usually have a preconceived vision of how it's going to end up like, for example, on your simple pleasures album that you just mentioned there's some flute on it. And definitely, throughout your other albums, there's all sorts of instruments where, at what point does that come in? Are you just trying to think outside the box of how you would want to hear it as a listener? Perhaps? Or?
Alison Brown
Well, you know, it's just been an evolutionary process. Really, you know, there was flute on my first record, because David produced David Grisman produced the record. And he had Madico playing flute in the band. So we used a bunch of the guys, Jim Crow, and played bass and Matt echo played a lot of flute. So those guys, I think, if they hadn't been in Chris' band at the time, it wouldn't have occurred to me to like, bring flute in. But because David did, it kind of opened my ears to, you know, a way to go. So now we actually have a flute player in the band. Because there's there's a delicacy about the flute that I think complements the banjo really nicely, melodically without taking up a lot of Sonic space and competing with a banjo.
Keith Billik
Yeah. And another thing that, that strikes me about that album, and really all of your music really is you're, you're one of those players who just never seems to hit a bad note or have sloppy playing is just all so clean and precise sounding. And it's hard to think that that's not connected to the way that you practice. And just how you know what your process or how you're, what's the word I'm looking for just the discipline that you must have with practicing?
Alison Brown
Well, first of all thank you very much for saying that. It's absolutely not true. I hit wrong notes all the time. I'd like to not hit as many as I do. But thank you for saying that. I really appreciate it.
Keith Billik
You have us all fooled.
Alison Brown
Well, gee, well make my day. Thanks a lot. Yeah, and I feel like my practicing could be a lot more disciplined too. But I find that a lot of times I'm practicing for the thing. That's next. So if we've got a band gig coming up, then it's a matter of pulling out those tunes and making sure that I've got the head and I've got basic ideas for where to go for solos, and getting that back in my head and under my fingers. And that's a challenge when you've got a lot of stuff going on, you know, and if you're not touring, and playing that music, you know, 100 nights a year, which I'm not usually skipping around and doing a lot of different things. So that's what I would encourage people, you know, just trying to get the the music that they need to perform the next thing that they're going to be under the spotlight for, you know, turn your mind and attention to that, make sure you've got the head, make sure you can do it if you feel slightly nervous. You know, Colin Hay, who records your compass records, whom I've known for a really long time. And he's, you know, been to the top top of the mountain of musical stardom as frontman for men at work, I don't work. And he's done, you know, lots of big high pressure things where you're like live television in front of, you know, 100 million people, that kind of stuff. And he wants said, you know, here's his routine is to practice it 15 times, if you can do it 15 times without making a mistake. You're ready. I think that's a good way to look at it.
Keith Billik
Yeah, yeah. You try to hold yourself to that of if if there are any flubs, it's, the counter starts over, so to speak.
Alison Brown
Yeah, I guess that's a good way to go. But then don't put too much pressure on yourself, either. Because on some level, I feel like audiences, like the human side of life music. And so if you make a mistake, they're experiencing a moment that's unique to your performance for them. And it kind of makes you more accessible in a way. Which is an interesting phenomenon, because we spend so much time in the studio, trying to perfect things. But when you get out in the world, and you realize people actually really respond to something that's looser. You know the humaneness of it comes through, and I think that that's can be a positive too. So I'd say Don't, don't let it blow your vibe, if you crash and burn every now and then.
Keith Billik
And you improvise a lot when you perform right?
Alison Brown
I try. I don't consider myself to be a very good improviser. But I'm trying to get better at it. And it's like, everything. I think that, you know, there's a spectrum of at least 180 degrees when you like, talk about the scale of improvisation. And I actually recently taught a class about building blocks for banjo solos for the CBA Academy, California bluegrass Association. And you know, to try to help folks who are just trying to figure out how to make their first solo to roll in my sweet baby's arms. How do you step How'd you step onto that, you know, path. And you know, so I've thought about it a lot. And, you know, always thinking about, you know, working out of shapes on the neck. And if you kind of know where a chord shape is, then any note you hit in the arpeggio of that chord is going to be a note that you can play and not hit a wrong note. Yeah. And so the more that you can look at your fingerboard, and not have it just be a bunch of, you know, strings and bars, but rather like constellations of chords, I think the closer you come to being able to really achieve like improvisational freedom, I'm far from it, though, I might have my toe in the pond.
Keith Billik
Well, how? So that being said, Is that how you yourself, think about it, when you're working on improv ideas or solo ideas, you see these chord constellations, or whatever it was that you said,
Alison Brown
that's what works for me. I think that's natural. Because when we start to learn banjo, someone says, okay, learn this G chord, now learn this G chord. And somewhere between these two G chords, you can find a D chord, and a G, seventh chord, and a C, seventh chord, and a D, seventh chord, and you start to see all these different shapes that are all just read under your fingers. So if you know that they're there, then you can play the notes that are under your fingers, and you'll be just fine. That works for me better than the linear thinking of just like playing through scales. You know, and seeing just single notes, it's worked for me better to see in the context of the shape of
Keith Billik
a chord, but more vertically, it seems if that, yeah, I think so.
Alison Brown
Because that way, there's a lot of safe places, if you're just playing a scale, gosh, there's only the one the one note, that could be the right note that's under your finger at any given moment. But if you kind of are seeing a chord, then there's several places you can land and be in the safe zone.
Keith Billik
Yeah, that makes sense. Another aspect of your playing is you seem to have a really fluid grasp of melodic style up the neck. Are there. Are there any tricks you can think of? What made that easier for you? Or were there any discoveries that you as a player,
Alison Brown
here again, thank you for saying that, I appreciate that. I think that that may be it's just grown out of a being a banjo child of the 70s when melodic was the thing that, you know, we all learned and we learned our licks you know.
You know, we kind of learned our licks and we kind of see how those licks, connect our fingers between different chord shapes. And then just kind of, I think that when you're playing melodic style, it's harder to truly improvise, because you have to be aware of where the open strings are. So you can move your hand. Yeah, so I think that that's more just learning patterns that get you from down here to up here and knowing when you can apply them. Okay, that's within that's totally within anyone's grasp, you know.
Keith Billik
Folks, we are in a golden age of online instrument instruction, and at the top of that world is peghead nation. peghead nation has streaming video courses in banjo, guitar, mandolin, fiddle, dobro, upright bass and ukulele. So you can learn bluegrass old time and plenty of other styles. From some of the most talented players and instructors in all of roots music, check out the courses they have. And this is just for banjo you could get beginning or bluegrass banjo with Bill Evans clawhammer banjo with EV laden, Wade Ward style banjo with Bruce masky. The banjo according to Danny Barnes, and contemporary bluegrass banjo with West Corbett. Each of those courses include high quality video lessons, downloadable notation and tab play along tracks and plenty of tunes and songs to play. And the best thing yet, is you're gonna get your first month's free just by being a listener of this show. So go to peghead nation.com and use promo code pinky fingers at checkout and claim your free month of the best instruction out there. And if you find yourself needing a banjo or accessories to get ready for those peghead nation courses, I highly recommend you check out elderly instruments, which is the world's most trusted source of new used and vintage stringed instruments, including banjos, guitars, violins, mandolins, ukuleles, all that stuff, they're going to have the best instruments you can find anywhere and we're talking everything from the more affordable instruments for people starting out on up through the most highly sought after vintage instruments. Elderly instruments has been family owned since 1972. And if you can't make it to their Lansing Michigan showroom, you can see their full [email protected] or give them a call at 517-372-7880 for some professional advice on all of your banjo and other stringed instrument needs IDs. And you know what all these stringed instruments have in common. They all sound better with GHS strings. GHS strings is another sponsor of the pinky fingers banjo podcast, and I'm proud to say they have been made in Battle Creek, Michigan since 1974. And if you don't want to take my word for it, maybe you'll believe such people as JD Crowe, Sonny Osborne and Bayla Fleck, just a few of the many, many users of GHS strings. So go check them out. GHS strings.com, they have a wide selection of gauged sets, so that no matter what you're looking for, you'll be able to find something there. Let's talk about more of the business aspect as if people need something else to admire you for you're also the co founder of Compass records, which you've been doing now for tell me how many years
Alison Brown
well, 25 plus one,
Keith Billik
right? Yeah, the asterisk Yeah, with it. And I, I kind of view compass in the same way as I would view something like Blue Note records, like where maybe maybe jazz isn't your thing. But if it is your thing, you can reliably go to that place and know that you're gonna get something that that is good,
Alison Brown
and you're totally making my day. So you're talking you're making
Keith Billik
my day, and I prefer when you keep talking, because that's why I'm here. So I guess I'm wondering, to what extent do you feel like compasses catalog reflects like your personal music taste?
Alison Brown
About 50%? Okay. Yeah, Gary West, who's now my husband. Yeah, he is a bass player and he came out of the r&b world, he was playing for Delbert McClinton before we met. And then we started the label. So the catalog is very much like a reflection of our combined musical aesthetic, the Bluegrass stuff, obviously, that's here because of me and my passion for bluegrass music. And the more acoustic side of things is the natural side of things for me, but we also do have more r&b leaning things. For example, Gary put up, recorded and produced a record on Mike Farris a couple years ago who's just like an amazing r&b, you know, soul singer. So but what's so interesting is that he's a huge Jimmy Martin fan. So there is a certain connectivity about the whole catalog. No, Mike Farris. Oh, who you'd never guess to listen to him saying you wouldn't think that that would be his space at all. But that was actually a real point of connection for him with the label. Yeah, so yeah, we do bluegrass music and we do Celtic music, a lot of which grew out of our touring in the UK and Ireland and meeting artists that were looking for a good label outlet. Yeah, in the States. And that music super relatable, because it's, you know, it's one step removed from bluegrass music and the roots of bluegrass and the contemporary players that are playing you know, Celtic music, I think are some of the most innovative acoustic musicians out there right now.
Keith Billik
Yeah, it's just beautiful stuff. What was there was one that I recently discovered that was just terrific. It was Catriona McKay's Oh, yeah,
Alison Brown
starfish. That record though. Yeah. Beautiful.
Keith Billik
So wonderful. Yeah,
Alison Brown
we've worked with a lot of just amazing players. I do. You must be familiar with John Doyle. Yeah, of course, rhythm. Yeah, he's got he's everything. But I've had a chance to play with him a lot. And I bring him in on on my own records a lot. Because he's not only like a rhythmic genius, he's a harmonic genius, too. It's funny because Celtic music is different than bluegrass in the sense that the improvisation is in the rhythm section, not in the melody, right, you know, kind of backwards, like in bluegrass music, we get to, you know, pull around the rhythm guys are still playing the same 145. But the lead players get to improvise around the melody. It's the opposite. Celtic music, they're playing basically the same melody as precisely and most perfectly twinned as they can with the other lead players. Yeah, and the rhythm guys are the ones that get to reinterpret the harmony. Yeah, I
Keith Billik
never thought about it like that. That's exactly right. And that's exactly what's so fascinating about John Doyle is that he can take a three chord piece of music and be playing everywhere, exact fingerboard. And he'll do it in a dramatic fashion
Alison Brown
and his harmonic sense, just colors, the music so beautifully, you know, it's like, you can always go to a relative minor or something like that. Like, what he has all that stuff so instinctively ingrained, and then coupled that with this really powerful driving rhythm. It's just like riding the best way. Yeah, getting to play with John
Keith Billik
Yeah, I in some ways, I wish a lot of bluegrass players would adopt a bit of that maybe under fiddle tunes, or whatever the analogous type of thing.
Alison Brown
Well, you know, and John played with Tim O'Brien for man, that was such a fantastic man. So cool. So that's interesting, too, that just, you know, technology and everything else has brought, you know, styles so close to each other, that the cross pollenization is really exciting to
Keith Billik
me. Yeah. So all that being said, if if someone like me or anyone else was aspiring to become a compass records, artist, what what type of things, catch your ear in a way that make you potentially want to invest your your energy and money and time into that artists? Yeah,
Alison Brown
it's what really moves me is like people that are doing something innovative within the acoustic space. That's, you know, just really what rings my bell. But, you know, we learned really early on that it's not enough just to have somebody whose art you really love. From a business side, an artist needs to have enough things going on that a label can then just like, latch on and move at the same speed forward as the artist is. So for example, if you have an artist who's playing great music, or writing great songs, but they're not touring at all, and they don't have, you know, any fans outside their mom and dad, they're not really ready for our label to be able to jump in and do it a label can do. Yeah. So the we've learned that the hard way. But on the flip side, you know, the idea of, you know, the DIY model for artists is so prevalent these days that a lot of artists are are already, you know, well along the road of thinking about building their fan base and their mailing list and their social media platforms up. So they have lots of followers and all that kind of stuff. So artists are much more, I think, self aware of the bits that they need business wise than they were like, 15 years ago.
Keith Billik
Yeah, yeah, seems like it. Before the interview, I threw it out. I have a Facebook group for listeners of the show and just kind of broadcast. Hey, if anyone has questions, you want me to ask Alison brown or whoever else? Let's hear him. So I have I have some list of questions from listeners. The first one is, and maybe I should have brought this up when we were talking about composing, but someone wants to know how you hear the banjo when you write or play. And for example, do you have other instruments in mind when you develop a melody? I think this probably I don't have much more context than this. But I think it probably just as out of the fact that a lot of your compositions don't seem like typical. They're not Foggy Mountain Breakdown.
Alison Brown
Yeah, those kinds of tunes are the hardest for me to write actually kind of feel like Earl said, the breakdown stuff. Yeah, you know, so it's like, how do you pick out the melody of like shucking, the corn that that was maybe easier to hear than some of the other ones? Like how do you tell someone what the melody of Foggy Mountain break? Right, right. I mean, so those tunes from your heart, too, right. But yeah, an answer to the question. I do think about other instruments and what instrument might be good planning ahead. You know, maybe it's maybe I would write the melody on the bench, but maybe it's a clarinet head. So I was thinking that because I'm working on a shore to write to record with a knock Cohen, who's a great clarinet player. And I've watched a lot of her stuff on YouTube, and she's really deep into the shores. And that's just beautiful Brazilian music, which to me is so connected to our music to bluegrass music. It's just these melodically rich harmonically pretty, you know, in the box, but just like gorgeous melodies, I just love them so much. So I've wrote that melody on the banjo, and you know, sent a lead cheater and I'm like, Hey, can you play this on the clarinet? And she said she could so that's good news.
Keith Billik
So is that a secret piece of music that I should not ask you to
Alison Brown
play and we see if I can remember like the the A section is something like. Something like that. Wow. So yeah, that should be really fun to record with clarinet, Banjo clarinet obviously have been odd bedfellows with each other since jazz day. So I think it's going to be really cool. And then to put like a piano and maybe seven string guitar, guitar and pandeiro and make something that's just different but relatable. Um, it's like a tune like that. You could play with a fiddle and mandolin and it would work.
Keith Billik
So were you how familiar were you with Charo music and jazz Earl when you received this assignment, and do you feel like you have a prerequisite to like, study and do something authentically when you do something like that? Or are you? Well, is there more to it than that? Yeah, yeah.
Alison Brown
So I'd really like to do things that aren't authentic. I mean, I like to know just enough and then try to like, bring it into our world to find a place where the quintet I guess it is, these days, you know, our sound can kind of like, go to a halfway point and meet someone like what a not does. So I, I am familiar with shore music, because of Mike Marshall, actually. And I've listened to his show for most so record a lot and his Brasil duets record that he did years and years ago. And so I love those tunes. And that's how I'm familiar with them. But when I came up with this idea, I just listened to a lot of what a nats been doing a knots been doing lately, and try it just tried to come up with something that would have the right kind of energy and vibe, and then, you know, tossed it to her and like, Will this work? And luckily, she seems to think it will.
Keith Billik
Oh, yeah. I'm excited to hear that already. That'd be that'd be really cool. Thank you. There's another question. Any advice on navigating using wider chord voicings with maybe smaller hands came from Yes. Other lady players? Yes.
Alison Brown
Yes. Yes. I'm so glad you asked that question. What you can reach is more a function of your thumb position on the neck than it is the size of your hand, in my opinion. Hmm. So when you're trying to reach like a chord, that seems like it might be trying to think of a chord, this, even if you're just trying to play this forcing of a G chord, which looks like it would hurt. But it's, you know, basically fifth fret on the fourth string all the way to the ninth fret on the first string. If you could see my, the back of my hand, you'd see that my thumb is like, really almost down, you know, like, it's, it's behind like the second string. Yeah. So a lot of times when I teach at banjo camps, especially this happens with guys with big hands, I'll see like these big thumbs hanging over the neck. And then you look closely, and you can see that the crook of their hand, between their thumb and index finger is like right up against the neck of the banjo. That's, that's very bad. Because if you do that, your fingers, you're never going to reach anything, you're not going to have any mobility. My daughter was taking fiddle lessons, her fiddle teacher would always say, pretend that there's a little chicken that lives in that little Crux between your thumb and your index finger, and you don't want to suffocate the little chicken. So that's a good way to look at it. And so
Keith Billik
it's a good way to look at it, but also traumatize your child, probably, oh,
Alison Brown
she didn't seem to mind. So. So as a starting point, like if I'm playing something like Twinkle twinkle, little star chord melody. My thumb is more like a classical guitar players thumb. It's starting off flat in the back of the neck, like behind the third string.
Keith Billik
And I'll add that another classical type of posture thing is that your your wrist was below the the neck quite a bit. Oh,
Alison Brown
right. That's, that's also good. Yeah, I think you kind of need it there to push with your thumb. On the middle of the back of the neck. Yeah. So that's a great question, though. You know, I find that I can reach things that guys with big hands that are doing it wrong, couldn't reach. So I think it's a hand position more than a finger length thing.
Keith Billik
Right. Another question? You may be have answered this, but I'll ask it anyway. And if you feel like you've answered it, we can cut all of this out. But he wants to hear you expound on something that this person heard you say in another interview that relates things to chord positions. So he heard you say that, anytime you're using various ascending or descending phrases, whether they're scales or arpeggios, or melodic ideas, you relate them to chords, and just wanted to hear you talk a little more about that and how that works. And I think that's probably what you were getting at before with seeing the fingerboard in that vertical way rather than the horizontal way.
Alison Brown
Yeah, I was listening to a Tony trischka interview, actually, after I taught my class for the CBA. The other day, I stayed in watch, Tony's classic says really interested to see how he would present material to students, he was talking a lot about, you know, playing sixth up and down the neck, like this. And someone asked the question, you know, what fingers should I use? Especially in the first string? Should I use my ring finger? Or my pinkie? And I found Tony's answer interesting, because he was like, Well, you could use whatever is comfortable. But if I were advising someone, I'd say you need to use your pinky because even though you're just playing three and one, you need to see the fact that you could grab two and for right even though so even though you're not playing those your hand, your fingers kind of know that's where they need to go if we need to do something. So if I'm playing a melodic idea, like uh when I start to play that liquid stuff at the 12th fret, I'm seeing my G bar. And I'm just going when I go back there to grab those two notes, I see the D chord, but I'm not playing it. If, if I didn't do that, do it that way, I think I would just get too confused.
Keith Billik
Do you think a good general rule might be used the same fingers that you would work if you had to play the whole chord and maybe that think so because some muscle memory
Alison Brown
Yeah, not only muscle memory, but it kind of frees you up to when you get like further down the improvisation road. If you aren't using the right fingers, you're not going to be able to use your other fingers in the right way to grab other notes that you know are in the chord. So if I was playing this, this see this the sixth and see, you know, ninth fret, and 10th fret. If I was using my ring finger on the first string, then then my ring finger would not be available to do other cool things which could want to do things that you'd want to do. Yeah, exactly. You're locked into the wrong handshape. So
Keith Billik
So sounds like we need to have a call with Tony here have some sort of intervention about about this advice. He's probably given that to hundreds of people over the years,
Alison Brown
well, or he just said that day, I don't know. But I found it interesting, because a lot of what I think about is making sure you've got the right fingers on the straight string, and then keeping your other fingers free to do other stuff within the chord shape, since I'm thinking in terms of the chord shape, and trying to simplify the question of how do you improvise something, you know. And another another thing, too, is I think speed in playing banjo comes from having fingers that can stay on the same strings when you move chord positions. Like for example, if you're on this G chord. And like if you're doing the John Hickman thing I played the Dixie breakdown. Well, the cool thing about moving between those two G chords is that your ring finger and your pinky stay on their strings, they just slide up. If you took your hand off, and then went back to do the G chord, it would just take way more energy than you need to put into it. And you'd never get to it very fast. Yeah. So that's something else to think about when you're moving between shapes, what finger can stay on its string, and that might guide you as to what finger you should be using.
Keith Billik
And that might also add, it seems maybe a little fluidity to it. The banjo could you know is famously really staccato. And if you're removing your hand that's choking off notes that maybe you actually want a little bit of a tail leading into that next thing too, so I
Alison Brown
think so too. Yeah, I think so too. Cool. So yeah, I mean, I think anything that you play, stop and look at it and think about why it works over that chord that you're doing it in, you know, and it might, it might be like, if you're playing this note on the second string, but you're playing it over a D chord, then it might help you see that there's a D seven chord that's actually got that note in it. And there's two ways to voice it. And so then like in your mind, you're seeing, well, two other D seventh chords you could grab, which is more notes you could play without hitting the wrong note.
Keith Billik
Yeah, yeah. Very cool. The next question is about learning jazz, or jazz your things on the banjo, and maybe ideas for people who want to learn how to sound like that, using jazzy sounding ideas in their own improvisation when it's more style appropriate to do that. Do you have any, any advice for maybe some ideas to sprinkle in when like, I think this came from somebody who is a bluegrass banjo player, but sometimes play songs with a piano player who does a lot of just really old standards or like, Tin Pan Alley type stuff. And he wants to sound more jazzy on the banjo is more style appropriate. But maybe he doesn't know how is there?
Alison Brown
How would we do that? Okay, well, first thing is you can change the tone of your banjo depending on where you put your right hand. I think that's important. So if you're playing just course now can't think of any jazz standards except Spider Man, which isn't a jazz standard. But if you were playing Spider Man, which is super fun to play in C Minor, by the way, I suggest you try. Okay, try it. So if you're going to play spider man like that kind of vibe. Well, if I go and play the melody like like, I'm Ralph Stanley. It's not as the bridge if you go by the neck and then you can kind of make the sneakier sound. So be conscious of the tone of the banjo which you can adjust by moving your left hand up towards the neck. And I'd say you definitely want to be at the halfway point or maybe even closer to the neck.
Keith Billik
I'll just much and you said left hand, you might write your right hand. Yes, of course, assuming you're a right handed player. Right, exactly. And
Alison Brown
if you're left handed player another thing that you can do that's a fun technique I hear Noam McKellen you do it a lot is, is you can make like a really quick arpeggio by dragging your index finger backwards up the strings of your right hand, index finger of your right hand. And then I'm hitting the last note with my thumb. Yeah, so that's a nice thing, you can also play quick little arpeggios with your right hand, just playing a quick 432. Okay, so then the other thing you could do is like look for chord voicings that maybe have a little bit more color to them. So like, you know, like, SpiderMan is going to go from a C minor chord to an F minor core back to the C minor to A G seven chord. And when you hit that G seventh chord, you might think, okay, I know G seven, like that. But you really want to play to some of those shapes, you have more control over how long it rings. So you could play it like this. Or you could play it like this. Or you could play it like this. Or you could alter it by putting a sharp five in it. Or you can make it a 13. Don't do that for a minor. But so instead of just going to a regular G seventh chord if you go to this so yeah, so chord voicings, I guess, would be a thing to think about. And it's nice for us. Because a lot of times when I'm comping on a jazz tune, I don't really even think about the fifth string or the first string. I'm just thinking about three notes, because I got three fingers on my dang right hand. So I'll just do make my life easy. So then there's really not that much you can do, there's just three notes. So within that, those three notes. What can you do? Something like that. Yeah.
Keith Billik
And I'll add something we just heard you do right there is just the even the rhythmic pattern is not a boom Chuck bluegrass pattern. There's there's a more jazzy,
Alison Brown
more jazzy thing. Another thing that you can do this. See, if I ever do this, it's kind of fun to sometimes stick the heel of your hand on your bridge to get a muted sound like that. Like if you're gonna play. What am I trying to think of? Yeah, if you're gonna play something like do you know what it means to miss New Orleans? Get kind of, that's a nice, that's a nice kind of other voice that you can give the instrument or is especially the one you're accompanying on that. If you're a piano players playing melody, and you're just copying. It sounds like a four string match. Right? It's
Keith Billik
sort of faux Dixieland.
Alison Brown
Yeah. Yeah, so there's all kinds of great stuff. There's so much you can pull from the four string guys like I like to sometimes just go to YouTube and pull up NDP buddies, Banjo instruction stuff, just because I love hearing his voice. And just the whole demeanor and his presentation of the banjo and thinking about, you know, the people that were watching that and trying to learn that style of banjo when I was playing at Magic Mountain, all those many years ago, playing bad dobro almost everybody of a certain age who came up to me and asked me if I played you know, or saw me play the banjo or whatever, would say Do you know Eddie Peabody and I feel like no oral Scruggs Who is this Eddie Peabody guy, and it's only kind of more recently the kind of really appreciated what he did for the instrument. And it's interesting because I know about these videos when When did he record when did he do that's what's so weird their albums, you can find them on YouTube? Yeah, I have no idea either. And I'm just trying to think if I can do this without screwing it up, like a tune like the world is waiting for a sunrise, the sunrise. See if I can do these voicings for you. So the cool thing about plectrum banjo which is what he played and our banjo is so one of the things that has been super fun for me to work on his version of the world is waiting for a sunrise. Because basically we're in home sweet home tuning, but if I put it he'll show you on his little instructional thing how to play the chords and I'll do my best to play it with the with the tune down for string
or something like that. So you can take that, which wasn't great, but you kind of get the idea and then you can turn it into bluegrass.
Since then like that. It's also connected. It's so cool. Those chord voicings can just be incorporated into what we do and tune works really well. Yeah.
Keith Billik
And then the last listener question is about post pic and party, which this is about Ronnie Poe. I take it
Alison Brown
so I don't know who it's about. I can't because I can't remember. I know generally what it's about. It was inspired by an article that I read and bluegrass unlimited magazine a long time ago. And it was about this picking party that took place somewhere in Virginia. And it was called pose picking party. Right. And the distinctive thing about this picking party is that women weren't invited to it. Because there was the idea that if men women and bluegrass music were to mix there could be less than desirable consequences.
Keith Billik
Okay, that was exactly my question. I wasn't sure if this was something you attended yourself and you being a woman of course, the question that had to deal with like, what did that create some really awkward situations for you? But this this was more just a no my distance? Yeah,
Alison Brown
this is totally Yeah, so the whole thing was that the distaff bluegrass fans could enjoy the music from a safe distance listening on their front porches. And of course, that's ridiculous. It was ridiculous then nowadays, I don't think anybody would even published an article that was that silly, because we all know that it's the Yin Yang. That's like the best part of it. Like bringing men and women together in this music to me is like what's making it so exciting right now. And for my money, I think it's a female bands that are really leading the charge and some of the most interesting cutting edge music coming out of the genre. But this was a while ago, it was probably you know, in the late 80s or early 90s. So when I read this article, I thought, well, that's stupid. So I just died to wrote a tune in for it
Keith Billik
to get a little bit of your personal revenge back at
Alison Brown
well, you know, what a child of the 70s Burn the bra and all that.
Keith Billik
Let's talk about your instrument and gear stuff. What is your main banjo and yeah, tell us about it.
Alison Brown
The one I mostly play on the road and a lot in the studio was made by Yaroslav puka puka banjo company, it's a spirit banjo. It's a model that he designed for, you know, with my specifications and hopes and desires and pretty much knocked it out of the park. It's got a radius fingerboard which I really like. It's got an extended fingerboard which, you know, seems like it's not something that you would need to have until you have it and then you're like, How can I ever live without that high D at the very top? You know, it's so great to have. So this is the instrument I've been playing.
Keith Billik
Is that a maple? I can't see what the wood I would say it's
Alison Brown
mahogany. Okay. Find out. I love mahogany benches, so I'm pretty sure it's a mahogany. Okay, I don't know if you can tell by looking at it. But she
Keith Billik
looks the resonator looks me it's pretty dark stained. I shouldn't say anything with
Alison Brown
the shirts it looks because that's my other banjo which is also you know, kind of the holy grail banjo that, you know, these days I'm kind of afraid to really travel with is a Gibson. It's an RB three. And it's 1938 original five string flathead. So that's a really awesome banjo, too. And the, the two branches work for different things. It's like this banjo I find, you know, I've got it tweaked. So it's really warm. And it's I've dampened down a lot of the overtones and I think it makes it sit a little bit better. And a lot of the tracks that I'm trying to do that when I pull up the Gibson banjo, it's kind of like a fine wine. It's got all these notes of cardamom and chocolate or whatever, you know, it's just got this sort of Sonic range, which is beautiful. But if you're trying to use it in certain contexts, sometimes it's not as effective as a banjo like this banjo that's really more tamped down
Keith Billik
and how have you done that? How have you achieved
Alison Brown
that? Well, believe it or not, I have I actually have a lot of paper towels inside inside the resonator and I think that really helps you know, they're not there's not tons There's maybe like four or five in there. So it's killing some of the overtones, but it's not like so packed in that it's touching the head or anything like that. And I find that when I don't have the paper towels and a banjo, I kind of really miss not having the sound kind of more contained.
Keith Billik
The sounds like a new product, you can buy paper towels, sell them as banjo tone enhancers for $5 per sheet. And
Alison Brown
there you go. And it kind of really dovetails with the end of the pandemic nicely, because you know, everyone needs more paper towels in their lives. Yeah, exactly. Yeah.
Keith Billik
What about the rest of your gear? Let's talk about picks or tail pieces or bridges. If you have preferences on any of those and what you what you like about them?
Alison Brown
Yeah, we'll pick some I've been using the 1941 showcase picks, they make a slightly smaller pick, but it still has a standard size blade on it. And I've been really happy with those. And I've finally got a blue chip pic that's small enough for my finger. Oh, which is great. And I've been really into that I've been prior to that I was using the multicolored Dunlops. And those work too. But I do like the fact that the blade doesn't wear out on the blue chips. You don't get that scratchy, scratchy sound. Right? Yeah, beyond that. One. I'm trying to think of what other gear, I've been running the banjo into a tone Dexter, which I'm really liking. And I use a fishman amp onstage which works well. More is like a an additional monitor than trying to have the banjo too loud. But I find that that I play better when I can hear myself what a concept. But you know, even though our band is relatively quiet, I still do have someone playing like a percussive drum kit. So yeah, so it does it is a very different Sonic space than when you get to just play with a bluegrass band. And the instruments are more balanced sonically than when you throw in a, you know, grand piano on a drum kit.
Keith Billik
Yeah, yeah, for sure. What about studio microphones? Is there? Is there a go to that you have that? Yeah, that you enjoy for that we've
Alison Brown
been using Royer ribbon mics lately and a really into those. I think that they sound great. Yeah, we've done many different things. But that's like, that's by far the current favorite.
Keith Billik
Excellent. I think that's most of what I have. But I want to make sure people can look up what you're up to if in case you add tour dates, or if they just want to find your recordings. How do they do that?
Alison Brown
Well, probably the best way would be to go to I guess Allison brown.com would be one way or just my site on the compass records. Web page, which is Alison Brown, I guess it's a compass records forward slash Alison Brown, you could find it there. And then, you know, obviously, on Facebook and Twitter and Instagram, we're in that space, too. If anyone ever has any banjo questions, they can always email me at Compass. records.com
Keith Billik
All right, that's fantastic. Yeah, anything else I missed that you you feel like talking about are golden nuggets of banjo wisdom that, that I should have asked about?
Alison Brown
Gosh, I can't really think of anything, you know, buy low, sell high, pick it solid. And, you know, and play it forward. You know, not just forward roles, but we all have a role that we can play in the ecosystem in terms of furthering this music and furthering this instrument. And no matter how much or how little, you know, you know, more than some somebody else. And so it's really fun to pass the traditional long and so even if all you know is your basic cheese, and D course, there's somebody that you know, who doesn't even know that much. And so use it as an opportunity to, you know, welcome someone else to the amazing fold of five string banjo players. Yeah,
Keith Billik
be the John Hickman to somebody else's Alison Brown. Yeah.
Alison Brown
Or NDP body or body? Yeah. Because it's, it's great. And, you know, I like to say, you know, the banjo. first chord is free. And so it's just a matter of learning one or two other chords, and you can play 80% of Western music and you're on your way to being able to play music with somebody else. And that's when it starts to get really fun.
Keith Billik
Yeah, excellent. Well, that's a good place to leave it. Thank you so much for having me and being a part of the show.
Alison Brown
Totally. My pleasure. Thanks for doing this.
Keith Billik
That's gonna do it for this episode of the podcast. Thanks for listening. The song clips you heard in this episode in order we're late on arrival, performed by Alison Brown, Turkey now by John Hickman, will you be leaving by Alison Krauss fantasy by Alison Brown, a set of tunes the chandelier into an LE vase by Liz Carroll and John Doyle. And finally post picking party by Alison Brown. Thank you once again to the special Patreon supporter of the show. That's Taylor Schuck. Go to patreon.com/banjo podcast to support the show yourself. Email me at pinky fingers Banjo [email protected] Thanks again so much for listening. That's going to do it for me and I'll see you next time.