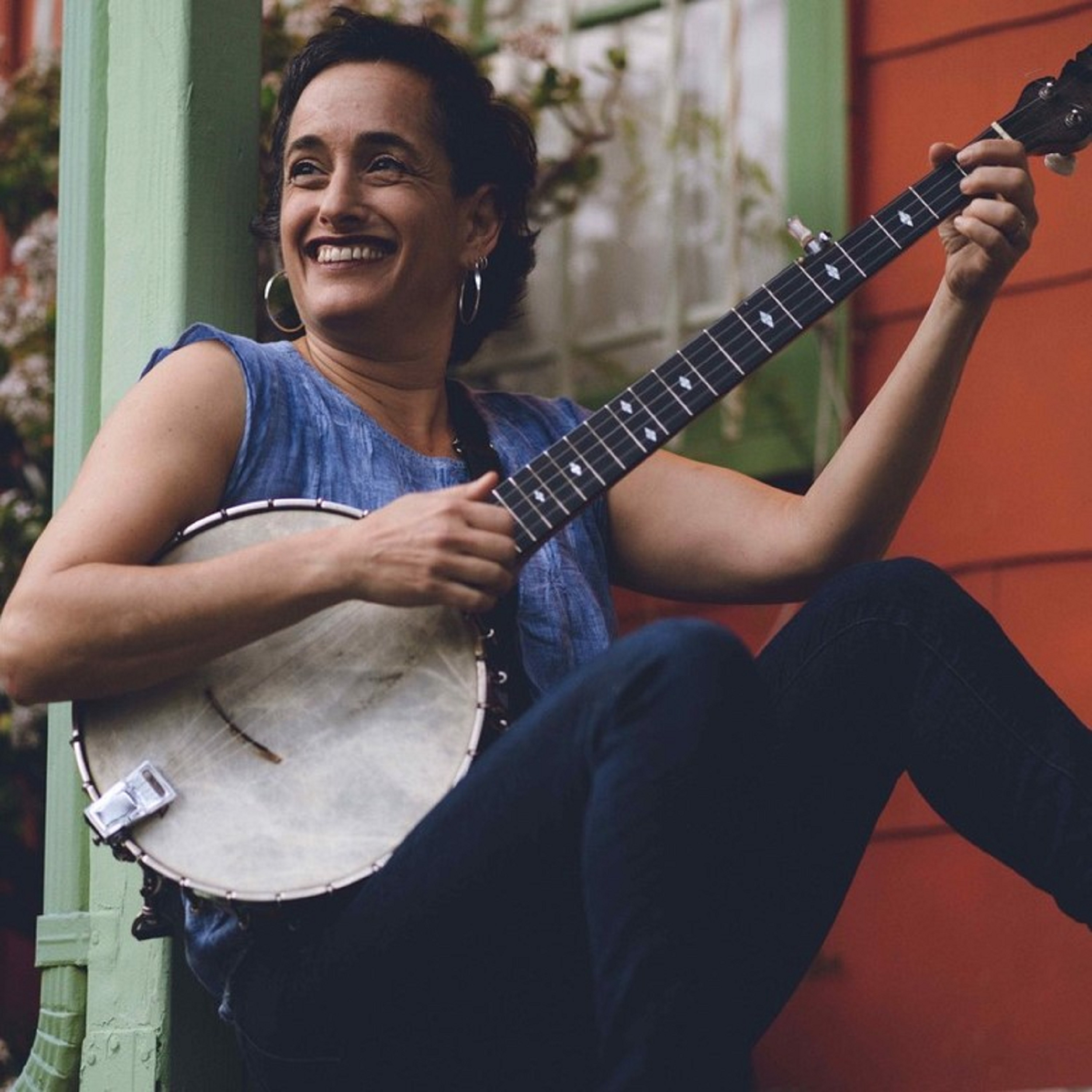 "At least what I want to be doing is inviting the audience to have feelings, you know, to feel things along with me to be moved by the words or the sounds or the sights to just be moved in one way or the other." - Evie Ladin
Keith Billik
Greetings, everybody. Welcome to the pinky fingers banjo Podcast. I'm really happy to have you joining me. For those of you who are brand new listeners. I'm Keith Billick. And for those of you returning listeners, I'm still Keith Billick. I don't know if you were expecting somebody else, so sorry to disappoint you. But that's why I have wonderful guests to speak with. And to help make things a little more interesting around here. But at any rate, it's March Happy March. Spring is about to be sprung, I guess is what we would say. And it also means that with every new month, there is a another chance to join me and your fellow picky fingers listeners for the VIP very important picker lounge video meetup. So be sure to mark your calendars for Saturday, March 26 at 1pm Eastern that is this month's VIP lounge meet up. It's great fun. Every month we hop on a video call to chat about banjos and banjo playing and banjo players and banjo music, you know all of the all of the topics. And all you need to do to get your meeting code for that VIP lounge is to head over to patreon.com/banjo podcast and sign up to be a supporter of the show for which I am eternally grateful and you get to join the VIP lounge and there's all sorts of other bonuses for signing up there which which you can read about another bonus is to get your personal shout out and today our very special Patreon customer of the show is Ron Bellis Ron, thank you so much for signing up on Patreon and doing your part to support the show I really appreciate it and could not do it without you. So once again patreon.com/banjo podcast otherwise just make sure you keep in touch I am picky underscore fingers on Instagram. If you are a Twitter a tweeter if you are one who who tweets I am at banjo podcast on twitter or just email me at picky fingers Banjo [email protected]
Today's featured guest is Evie laden Evie is not only an expert, clawhammer banjo player. She's also a singer songwriter, percussive dancer, choreographer square dance color, and just all around brilliant performer and that's probably my favorite portion of this interview. There's there's all the customary banjo talk of course, but the thing that really fascinates me about her is just her ability to command attention and engage an audience and we talk a lot about that. Evie is best known for her work with the percussive dance ensemble rhythm and shoes, the old time band, the stairwell sisters, and now she leads her own Evie laden band. So she has a wide variety of performing an experience. And so I can't wait for you to hear all about those things. Here it is give a warm pinky fingers Welcome to Evie laden
Evie Ladin
My name is Evie laden, and I live in Oakland, California. And I'm a little loves to say I'm from California but California has been very good to me. I grew up on the East Coast I always say the Mid Atlantic Seaboard because we moved around a lot between New York City and Baltimore. And then I was in the Midwest for a piece before moving out to California and then I've been touring a lot you know for the entirety of my career so I've been all around this world baby my little bit of everywhere. Yeah, a friend of mine once said Evie are conveniently from wherever anyone else is.
Keith Billik
Yeah, a good point of connection. Or I've been
Evie Ladin
there you know or no people there have explored the area So,
Keith Billik
welcome back to the Midwest. Thank you since you're from here, yeah. What about the banjo part? How did you get to be this touring person who is so well traveled?
Evie Ladin
Well, my banjo story goes that you know, my lore is that my dad fell in love with old time String Band music with folk music, but specifically mostly old time String Band music. And the 50s in New York City went to Hootenanny Carnegie Hall, went home took all of his original rock and roll 40 fives and threw them out along with his baseball cards. Yeah, exactly in my inheritance. But he just fell in love with music and that became what he wants to do never played never wanted to could stand being bad enough to get good. So he never played but he's an avid music appreciator and just always took my sister and I to parties and festivals. And so it was early days of folk revival. And so my mom was an international folk dance teacher. And they, they split up pretty early on, she moved back to New York City. But so it was all you know, creative life, in a way my dad had a regular job. But you know, just having that emphasis on getting together with people to play music and dance he loved to social dance. And then he opened our house to people traveling through and that's really how the story goes, because John Cohen was staying with us. And I can picture him sitting on the couch saying You girls should play the banjo. And apparently he took us to get our first banjo.
Keith Billik
Was that something that you had considered doing? Before that point? I was eight. Okay, I
Evie Ladin
wasn't really thinking that much about what I was supposed to do or wanted to do
Keith Billik
attention span of a goldfish. Well, that's great. So somehow you you took to it, though, it sounds like
Evie Ladin
well, it was just like what we did you know, and it was what the people around me were doing, not the people immediately around me in suburban New Jersey or an inner city, Baltimore, but, you know, in our wider social scene, and I'm kind of I'm very much between generations. I'm full on Gen X. And so there weren't a lot of kids around my dad was older than the hippies that were, you know, really getting into it. And we like a big influences the Greengrass cloggers. They stayed with us for a couple of weeks and my sister and I really took to the dancing and that was kind of the first thing like starting with clogging. When I was about five and my sister and I made up routines, and then we would the Greengrass cloggers would throw us up on stage to do like little plein air thing. And their festival said, Oh, that's great. Yeah, my mom made us little clogging outfits. And so the bands would just followed follow that,
Keith Billik
I think I find it kind of surprising that you stuck with it, given that most kids go through at least somewhat of a rebellious phase that might even last their whole life of not wanting to be like their parents. But it seemed like you really embraced that social aspect that that was all around you.
Evie Ladin
I wonder if partly because my dad didn't play. But all of his cool friends did. So it was just we were exposed to it all the time. And then I will say like, dancing was definitely my first love. That was like what I pursued and I just played banjo for fun and in jam sessions, you know, but more often you'd see me on the dance board. Right?
Keith Billik
And maybe we're skipping ahead a bit too much. But then the, that obviously raises the question of what effect do you think having at least somewhat of a background in dance had when you were learning banjo, do you feel like that impacted it.
Evie Ladin
I feel like it's impacted the, my style of playing that and also the fact that most of my experience playing was either in jams or square dances. So really heavy on the rhythm side. And both from the dancing, you know, I really approach the instrument as a mix of melody, harmony and rhythm. Because you want to be heard, and you want to provide a certain service to the music as a banjo player. So I didn't spend a lot of time in my room, you know, working on tunes and figuring out a lot of melodic stuff. It's just not in the way I play. Okay. And in fact, I didn't even really understand the banjo neck, like chord wise until relatively recently,
Keith Billik
hmm. And this is where my claw hammer, ignorance is going to come come into play. So I'll lean on you for for some of this. But I'm curious to know that if you if you're describing your own playing style as particularly rhythmic, which, which I totally agree, I hear that in your playing from a hands on approach. What do you think are some things that can help people play more rhythmically? If that's something that they're looking to do.
Evie Ladin
Ooh, that's a good question. What will help people play more rhythmically? I mean, I think people get too bogged down in the details of a tool. And, and knowing exactly how it goes. And this, my experience translates into how I teach a lot. I had a funny interchange on social media recently where I just, you know, liked a former students banjo post. And, and she wrote me, she said, I've been studying with Adam hurt. Uh huh. You know, since she moved away and whatever. And I said, I said, Well, he's a lot more methodological than I am, isn't he? And she said, he is he's really specific. But sometimes your voice comes into my head and says, just play music. Oh, cool. And through my years of teaching, especially the group classes, I teach through the freight and salvage in Berkeley, I've evolved and come to understand the way that I lead people into it. I will give people you know, some specific things and some tablature. But I, I've realized that the way I play grew from a response to the fiddle, and that's a lot of what the banjo can be. It's one of the roles of the banjo and I would listen to the fiddle and respond to it. And in fact, people say, like, what banjo record should I listened to, and I was like, I don't ever listen to banjo music. Like I listened to the fiddle. And funny enough, Adam Hart, and I had that same conversation at a banjo camp once he's like, Yeah, I don't listen to music, either.
Keith Billik
How curious. I guess I'm looking for a way to trick you into demonstrating this. And I know you I know, it's silly to ask you to demonstrate a style that you don't play. But in terms of playing that fiddle style that you that you would, what's an example of what that even sounds like?
Evie Ladin
Yeah, I mean, so one of the things that made me think of about getting students to play more rhythmically, is like, I will, you know, everybody starts with this bumpity, right. And everyone starts like a full brush like that. And I say, Okay, how about if you just Just do your brush just on the top strings, or you do just on the first string, because a lot around pick style is like, not a lot of brushing can be more melodic in this way, just single string kind of stuff. And then introducing something that's a little more percussive. And so just really, and then I have people, you know, play this, like, play against the fifth string, play the fifth string really loud, but keep your lead note the same. Now play it really quiet. But without your lead note getting quiet. So like that you kind of develop some control over what you want to hear, yeah, from the fifth string from your downstroke. And I feel like in my original songwriting, but then also, you know, backing up fiddle players, they need a certain drive from the banjo, and, you know, sometimes it can be this real, like, kind of a wash of rhythmic sound, you know, and I play some tunes like that to, you know, support my singing. But then or I might open it up to
to something that's much more delicate and open. And then, of course, up thumbing on that one, oh, yeah. And, and there's a range of syncopations, then, and then, of course, there's the like, you know, again, everyone starts with a bum Diddy, and then you learn how to put the next or the fill in, you know, the, where the rest is in the bum Diddy, you know, with slides and pull offs and hammer ons and stuff, and then drop thumbs. And then once you have the ability to make all these sounds, then you have to figure out how to take them away, you know, so that you create different kinds of syncopations.
Keith Billik
Yeah, right. And so you're going through all these really interesting techniques and talking about how you can use them. You You also mentioned something about, I forget how you put it you said Don't Don't try too hard and hard to learn the tune. Exactly. Just try to capture the Yeah, the rhythmic so aspect of it. So
Evie Ladin
I struggle with teaching my students, here's how the tune goes. Because there's, every banjo player is going to interpret the tune differently. And especially if your goal is to play with other people, you want to be able to respond to what's going on around you and adjust. So you know, so many students, they just want a way to play it. And then they play it that way. And the students who have stuck with me, which had been, you know, hundreds this point, not 1000s of students at this point, have really appreciated the way that I teach not only not only does it encourage them to understand the instrument, but mostly to develop their ear is an oral tradition. It's not written down. tablature is it's a helpful tool at first, but it can really become a crutch like it's nice to remind you of things or to do You know, show you specific techniques that you sort of aren't understanding quite if you're a real visual learner, you know, it can be helpful. But, you know, I had a student come to me with a big book of tablature. And I was like, oh, play something for me. So I know kind of where you're at. And she would play a tune through once and then move on to the next tune. And I was like, fascinated by this approach, you know, and there's obviously, there's so many different ways of playing and enjoying playing, you know, some people just want to play by themselves and just want to play different tunes. But I keep trying to, I feel like a big part of my mission is to facilitate community engagement to facilitate that experience that, you know, you don't often have in a capitalist society of doing things for pleasure, and not in a consumerist way, but in a participatory way. And so getting people comfortable playing with other people playing in jam sessions, going to dances, doing things that are really sort of engaging in that communal health thing that music, you know, that traditional music and dance brings? Yeah, right.
Keith Billik
But in the context of you teaching a lesson, how are you able to convey a sense of community through perhaps a one on one lesson is that a big part of the lesson is maybe you two jamming together? Or how does that come through in that context?
Evie Ladin
Well, in I mean, I realize I didn't finish answering the previous question, but like the, in the in a one on one
Keith Billik
help you remember what the previous question was, because I don't think I do.
Evie Ladin
In a one on one lesson, I don't actually teach very many one on one lessons, I filter most people either to my group classes, or to pay cat nation to that subscription. But in my one on one classes, I often will then pick up the guitar or the fiddle, which really throws people because they're like, I don't know what to do. I'm like, Just keep doing what you're doing, keep playing the tune. And eventually, their ear starts to hear the connection between what they were learning on the banjo and then what they're listening to and like, what the connection is. And then the previous question I was talking about, like in terms of how I teach, I, like I just don't give people necessarily, here's how you play the tune, I'll say you could do this, you could do that, you can get this note open, you can get this note with a slide, you can get a sorry, I'm gonna different tuna you can get there it is, you can get you know, you can do a drop thumb, or you can do it. do pull ups you can you can achieve the same thing in different ways. And because the fiddle has so much fluidity with with a bow, and the banjo is so connected to all of these African rooted syncopations I just try to get people comfortable with moving around and not just playing the same thing the same way every time. So for example, I choose a lot of tunes with words because I have students use their voices a lot. And I say like, don't think of it as singing think of it as like using your voice because everyone feels like they can't sing. But the reality is like, I feel like singing the tones as you learn it or singing the words to a song just helps develop your ear connecting to your instrument. And so you know, play a time through the song. Hush, little baby, don't say a word, play just the chords and sing the melody say darlin say and then when you're not playing, then play the melody. So that they can really cool go back and forth. But it's all of these techniques to get people more flexible with what they're doing, and then also to really develop their ear. And like I said, students who have stuck with me, they had sometimes had a really hard time weaning off of tab or are just sort of felt a little unmoored at first, then felt so much more capable, later on.
Keith Billik
I I'm not a prolific teacher, but I've taught enough lessons to know how intimidating that can be for a lot of people not only to get off of tab, but to then be presented with what you said different options to play things that they're hearing, just tell me what to do. Right. Right. But no, if you can make it through and tough it out some of those early stages of learning, you're a much more complete musician really, to be able to do that, I think.
Evie Ladin
But I also think that there's an entry point for any level. Because, you know, like, if I'm in a banjo workshop with a while they're all mixed level, you know, for that matter, even if it's, you know, an intermediate class people are still mixed level, especially how they process information that you know, somebody's just here and I'm like, you just play the chord changes, sing the song, you know, sing the tune as you go, but just like play the chord changes. I was like, You are learning as much, you know, as if you were, you know, actually playing all the parts of the tune. You know, you get it in your ear, the traditional way of passing on music. You know, the kids are at the knee of the people playing and they grew up listening to it and someone just puts an instrument in their hands. And you see this all over the world, you know? And I just feel like we have divorced ourselves from the continuum in the process of learning music and I really try to bring people back into a less linear and more circular way of thinking about the music.
Keith Billik
Hey folks, there has never been a better time to learn banjo online through video lessons. And the best game in town is peghead nation one of our sponsors, with peghead nation's streaming video courses in banjo, guitar, mandolin, fiddle, dobro, upright bass and ukulele, you'll be able to learn bluegrass old time and plenty of other styles from some of the most talented players and instructors in roots music peghead nation.com features a great lineup of banjo instruction with some of these courses. Check it out. Beginning banjo with Bill Evans bluegrass banjo with Bill Evans clawhammer banjo with EV laden Wade Ward style banjo with Bruce masky. The banjo according to Danny barns, and contemporary bluegrass banjo with West Corbett. Now, no matter what course you select, they're all going to come with high quality multiangle video lessons, downloadable notation, plenty of tab play along tracks and tunes and songs for you to learn. perhaps best of all, if you join any of these peghead nation video courses now, you'll get your first month free just for being a picky fingers banjo podcast listener. So just go to peghead nation.com and use the promo code picky fingers at checkout. Another sponsor of the show is GHS strings. We banjo players know that a banjo is only as good as the quality of strings that you put on it. And GHS has a long track record of providing the top quality in banjo strings to some of the top industry professionals such as baileigh Fleck, JD Crowe, Sonny Osborne, Todd Taylor, and me. I'm a GHS user. So check them out at GHS strings.com. Now, if you asked me where I go to purchase my GHS strings, that answer is simple. It's the same place that I go for all of my banjo guitar, and any other stringed instrument needs its elderly instruments here in Lansing, Michigan. They've been family owned since 1972. And it's the world's most trusted source for new used and vintage instruments, and all the accessories and strings that you might need. Now, if you aren't close enough to Lansing, Michigan to visit them in person, you can also see their entire inventory [email protected] Or feel free to give them a call to speak to a knowledgeable salesperson at 517-372-7880. Or once again, see what they [email protected] I wanted to talk more about maybe your mom's influence because you have this rhythmic style and you kind of cut your teeth playing at the square dances you said so that's a particular rhythm that's suited to that style of playing. But if you started as a dancer and your mother was an international dance,
Evie Ladin
folk dance teacher, yeah, dance teacher.
Keith Billik
Yeah. So a lot of folk dances are defined by the rhythm that you use when you perform that dance. Right? I'm wondering if you have explored any of that in your playing? Or did you ever have any playing situations for different types of dances, other than square dances,
Evie Ladin
not so much other kinds of dances on the banjo. And again, it was like some square dances but then also just jam sessions and playing for fun. But I do feel like, you know, clogging and percussive dance and like, I started off clogging, but then, you know, my first career really, I became a professional as a dancer with the company rhythm and shoes, right? And so, and it was a very, you know, very precise, very professional exacting company. And so, you, you know, you get very specific with your rhythmic exploration. And before that, something that's been really seminal is when I was 16 Stephen cendars, who's a banjo player from Ithaca, New York and played the Wildcats and the chicken chokers and other okay now old school, sort of open old time bands. Anyway, he was he did as musicology research in Ghana. And he came to Ashok and fiddle and dance that we went to every year growing up again, some of the very few kids there at the time. And he taught these Ghanaian rhythms and this light bulb went off whoa for me, this is a big part of my origin story that's kind of out there because this light bulb went off that this is so like in the in the music and the dance these rhythms are so foundational, they're like, buried inside the syncopations of old time fiddle, you know, in a way that distinguishes it from Celtic fiddle, you know, like, the tunes are the same, but the rhythms are different, the approach is different, the, you know, harmonic systems are a little different. And so I kind of dove full on into that in college into, I created my own major at Brown University called African Studies and dance, I had a great dance teacher who really mixed West African and contemporary dance, it was the first time I really explored dance in an official way I didn't Yeah, I had never took, you know, jazz, modern ballet studio dance at all growing up, it was all social and informal, a couple dancing and then learning different progressive dance styles, French, Canadian, some English, some Irish, all that kind of stuff. So I had all these, this rhythmic training, but studying African music is like so much more overtly polyrhythmic. And coming to understand even better, not only that, but then also, I just studied in every department, everything connected with the continent, and, and the history and the history of enslavement. And then what happened in this country. And it's really like this has been a big part of my mission to is that this is America's first or North America, or this country's first syncretic music is this mix of white, black and brown and the American South. And then years later come to realize, like, everywhere around North, you know, up and down North and South America is this mix of where the black people were taken from, what brown people were there and where the white people came from, from Spain or from England or whatever France are, like, really created different styles of music. So you look at what happened in Brazil, you know, you think, oh, Brazilian music is so you know, old and traditional. It's the same history. I'm not exactly the same. But you know, it was like Spain and Congo, as opposed to, you know, like Ghana and England, you know, like, so.
Keith Billik
There's a lot of these different combinations. Yeah, right.
Evie Ladin
But all of that sing. syncretism is what created, you know, in the American South was what created this, quote, traditional music, and then all these things came out of that. I don't know if you've ever seen the video talking feet that Mike secret and Ruth Pershing put out years ago, it says southern Appalachian solo flatfoot styles. And it shows both white and black folks. And when the black folks you really see in their style, like the birth of tap dance, just in that they call it Buck dancing, what they're doing, what they're doing some things that you would think of from clogging, but the syncopations, were moving more, you know, all these things were happening simultaneously. And so we're moving more towards, you know, swinging it and what we, what we hear more in tap dance and jazz. So I just I love that history. I love understanding some of these connections over time. Because, you know, like the image of Appalachian music in this country is very Anglo because of a very racist history. And then even stereotyped as being very hillbilly and backwards or whatever. And so it's it's interesting to just sort of illuminate all the influences of the roots. And that is really, right. Yeah. And sort of that the academic study, part of it really grabbed me for a while.
Keith Billik
And it's just exciting to hear how it when when the sausage comes out of the grinder, it's fun to see what it tastes like. Exactly. When and why and how did you? Or maybe, maybe did you make a decision at some point to to focus on music as a career was that was that a conscious decision? And what led you to it? If so? Well,
Evie Ladin
I mean, I, I've always been writing songs, I think I was hesitant to admit it, because growing up around so much traditional music, not like people weren't writing songs, but I was just shy about that aspect of it, and also about my musicianship because I had developed much more of the dance side of things. And I was in rhythm and shoes for most of my 20s and really developed my professionalism and everything. And the last project I did with them was a collaboration with Keith Terry and cross pulse. When Keith and I fell in love, and I ended up moving to California instead of to Chicago. And very easily immediately was connected to a much more multicultural scene, but then fell in with old time and Trad music communities there. And dance wise there just wasn't what I did out there. There weren't people doing it and I don't know if you noticed, but like, you know, there is a tap dancing with the tap dancing is, is a lot more competitive than communal, and it can be both, but I just wasn't good enough. And that was that, like I'm very community and like ensemble oriented, she says now on a solo tour. But within a couple of months, I was just, I just kind of ended up in an all girl old time String Band. And so I feel like my musicianship really grew in that group the stairwell sisters.
Keith Billik
The dancing took a little bit of a backseat, it sounds
Evie Ladin
like yeah, it was somewhat of a back seat. But also, you know, to me, they just the same, you know, like I always dance in the show. I started calling square dances, because they're all these new old time musicians who wanted to play faster than the Contra dance would allow So, or play cricket tunes, or whatever. So I got my mom's old is, you know, square dance books from the 50s and 60s and started learning how to call square dances. And, you know, also, my partner Keith is most known for body music, body percussion. And his whole thing is he's trained as a jazz drummer. And then he put all of his rhythms on, and he did a lot of study with World Music Systems. And he expressed it all through body music, body percussion. And so I was also doing that, and when he was playing with the sterile sisters, but he brought me out to be part of this group cross pulse, which is a multicultural quintet where everyone collaborates on each other's traditions. So it was a, you know, like, you think you're done with something in your life. And then years later, it cycles back. And it's exciting. So I mean, I'll make this a short part of the story. But I did all this study in Africa, and I spent a lot of time in Nigeria, I had a Fulbright to study there. And then I came back to the States, and I'm white. And diving into the African music and dance scenes in America was it wasn't as you know, I knew I was never going to be totally accepted because the African Americans felt, as they rightly should, you know, a certain kind of ownership to that environment. And I just was insecure enough to really want to feel more deeply connected with what I was doing. And anyway, so with rhythm and choose was kind of diving back into the in into the more traditional American stuff that again, but then collab, you know, moving out to California here, I was able to, you know, reconnect all this stuff again. So everyone's arts and crafts pulse comes from the African diaspora. And so I've got them square dancing on a banjo tune. I'm playing banjo on a Afro Cuban sewn, and we're all mixing it up and it's all music and dance.
Keith Billik
So you, you mentioned that when you moved out to the Bay Area, you had a renewed focus on your musicianship. So that I guess that steers us back to your banjo playing? And I'm wondering it, are you able to maybe point out any important elements of your style or like playing skills that you find yourself relying upon frequently?
Evie Ladin
I mean, I guess I started developing more in a band situation. So we started doing more arrangements of things. And there was a fiddle in the band. So you know, I could rock out and be in the background just playing really supporting on the banjo. We also had a dobro in the band. Lisa Berman's a great old time dobro player. Oh, cool. And so it was just you know, the mix of sounds was a little, a little more contemporary, I guess. But Everybody brought material to the band. And that was the first time I started bringing some original songs. And I just felt I just really grew as a musician. And I guess like, you know, in terms of crafting a song or performance song, like like the song that I recorded with them, and then reworked in my own band a decade later, like starts off with this style, like
come down from the mountains to the rolling hills, where the man's corn grows on cold limestone, see this sort of real fishy sound, come down to the doorman who come down to the door
having filled like different exploring different sounds, how it wasn't just totally straight up. And also because there are other lead instruments playing, playing a high high version playing a little version. And then when I brought it to my band Later, it became a mashup with which I tend to do a lot is taking an original song and then the instrumental part is attune. Last girl,
Keith Billik
Oh, right. Yeah, I love doing that, too.
Evie Ladin
And so going from like this, you know, real rhythmic Shashi sound to, you know, real, more specific,
Keith Billik
kind of thing. Yeah. Yeah, that's really cool. So, especially with maybe a, somewhat of a unique blend of instruments, do you find yourself having to adjust how you play, for example, with a dobro? Player, as opposed to Yeah, when you don't have a dobro player Are you are you able to pinpoint what that might be? I know, a lot of this is,
Evie Ladin
let's just, you know, staying out. Again, like just being being more rhythmic, playing more low, or, you know, finding like a, you know, just finding like a groove that's going to support what's going on. I mean, this is also we're a performance band, and old time music, you know, is not like the most performative kind of music. And it can be, you know, just real straightforward tunes are really great. But it's, it's music for dancing. And so, you know, it should make you want to dance. But because we were a performance band, like I would dance some and we would sang, and we would switch around instruments and who was singing lead, and, and so in getting into arrangements, you know, and more detailed arrangements that definitely had me look at how I play and making things more interesting than just, you know, my training of just play the tune,
Keith Billik
right? Well, let's, let's talk about the fact that it's all a performance, because something that I find myself really admiring about your performances and about you as a performer is just so I think I made you laugh. Last time we got together, I referred to you as the straw that stirs the drink. Because
Evie Ladin
I don't remember that last time,
Keith Billik
but Great Lakes. But so I don't know if you can infer what I mean by that. But you know, even in a situation where you might be on stage with a lot of accomplished musicians, you have a way of just taking over the presentation and get getting everyone on board. It is a good thing. I don't mean it in an aggressive way. Yeah. No, I just really dig your stage presence and the way that you engage with an audience and I'm wondering where you think you might have learned that from? Or are you able to tell people how you do that? Because it's, it's definitely a skill that not very many,
Evie Ladin
honestly, I think, I think some of that comes from being a professional dancer, because you are just out there with just your body. And, you know, we were a percussive dance company. So you're doing a lot. It's, you know, oriented around the sounds coming from your feet. But we did a lot of creative choreography that Sharon Lee choreographed and was very expansive in her way of thinking about it. And so I learned so much just about stage presence, you know, being in front of people and where to look and how to engage. And it's like, if your face is boring, you're boring. And especially as a progressive dancer, I remember years ago, someone someone said, you know, most people are looking at your face, they're not looking at your feet. So you're thinking about your feet. And I actually noticed recently, I was looking at a video of, of my band playing and I could tell that I was just listening so hard to the band that my face was stupid, you know, like so. As a performers like you got it. You have to think about those things. If you want to really stay engaging. I mean, you don't have to, you know, you can really just express it through the music, but I don't know there's a part of me that just feels like you want to be bringing people in You know, you want to be inviting people into the situation and not feel like that there's some wall between you. And then when I was in rhythm and shoes I also was a DJ on community radio wfh beam Cummington, which you get really used to talking to nobody, you know, you got to be engaging in
Keith Billik
your podcast, or it can be kinda like that, too.
Evie Ladin
You know, you gotta be engaging and have a nice voice and, you know, no dead air and all that I don't almost to a fault. I think I feel a lot of space. Sorry.
Keith Billik
No, at least I get to edit out all my awkward pauses. You didn't have that luxury? I'm sure you would not then. Yeah, yeah. So do you think a corollary to they're not looking at your feet could be, they're not looking at your hands on the banjo or your finger picks or whatever, whatever I might be concentrating on at that moment.
Evie Ladin
I mean, definitely, because, you know, we got off stage recently, and everyone in the band, we were sort of nervous because it was the first, you know, real big performance, we'd done post COVID. And performance is a muscle, you know, like, if you and you can't, you can't practice performing in front of people. You can only do it in front of people. And there's this interchange that happens. It's beautiful. It's a whole reason why I do it is like to you bring people into collective experience, it seems to be a theme and what I do, and so we were a bit nervous. And we all felt kind of sloppy, and we're a little down about our performance. And then I look at the video, and you don't notice any of that stuff. Like I don't even looking at the places where I quote messed up, right? He does, it's not what comes across. And I remind people of that all the time is that like, it's, you know, especially if you're, if you're competent, if you're good at what you do, you know, mistakes make you human, but like nobody's really noticing is that it's like as detailed as you are necessarily.
Keith Billik
I've had the opinion that a lot of being a professional musician has to do with, maybe not where you are at your peak, but maybe where you are at your floor, if you can still deliver like a pretty, that's pretty sad performance, like on your worst day when you're sick and whatever. Yeah, that makes you pretty good at your job. So it seems like you learned a bit of that audience interaction from your dance instructor who gave you that advice that definitely suggest that it's something that can be worked on and maybe isn't just a natural skill that some charismatic people have, and others don't, some
Evie Ladin
people do. But like, as a dancer, you're definitely more conscious of your physical presence in space. You know, and maybe more comfortable being a physical person in the world, a lot of musicians are really not aware of their physicality at all.
Keith Billik
I'm probably one of them. I don't I'm not a front person at all. I am totally happy to just be off on the side in the shadows and be playing as well as I can. But yeah, I don't I don't need to be the spotlight. But I guess I guess a lot of the reason I'm asking you this stuff is is for my myself, that is a weak point. So are you able to, you know, you said, people are looking at your face. And if you look boring, then you're going to be or if you look bored, then you're going to be boring to them. Is that what you said?
Evie Ladin
I mean, unless you're super virtual assets, which I am not like I don't think of myself as a virtuoso on this instrument or on any instrument around anything in particular, but I hope I've been of character and what
Keith Billik
I've I think that's your virtuosity is the collection of all of your skills and the presentation. Yeah, yeah. Are there any other specifics that come to mind in terms of how to be that, how to have that good presentation and good rapport with with a crowd and a not boring performer?
Evie Ladin
I think, again, like I come back to like engaging people in collective experience, like so that the idea is that you're not alienating your audience by being so much better than them. You know, everyone has enough problems thinking that they're not good enough, one way or the other, that I just feel like, I feel like it's so important, you know, the, the more I go along in my career, and especially what I see happening and in our country and in the world, I just feel like people are lonely and they don't have those communal experiences we've been, you know, freedom, quote, Freedom often is people divorcing themselves from a deep culture. And a deep culture can be stifling, but it can also be grounding. So I hope you know in all cultures everywhere have music and dance traditions because it's what people do you get you're moving a pulse, you're feeling this common, nonverbal kind. have communication. And it really serves a psychic function, you know, it serves a function in your brain, which was never more clear to me than during COVID How much I need to get out of my, quote, thinking brain and into just my experiencing brain, which social brain can happen in nature. But like when I'm following a fiddle tune on the banjo, it's in the MO I am in the moment. And I guess I'll also say something that I apparently, like chemically need about performance is performance, your 100% present, if you think about other things, you're gonna mess up, you're not there. And the things you do, they're gone. As soon as you do them, you know, you can't go back and correct them, you know, or you can stop and start over or whatever it is you're comfortable doing, but like, you know, you're fully present. And what you're doing is you're, at least what I want to be doing is inviting the audience to have feelings, you know, to feel things along with me to be moved by the words or the sounds or the sights to just be moved in one way or the other.
Keith Billik
Are you able to point out some even more specifics of how you do that? How you get them involved? Is this by banter between songs, the way you do talk about music, because it's about eye contact? Is it about like,
Evie Ladin
Yeah, I think it's, you know, being really present on stage. Looking into the there's this skill of looking into the audience without actually seeing anybody you know, that I don't know, I think that comes from playing big concert halls where it's totally black out there, and the lights are in your eyes. But there's a way of looking so that it looks like you're looking right at people and I had a lot of practice doing that isn't just over their heads. Yeah, is that what you do, it's sort of like the horizon or like, or even just like looking into the middle of the crowd where you imagine the middle of the crowd to be, and some people get really turned off by not being able to see the audience. But I just sort of, like, envision the people there, you know, yeah, and some of it is definitely banter, not taking myself too seriously. And I also just feel like the mix of, of music and dance, just like, I don't know, just as it's, it's multifaceted. And it just kind of something we've noticed, like in producing the international body Music Festival. This is something that's it's really hard to convey in words to write in grants to, to put into publicity, but that by doing body percussion, things that, you know, when you're just using your body, and even without instruments, everybody has a body. And there's this really visceral like heart connection that happens that we've heard feedback from the audience time and time again, of like how connected they feel because we're just, you know, using this instrument, and actually, I saw a great, I read a great article, referencing David Burns American utopia, how he was aiming for that experience of having everybody untethered by cables. I don't know if you've seen it, but it's a pretty beautiful work
Keith Billik
of choreography and musician, Western fan, and it's a crime that I have not seen that because I've had it recommended to me just too many times to count, but I'm a fan of his and I'm familiar with, like, what the Yeah, the concept. Right, right.
Evie Ladin
But so in an interview, I think it was the two dancers, the choreographers who were talking about the kinds of movements they wanted to make. And it is definitely about connecting with an audience about being somewhat pedestrian, you know, things that feel very approachable. And I don't know, I just I want to be that I want to be approachable and for people to feel like that this is a part of them too. It's not separate.
Keith Billik
While you do it, you're the straw that stirs the drink. You already heard that. So that that's I'm on record with that one. Well, that's great. Let's shift to your instruments. You said this is a newer banjo but is this your what you would consider like the primary instrument that you use for for performing manual?
Evie Ladin
I played the same one banjo for 25 years. And it was a mutt that I bought off my brother in law went for 150 bucks.
Keith Billik
All right, that was got your money's worth.
Evie Ladin
Really. I had finally figured out that it was a Slingerland pot. And the neck was made by Mike Defoe who was a somewhat elusive character play a lot with Clyde Davenport. And he unfortunately passed away a little too young, but I was able to be in touch with him by letter several years ago, because he doesn't use the internet or didn't and analog emails. Yeah, right. And he I sent him a record and I said what can He told me about this and I didn't even know that he had made the neck until the dowel broke at splintered when I was on tour in Cape Breton Island one time, and there was a stamp on the inside. So I thought it was a no name banjo forever. And then his stamp was on the inside, no internet presence, it's a longer story, it's out there on the internet already
Keith Billik
been in touch with him. No, not related to this. It's only after that, that use
Evie Ladin
software, I saw his stamp. And I saw that I actually had to first sleuth out who he even was, because he wasn't on the internal internet, right. And his sister actually got in touch with like, I think that's my brother, that because I we just put it out on the internet, who is this is before, you know, Facebook and all that. And there was internet before Facebook. But
Keith Billik
like I remember.
Evie Ladin
Anyway, so this banjo is like, it just had it has a great sound not had it has a great sound. It also, you know, claw hammer players really like higher action, it just in the style of playing because you just got fingernail or in my case fake fingernail on, you know, on the strings with no other, you know, no metal picks or whatever. And then you also want as open of a sound as possible, you know, so called replays, at least in the time that I was seeing most people playing and a lot of that was in around round peak area in North Carolina, Virginia. And at the festivals and stuff the way most climbers were playing players were playing really, you know, use the open sound so much. So you don't want to do you know, massive closed chords that really like tamp it down? Yeah. So the high action sort of gives you a great sound like that. So in the last few years, I have been wanting to explore the neck more to really understand the muse, you know, the full range of the instrument in a different kind of way. And so I started learning and teaching you stay one step ahead of your students. You know, just all the positions and how they're related. And you know, what bluegrass players take for granted, because that's how you play is learning all these four fingered closed chords. And bluegrass banjos tend to have lower action. And the strings are a little closer together. So they're set up differently. Sure. And so I think that that's partly why the scoop evolved was so that you can still get the low action of the neck, but the high action over where you play where you need to Yeah. So the pandemic sent me into my first like, geek out over my instruments. So I was like, All right, I can't be out there playing. Let me let me figure out, let me see if there's another and so I started shopping around. And as you probably know, unlike about any other instrument, there are so many variables on a banjo. As to and I really dove into that, like I really was uninterested in any of that stuff beforehand, because I just had my instrument. I loved it. I didn't care. It's a black hole, though. Oh my goodness. Like I finally understand why people have so many different instruments and I'd had other instruments but I just never played them. I always played mine. Yeah, but I also early in the pandemic, partly because I was practicing a lot got a shoulder injury that really took me down but I was like, Okay, well I need to not have such high action if I'm going to be fretting up the neck because it's just it's stressing my joints, etc. So maybe it's time to look for a scoopneck banjo. I wanted something that sounded a little different. And I dove into
Keith Billik
the black hole and you found something what is it I did
Evie Ladin
so this this banjo I've got its first outing into the world and it's a will cedars from Vermont. He actually had sent me I thought I wanted a 12 inch pot, but I kind of landed on a Dobson as for a different kind of sound Dobson tone ring. But I didn't realize his stops and he puts his Dobson tone ring on top of a rolled brass ring. So a lot of the Dobson's are just you know the Dobson donut, tone ring on wood, right and that has a certain sound. And I actually bought record some people say record some say record I've heard
Keith Billik
record from some fairly reliable sources. So I'm going with that I used to say record too, but yeah, I've switched.
Evie Ladin
So I went down and Griffin strings is my local music store that will have a number of different bands. So I went down there and not either the band just didn't really sound that like all the ones I tried that they had in stock and it was pandemic so like everyone sold out of banjos but they had a bunch there and some more coming and and the record was the first one that had like a really different kind of great Zizi Dobson sound that I really really loved.
Keith Billik
Yeah. How would you just to interrupt you because I don't know even for myself how Would you characterize the Dobson sound? What are what are the attributes of that?
Evie Ladin
Well, there's so many other variables that are even affect what that is how big the pot is, and where the bridge is and how big the tail piece is. And all the what the head is. And you know, it's, it's amazing. But the Dobson sound like it's a, it's a doughnut shape. And it it's like it. It's xes is all I can, like, it's it really has like a, like a little more of a buzz to it than being super like pinpointed.
Keith Billik
Okay, whereas like a white lady is it's a bit brighter attackee maybe this is less so is that fair?
Evie Ladin
Can be Yeah, I feel like the sound is a little wider. Okay, of of how you strike it. And so most of them are on wood. And I really liked the record. I got a 12 inch from will cedars and it was just because of his sit on the roll brass ring. It's also taller. And that with the 12 inch and the fact that my shoulder was giving me trouble. It was just too much banjo. Yeah. And it was really resonant. And I mean, beautiful instrument, but I really loved the neck. So eventually he got me an 11 inch, and I am liking it. It's a short scale instrument. So some of the things that I was talking about about feeling sloppy on stage or the fact that my fingers are overshooting unless I'm careful Yeah, because I'm really I am still adjusting to you know, and even in the concerts I've been doing recently I have to use my eyes a little more than I want to just because I'm just not used to the short scale yet again, I feel like the short scale is also helping my shoulder issues of not having as far of a reach I've just had to change all kinds of things as you do that's a bummer in your in your playing how you approach your playing. Alright,
Keith Billik
so so beyond the maker and what type of banjo is there anything else that you're very partial to on it? Like? Is that a will cedars bridge? That looks like a sort of bridge?
Evie Ladin
It is it's a well, cedars bridge. And there's, they come with Renaissance heads. And my old banjo had a fiberskyn head and I might end I wanted to give it a try and see what I thought I might end up with a fiberskyn head because I like it a little bit warmer. Okay. And the other thing that I discovered is that how it sounds to you playing it is really different than how it sounds out in the world. Yeah, so for example, the record I loved how it sounded to me. And it's not that it didn't sound good out in the world, but it was too muted for performance. It didn't have the attack and the velocity, you know, of an Obando X light. And so it wasn't a good performance badge and oddly enough, the day before I bought my record, they told me the unit was like someone bought the 12 inch yesterday turned out to be my bandmate
Keith Billik
Oh, that's hilarious. We ended up with so you got to check it out. Typically
Evie Ladin
the same banjo has this 12 inch mine's 11 inch. I still have mine. I'm not I might, I might move it along. We'll see. Just because I know I don't play lots of different instruments. I tend to stick with one I think Maybe also because you get settled into where your fingers land and all of that. Of course.
Keith Billik
That's a beautiful fingerboard too. Is that striped ebony?
Evie Ladin
I believe it's Rosewood
Keith Billik
Is it okay, just really
Evie Ladin
want to speak a little bit but it's a walnut banjo and we'll see there's just as incredible craftsmanship and yeah, just wonderful the and the neck is I just keep calling it a very sexy neck and just keep touching it like oh, excuse me I'll be over here with my banjo
Keith Billik
Well good for being a new one. That's that's a good way to welcome it to your you know, yeah, good graces and whatnot and
Evie Ladin
Jake Blount has has one of his and malleson Degroot plays a couple of his but Jake was telling me like it takes a it takes some months for it to like really open up and for you, you know to settle in it's like having a new puppy or something like that, you know how old to gregarious. Yeah, and then also I think a lot of people would have medium strings on it. And I've I'm still tweaking the strings, but again, playing for so many years and playing you know, my my, my lead finger, my index finger on my right hand gets a workout. And so I need it to be easy and as responsive as possible and I tend to go with lighter strings. The other thing that's really frustrating is just noticing how different it is between being open like in C or G tuning and then K boat up. And I play a lot of tunes Capo up and I still like Jury's out is if I if I love what happens to it once it's clamped down a little
Keith Billik
yeah, sometimes they really changed him care. Actor Yeah, that's it's all very interesting and it's the endless conundrum for banjo players like you said they're endlessly customizable. Yeah, exactly. Great. Tell everyone where to find you and your music and how to go see a show all that stuff. How do they find you?
Evie Ladin
I am the only Evie Ladin on the internet. So you can do some experimental spelling's and it probably will direct you to my websites Evie laden.com It's It's my name on Facebook, Instagram, tick tock. Oh, although I haven't done any banjo on tick tock that's all been on the body music side of things and the dance side. Spotify streaming services, and, you know, for better for worse. And those are all the things right?
Keith Billik
Yeah, I just type type in your feed
Evie Ladin
my paypal or Venmo you can just you know, shoot it there. You'd be late. It's all good. But wonderful. But all my all my shows are up on the website. And I really love getting out into different communities and playing and saying and getting people doing the same.
Keith Billik
Well we love having you around. So really nice to see you and to speak with you. Thanks a
Evie Ladin
lot. Thanks so much.
Keith Billik
Thanks for listening, everybody. That's gonna do it for this episode of the pinky fingers banjo podcast. You heard some song clips in this episode. They were glory by the Evie laden band. Hell amongst the yearlings by Beverley cotton featuring the green grass cloggers, Banjo picking girl by the stairwell sisters and walking the dog by the cross pulse percussion ensemble. Special thanks to today's Patreon supporter of the show, that's Ron Bellis head on over to patreon.com/banjo podcast to support the show yourself and that will get you invited to the VIP lounge video meetups. This month's meet up is March 26 at 1pm Eastern Time, hope to see you all there. Email the show pinky fingers, Banjo [email protected] And I hope all of you have a great rest of your march and beginning of your spring and I will see you all next time.